How was your weekend? Our's was really nice. Here's a really rambly post for you guys.
I've been spending a lot of time at home lately, and I love it. Always moving things around, but generally loving the house. Good stuff!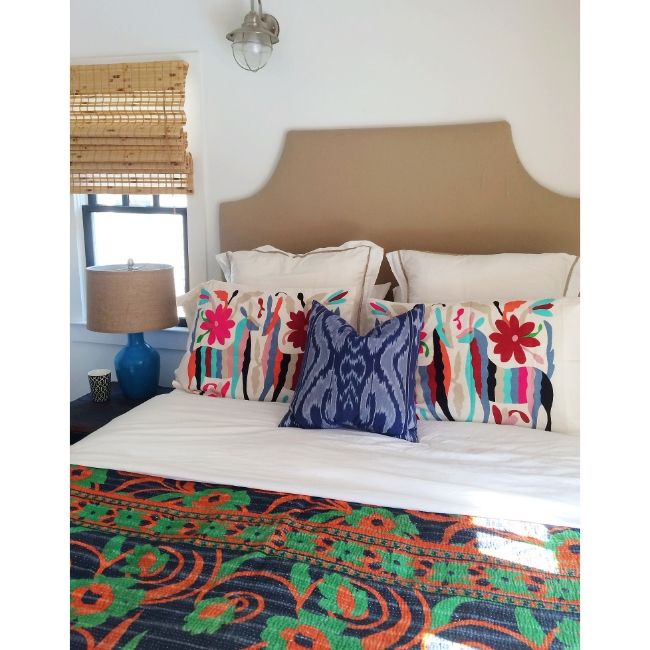 I bought those new animal pillow cases from Urban Outfitters. Our guest bedroom has been seeing a LOT of use lately, and so I like keeping it spruced up. Those pillow cases are only $34.99 for a set of two. They're printed, but printed on both sides, and I think the colors are so much fun. I love the color it brings into the white box room!
Speaking of rooms, now that I have the caramel bench at the end of the bed, I have been moving things around in our bedroom (I know you guys are laughing at me). I took the rust duvet off for now (I'm sure it'll go back at some point, just some variety is always nice) and am using just the solid white. I (like a lot of other people) always crave a little "lightening" in the house in the summer. I like to remove some rugs, maybe some curtains and keep things airy.
I also took our curtains down in our bedroom for the time being. Light, airy.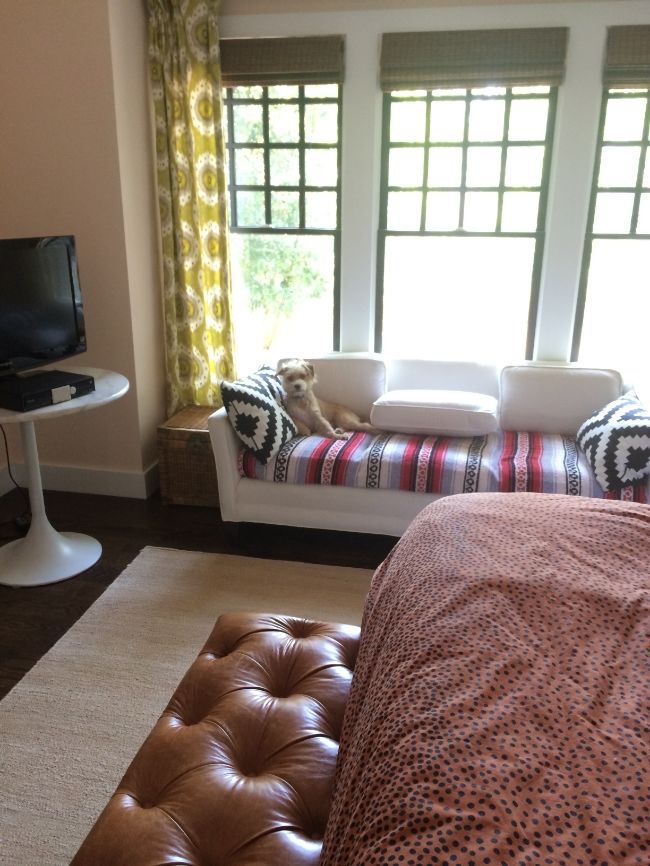 Max thinks that couch is his personal couch.
(lamp in the kitchen with a leftover glowstick from fourth of July)
I've also been keeping fresh flowers in the house.
white tulips are my favorite!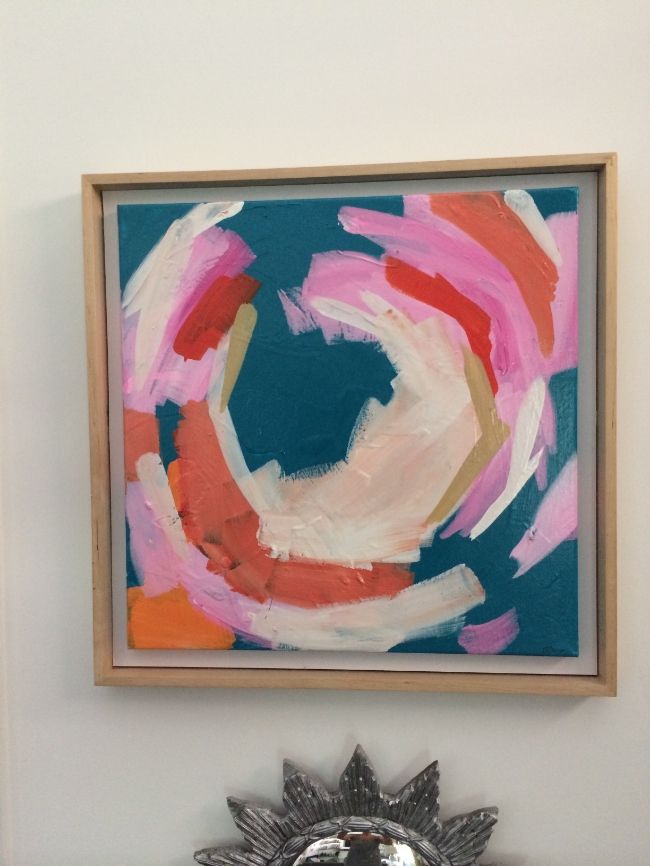 I did this painting recently and hung it at my house. I really like the colors. I mounted it on an Ikea frame. :)
I actually am doing lots of canvas work at the studio right now, and I bought a couple of canvases to paint and sell. So, stay tuned for that, if you have been wanting a new painting. The sizes are 20 by 20". Which brings up a good question: if you were going to buy a painting that was ready-made, what size do you like? Do you like square canvases or rectangle? I love square ones, but I know most people buy rectangular ones.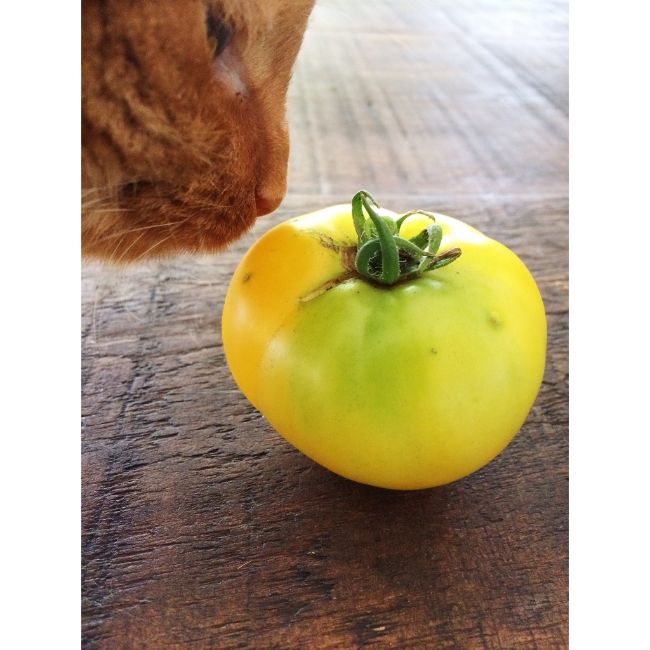 As I've mentioned, I've done a bit of gardening this summer. I have had SUCH problems with squirrels eating all the fruits of my labor in the vegetable garden. I've seen so many pretty, promising tomatoes come and go. This was one that I actually got to eat -- the only one. So sad. I had another one that was looking almost ripe, and I went out there yesterday and it was gone. I'm almost ready to give up. The squirrels leave my basil plant and peppers alone, but eat all my tomatoes. It's a lot of work to water them every night, so I am just ready to call it quits if the squirrels are going to steal from me! I bought some wolf urine pellets online that were supposed to keep them away, but I guess it didn't work. :(
And speaking of gardening, here are a couple of other things I've planted.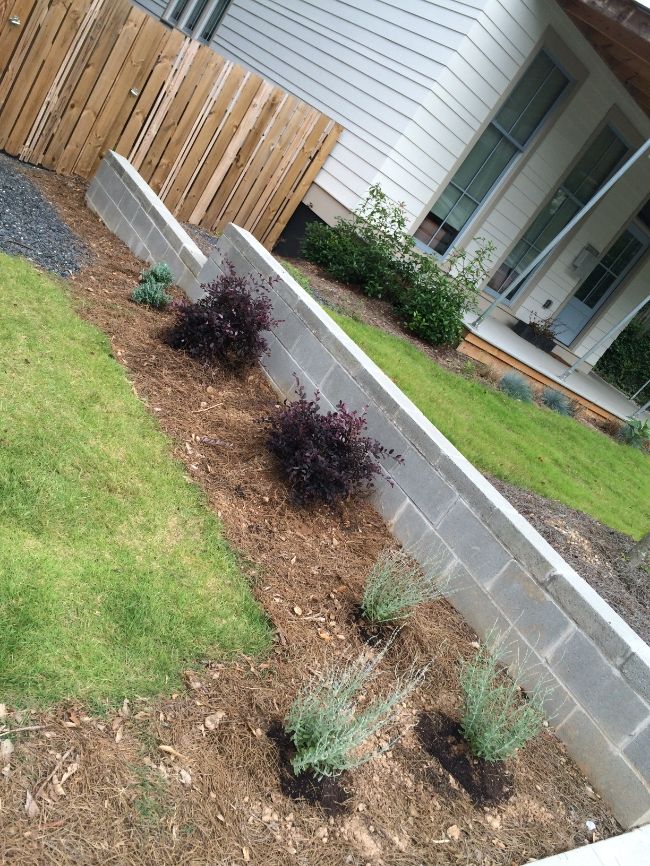 Planted all of these -- it was nothing but pine straw before.
and my "butterfly garden" as I have been calling it. Butterflies tend to flock to these wildflowers.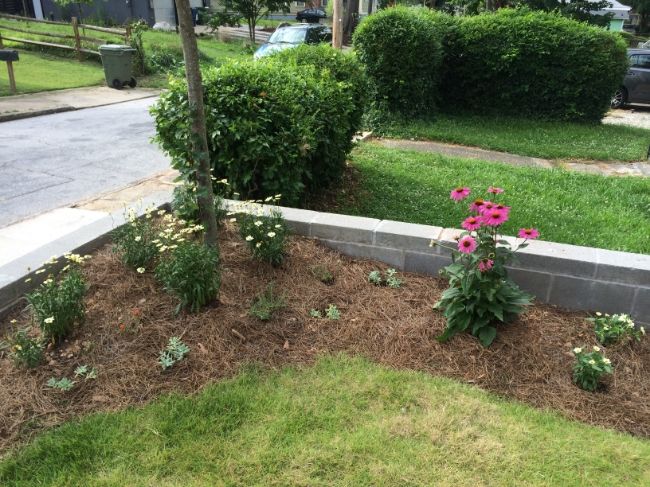 I've been loving looking out the windows and sitting outside with my new plants!