I did it! I painted our bedroom walls in Benjamin Moore's "Peach Cooler", and I love them.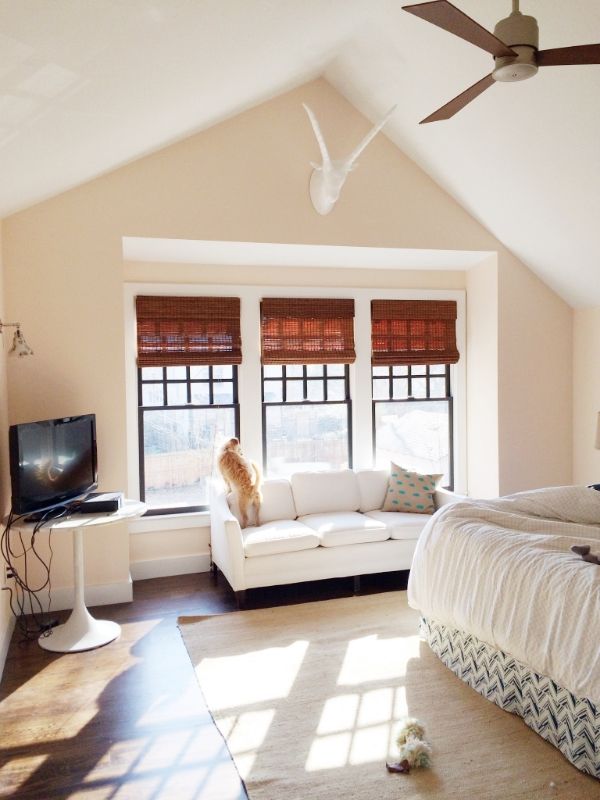 The morning light in our bedroom is always gorgeous, and I was hoping that it would be pretty in the mornings. I am very happy to say that it is. Obviously, now I am very inspired to get the room decorated (and take care of that atrocious cord situation with the TV).
I think the light bouncing off of it is so nice, and it's so warm and glowy. It's different at different times of the day, but I really like it throughout. I like that the trim stands out now, and I think its pretty with the black doors.
this is the only corner where I think that it sometimes looks like it should be a Bahamian hotel room, but I still like it. Hah! It gets a little intense in that one corner, but I think it is different, so I still love it. :) I haven't seen anyone else painting a room peach, so hopefully I won't bore of it quickly! If so, it's a quick change. It only took me a few hours to do this. I only had to do one coat. phew!
reaching the high-up parts wasn't hard at all, either.
oh yeah! I got this cool paper mache impala head at Homegoods the other day. I think it makes the room right now:
its the perfect thing for that spot. I painted my walls in their "matte" finish in the "Regal Select" paint, because flat/matte is pretty for softness, but the Matte is washable/cleanable, and the flat is not. Flat paint is the enemy!
Anyway. I am very happy with my walls.
Now I can't WAIT to decorate. I have so many ideas. I bought this bedspread over the weekend. You know I like options, and I thought that a little contrasty color might be in order for the room. I love the rust/black combo on this spread, and I think (HOPE) the color will be cool with the peach walls. It's really unique, so I had to get it. Plus it was on sale! And it was the last one available. Saved by the bell, phew. It was from
Kip and Co
. I found their stuff on Pinterest, and I think their
peach matchstick
quilt cover was actually subconscious inspiration for painting my bedroom. ( I saw it a long time ago, and loved it)
eee! Cant wait for it to get here.