Did it!
I painted the cabinets yesterday and I am VERY happy with the outcome. Yes, I still want to add some trim and moulding work to make them a little more interesting, but for now, this is how they'll stay.
I didn't take proper photos with my good camera yet, so this is just a peek! I finished at like 9:30 last night, so it was still dark, and it was a happy surprise to wake up this morning and love the color and love the paint. I'm staring at them now. Ahhhh.
This was when I started priming. I could tell that I was making the right decision!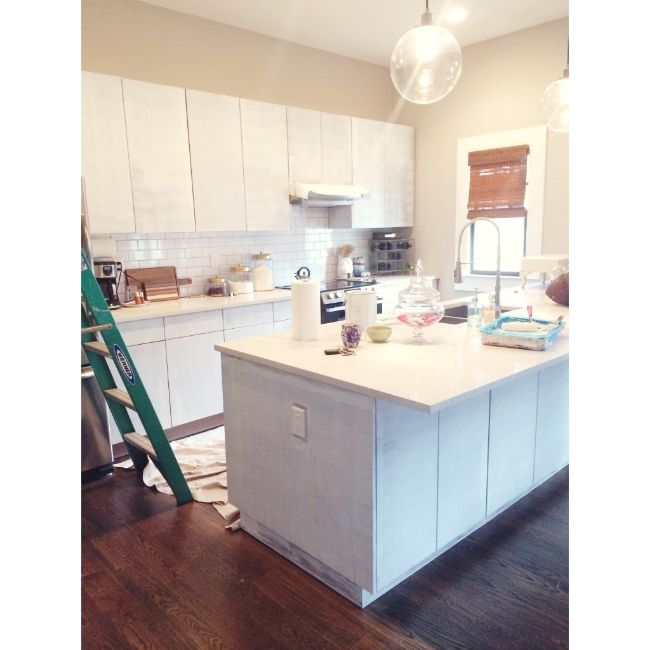 all primed. I used the Zinsser SHELLAC primer, made for all surfaces. It is perfect with that weird Ikea material. The shellac is kind of cool - it is really drippy and super thin, but it doesn't drip that much on the surface you're painting or onto the floor, because it dries SO fast. It's crazy. I'm a big fan, incase you can't tell.
it probably only took me an hour or so for each coat. I always take the cabinet doors and drawers off the stalls to paint when I paint for clients, but since this was my house, and I could tell that it would be faster and possible to NOT take them off, I didn't. I have no stalls that need paint (hidden stalls, as you can see), and the planes on the cabinets are flat, so I just rolled on. It was so fast and easy.
After I was finished, I decided to go grab some color samples. I used Sherwin Williams because there is a SW near my house, and I knew that I wanted to do samples and didn't want to drive fifteen minutes each way to Ben Moore twice in an hours! Plus, I have used their ProClassic line a few times now for cabinets, and I am a fan. It's what I used in our bathroom, and it's held up really well - zero chips or dings. Sometimes clients will select SW colors, and I always use the line of paint that the chip is from - other wise you risk it not being an exact match, and that is dangerous! Live and learn.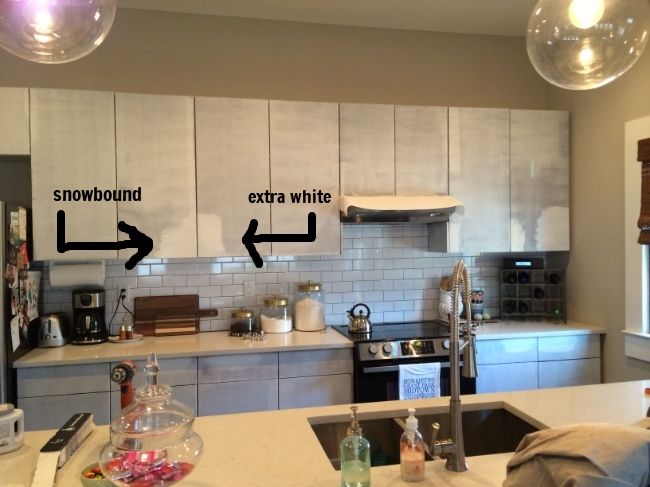 Anyway, I got two samples: Extra White and Snowbound
Extra White is what our white trim and walls are in the rest of the house. I had the entire row of whites out, but Extra White was the prettiest stark, clear white, yet again. However, once I saw the stark white next to our countertops, I realized how creamy the countertops are, so I knew I needed something a little creamier to go with the countertops AND the white subway tile backsplash. So I got a sample of Snowbound, which is a slightly creamier white with a hint of gray.
Snowbound is the sample on the left in the photo above. I always suggest doing your sample in several places, not just one. I did it next to the window where you see natural light, and then also to the side, where it's mostly artificial light shining. I also did some right under the countertop and right next to the subway tile, so I could see the color with those finishes, too. Snowbound it is! It was the perfect shade. I actually intended to get it lightened 25%, but forgot to tell the guy. I'm really happy with the outcome though - I don't think it needed to be lightened.
and finally, some final result photos for you guys!
yay!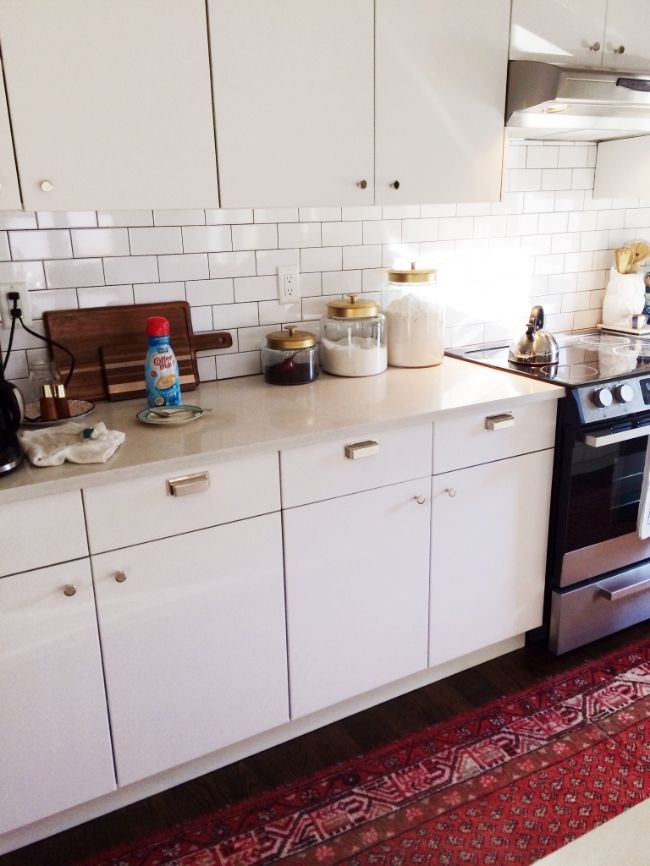 I love it. So fresh and so bright. MUCH better. Now I just need that trimwork added :)
I'm thinking trim at the top, too.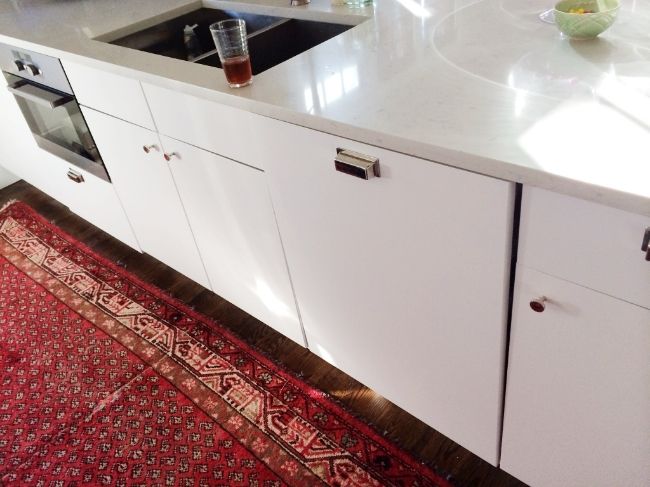 I really like it with the countertop - I think it makes the countertops seem grayer, which is good since I wanted them to be Cararra marble-ish from the beginning, anyway. I think if I had've gone with Extra White, it would've made them seem cream.
A home run - I am happy.
Have a great weekend, y'all.