OK, so this is becoming the blog about my guest bathroom changes. Sorry! It's on the radar right now, because I pledged to get all the small changes I wanted done before the new year (that's everything except for changing out the countertop, which I hope to eventually do).
Here's what I have done so far:
- painted cabinet gray
-switched out old, modern hardware for new hardware
- hung towel rods
-hung new toilet paper holder
-switched out light fixture
The only thing left to do now is to change out the faucet, which I already have - just have to switch it out. I think my dear old handy dad is doing it on Tuesday of this week. I was going to do it myself, but I don't have the right wrenches... plus, he volunteered and who am I to turn down a pro? :)
So, my
light fixture from Amazon.com
came in this weekend, and I spraypainted it black, like I said I was going to (I used
Rustoleum
satin black paint that I already had). It looked great after a coat of paint! It is a simple light, and like I said, it was only $35 on amazon. An amazing deal, compared to the other ones that I wanted that were around $200. I still have so many more cosmetic changes to make in this house, I couldn't justify spending that many pennies on one guest room light fixture.
Here's what it looked like when it came in:
As you can see, it propped up perfectly for spraypainting. I just painted it just how it is sitting in this photo (but outside, obviously). It protected the inside, which I wanted to stay white.
After 24 hours of curing, I was ready to hang it. Here's where things got hairy. I removed the old modern light fixture: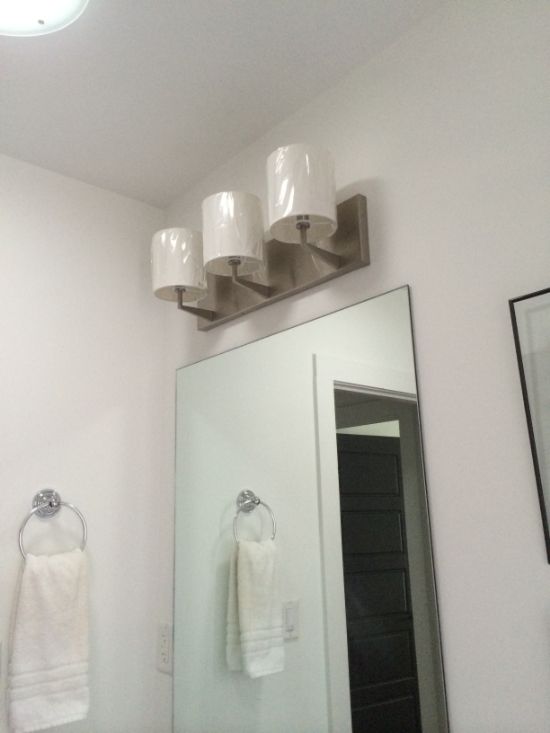 and was left with this: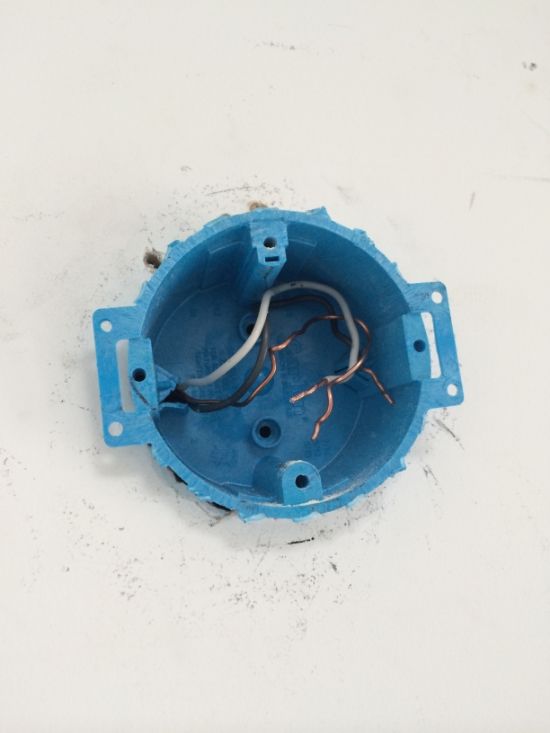 Now, I don't have a ton of light-switching-out experience. I've really only done it once, but it was so easy last time. However, this time, what should be a fifteen minute switch out, turned into a 4.5 hour one. The problem with this was that the blue plastic electrical box shown above, was not anchored to the wall like it should be (as you can see in that photo!). I kept trying to screw in the fixture to the outside of the sheetrock, trying all sorts of silly tricks, when I finally called my dad. Dad told me that all I had to do was go to Lowe's and they could point me in the direction of a new plastic box that would anchor itself to the wall. And, voila, he was right. Genius (duh)!
I had an inkling I should go to Lowe's when I first noticed the problem, but I was trying to solve it myself. Sometimes this works, sometimes no. This was a no. Anyway, after I got home with the new box, it was perfect:
ah hah! ready for a light fixture to be installed. Perfect.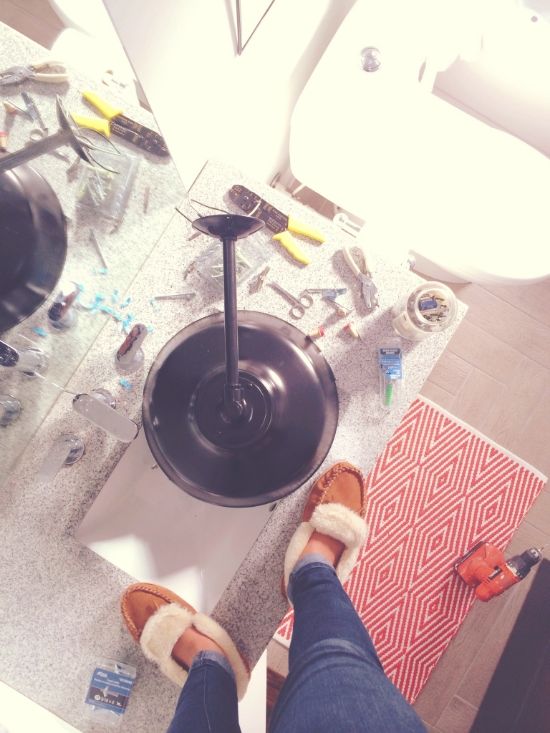 (my disaster work zone. You know it's bad when you have medical scissors out)
here it is:
yayayyyyy! it makes the end result that much sweeter when you work so hard. Hah!
I really do love it, though. It's the perfect size, and I like the amount of light that it puts out, which, honestly, I was kind of worried about. I put an Edison bulb in there, because I like the look of them, and I actually like the yellowy, soft glow that it lets out. Much better than the really bright glow the old fixture gave out.
here it is up close: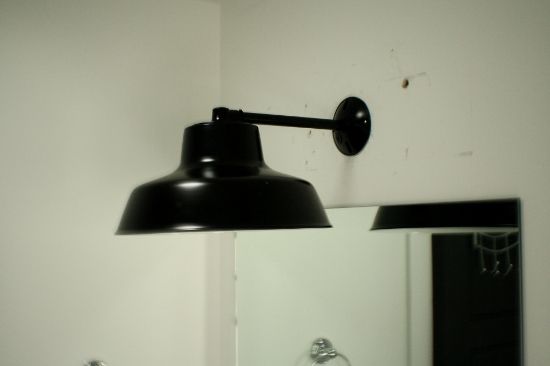 Clearly, I have some clean-up spackling and painting to do. Piece of cake compared to installation.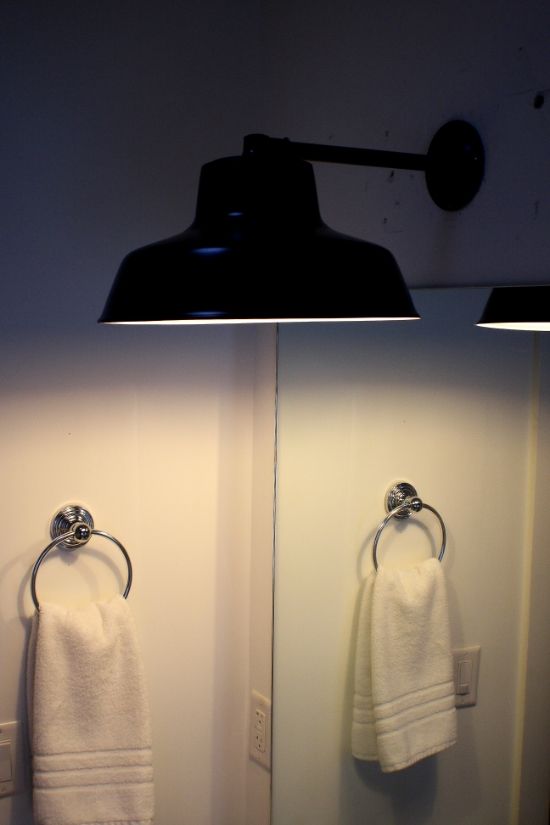 see what I mean by the soft glow? It's pretty.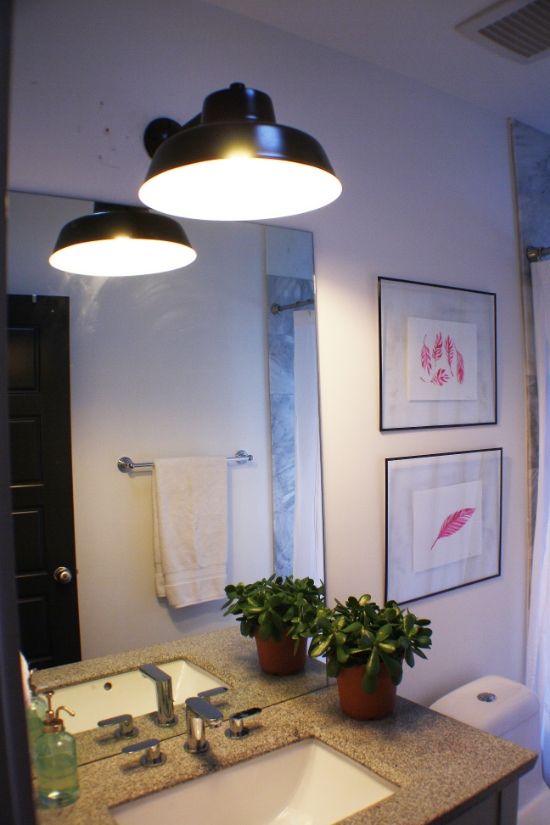 Now it's time to add some new accessories in here (the most exciting part!). I need some COLOR!
I ordered this rug from ebay last night:
(it's obviously cut off on the edges in this photo, but you get the point)
I wanted to get a colorful, fun shower curtain, and some towels that are neutral with possibly a pattern to keep in here. Maybe some baskets or something too. I'm really happy with the progress so far, what do you guys think!?