Thank you all so much for your positive feedback on the home tour series yesterday! It's the first time I've really posted lots of photos of the house semi-decorated, and I'm glad you all approve. :)
I wanted to share, today, a little makeover I recently completed in our guest bathroom. I still want to change out a few more things in this bathroom, but it hasn't happened yet.
But, I did manage to bring some leftover gray paint home from the studio a couple of weeks ago, and paint the bathroom cabinet gray. It's one of those standard allen + roth cabinets that you buy from Lowe's. I like allen + roth stuff in general, but this cabinet was not my favorite. Too plain, and too modern to me. In a boring way.
It looked like this in our bathroom:
The dark stained wood and modern pulls were blah. So, I removed the old hardware, filled the holes, and painted it. I also added
these new pulls from Home Depo
t.
The Martha Stewart brand hardware
is my favorite hardware at a great pricepoint. Don't you agree? I always recommend that brand to clients. The knob is actually
allen + roth from Lowe's
. I accidentally ordered the wrong sheen for the knob (I ordered brushed nickel, but wanted polished) from the MS Home Depot line, so I ran over to Lowe's and got an allen + roth pull so I could complete my project! I hate that the cooler Martha Stewart hardware is not available in stores - you have to order it. Makes it difficult when you decide to take on a project on a random Tuesday night :) I painted the cabinet, then ordered the pulls, and had to wait for them to come in! Oh well. Patience is a virtue.
Here she is!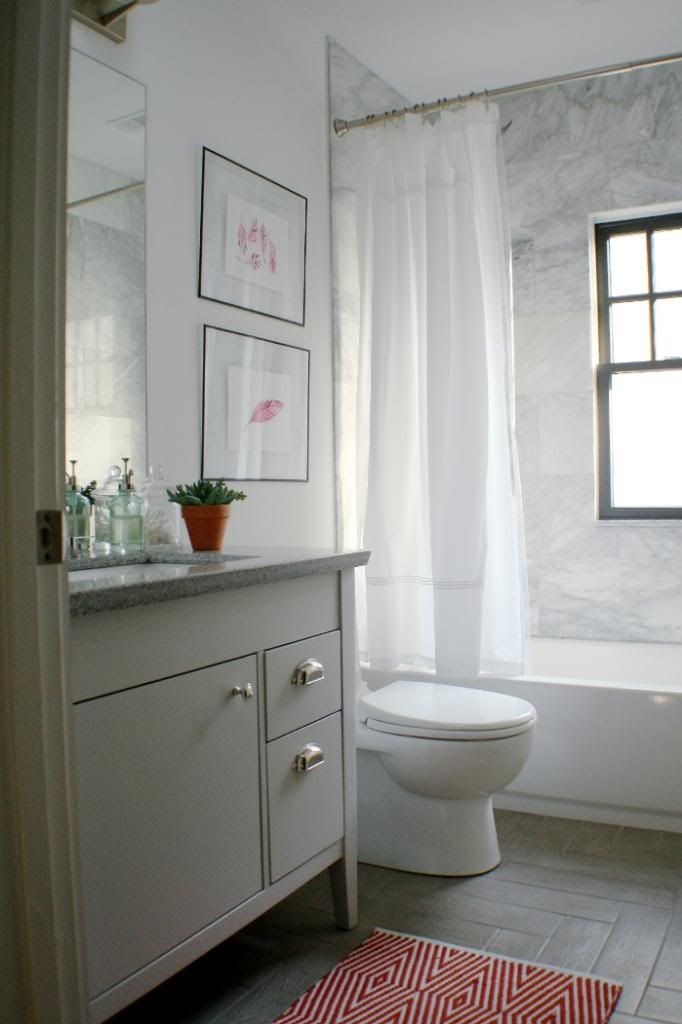 I'm really happy with how it came out. Now, I just go in there and look at it. Haha! I really love the new hardware. I want to change out the faucet soon, and maybe eventually the countertops, too.
I also recently added the artwork over the toilet. I made those
feather paintings
and framed them with those cool art frames from Michaels.
So much to do!
___