Well, the weekend, once again, flew by, but I do have something to show for it this time...
we finished our shelves! I will give full disclosure and say that my dad really did the whole thing. My stepmom and I just handed him tools and lifted things when needed.
(me, painting the wood at the studio)
We bought ALL of our supplies at Lowe's, and the cost total was probably around $5-600. I haven't totaled the whole thing up yet, but something like that. I ended up not buying reclaimed wood, because of the ease of just staining some from Lowe's and using it. Plus, ya know, painting's kind of what I do. :) I just ended up mixing black and brown paint from Mycolor together with lots of water (probably a 50% water, 50% paint ratio) and painting it on, then wiping down. i also used a hammer to make my wood look vintage in some spots. I just hammered it and dragged the other end down it in a few places to make it look beat-up. It works pretty well-- I've done it in the past. In retrospect, it might've been better to use stain on the wood instead of paint, but I needed it to dry quickly, so I did paint. Plus, I already had paint, so it was one less thing to buy. I stained something else Saturday night, though, and it was was quicker than my painting technique.
We bought enough wood to make five shelves on either side of the TV, and two in the middle, but once we had it up, I decided I liked the height of 4, versus 5. Five would've been sooo tall!
Some of our pieces were galvanized metal, and some were black iron, so I did have to spraypaint some T's and stuff black. I just used a Rustoleum brand flat black, and it worked nicely. Since I wanted them all to match fairly nicely, I did end up giving everything a nice dusting of spray paint. It was actually pretty easy, as the poles stood up on their own when I propped them up on the drop cloth.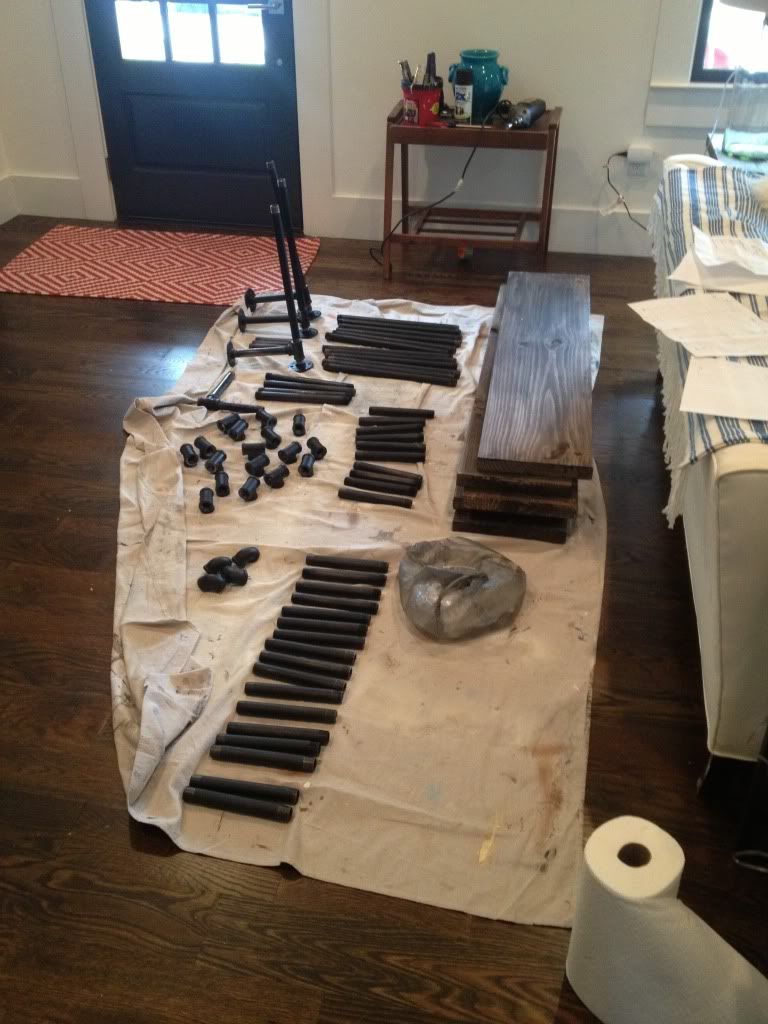 Everything all laid out! We somehow miscalculated at some point and were missing two T's (3 way connectors) but that's it. Everything else was accounted for in this shot! Lots of pipe.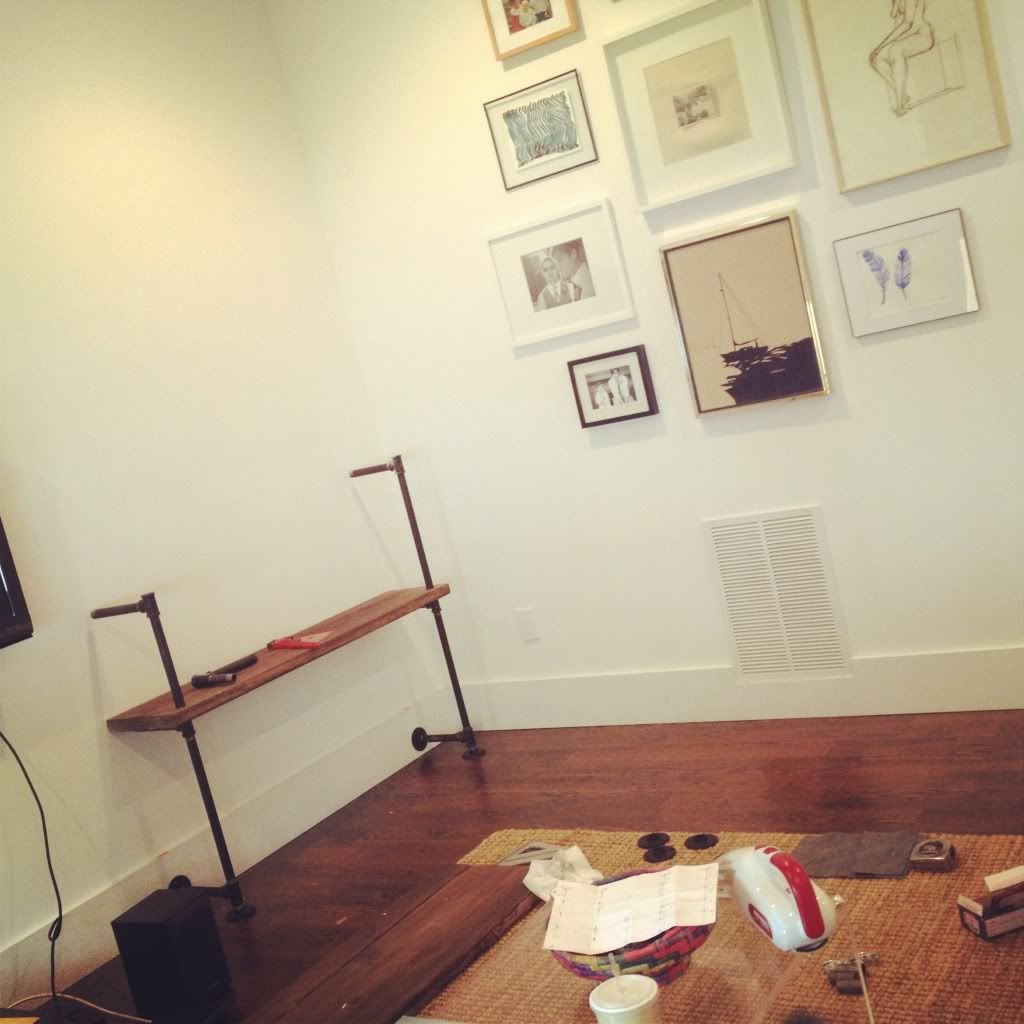 I was already really excited when this was happening. Hah! The hardest part was the middle, where the shelf is under the TV. We had to calculate correctly for the pieces to match up with the outside pieces, but since the shelves were at different heights than the outside ones, we had to get shorter pipes and have them screwed in just so, so that they were the same height as the outside ones. It wasn't easy! The shelf below the TV was about a 45 minute installation process, where as the outside shelves all together were probably a 1.5 hour process.
We decided to drill holes into our wood, so that it threaded through the pipe, and didn't just sit on top of it. We'd seen examples online of both options, but decided the threading just looked way better. Dad drilled holes 1.5" on either side, then had to chisel out a little notch for the lip of the pipe to sit on, so that it was flush against it when it was resting on top.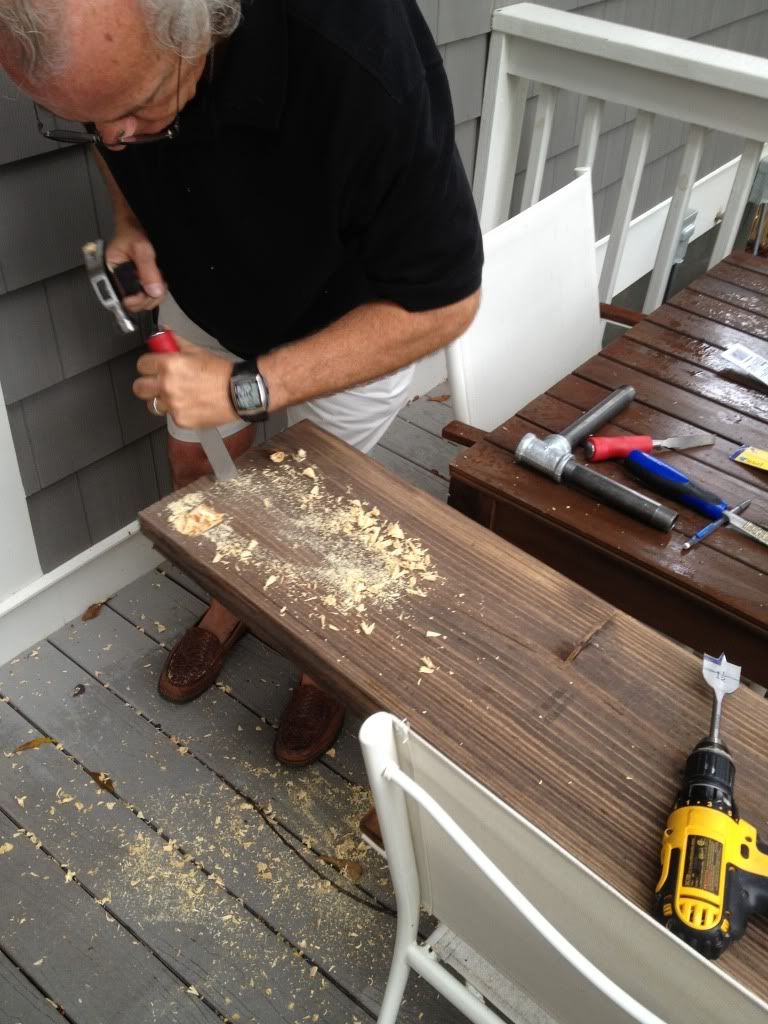 This took a while, but it got faster as we went on.
my job was to hold down the wood while dad worked: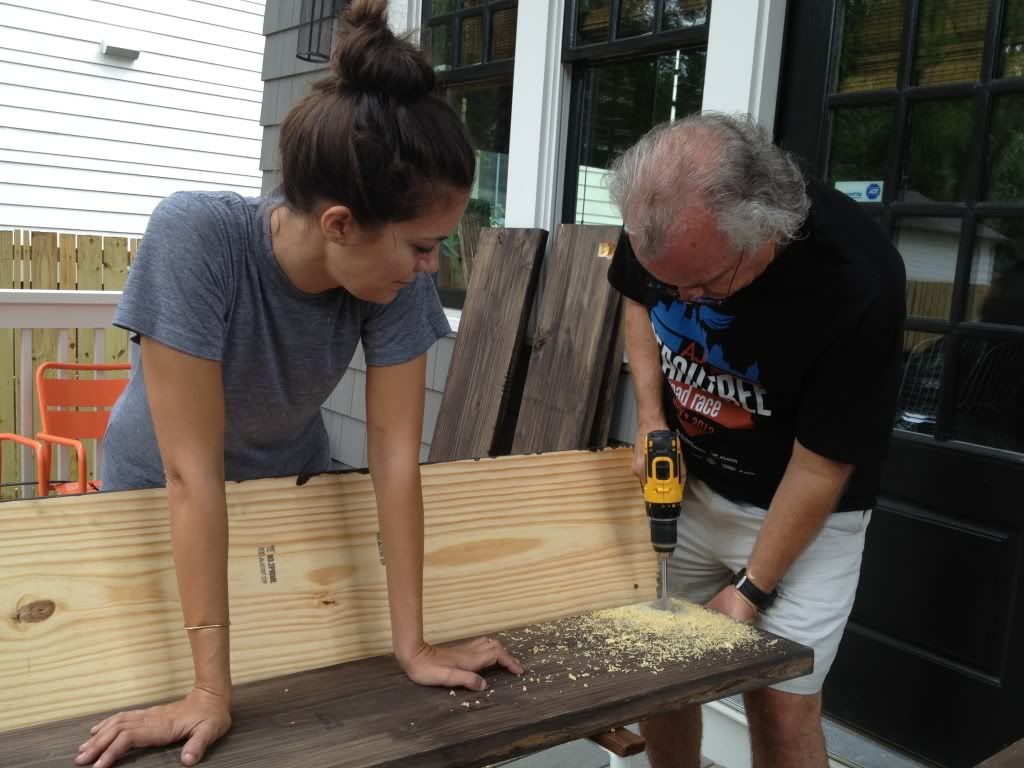 We'd done all of the hole drilling on the back porch, when it started to rain... so we stuck it out, then it REALLY started to rain, so we had to move everything to the front porch.
I eventually just sat on the pieces to keep them in place.
I tried making a stop motion video... it was my first time using the app, though (iTimelapse), so it isn't the best. Should've put my phone further back and higher up. Dangit! Now I know for future projects, though.
still kind of cool, I guess.
and here they are:
YEAHHHH! Awesome, right? I'm super excited. They're way better than any of the other options. (the two T pieces I talked abotu earlier were galvanized metal, so I still have to paint those, Which is why two pieces of the metal look white)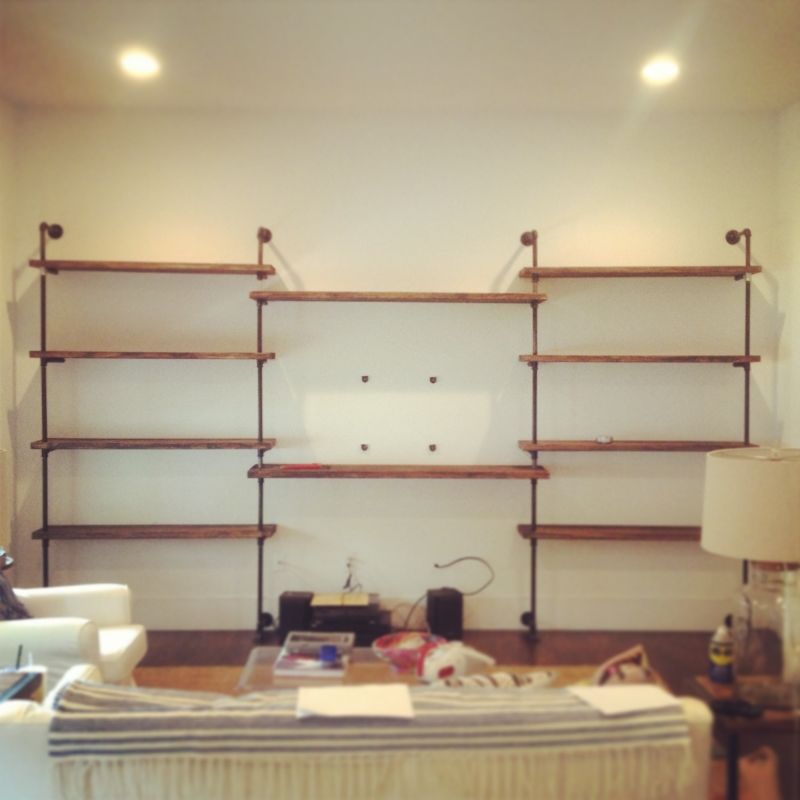 I couldn't resist throwing some accessories up on them last night, but they're definitely not done. I am sure I will move everything a lot more, and I need some more stuff. Bigger accessories are a must, for sure.
my step mom was awesome about taking photos and videos. here's a good one she took at the end, when Dad and Jordan were hanging the TV up again:
woo! What do you guys think? I am so excited. I know I'll be posting about them again soon, but I couldn't resist sharing this with you guys this am... I am pumped!