it's Friday! Yay.
I promised the other day that I would post my how-to for my cute little Target $1 make up bag re-do.
I found these cute patterned bags at Target in the dollar bins and snatched them up. A good pattern and color combo seduces me every time.
Anyway, I had been seeing pom poms everywhere recently, and loved the idea of doing the pom poms in different colors. When I found a bag of wool yarn at a thrift store for $2, I bought them and knew I would make pom poms with them. This all happened in the same day, so I thought maybe it was serendipity :)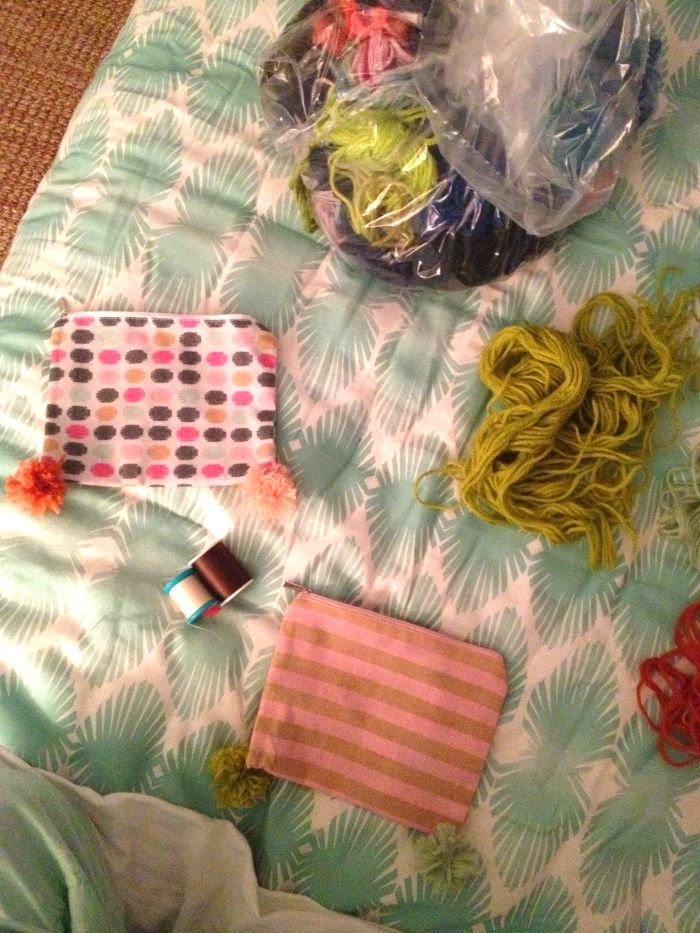 Here is how you make the pom pom:
take a long piece of yarn (about a yard) and wrap it around two fingers:
Do it with about 6 piece of yarn, total. More, if you want it to be really full.... Mine could've been a little fuller.
Anyway, slide it off your fingers carefully, and tie another piece of yarn around the center, and create a tight knot.
After that, clip the ends of both little loops:
fluff it out a bit, then trim your pom pom with scissors to make all the ends the same length
Attach to your little bag with a needle and thread!
and voila!
I loved the rust, peach, mint and chartreause combo... like I said... I can't resist good color combinations :)
have a great weekend, and happy pom pom making!