A couple of weeks ago, I decided to build a desk for Jordan's office. I'd gone to IKEA to look for a desk to build for him, but when I looked at the different legs that they offered, I didn't like any of the desk tops, so I decided something slightly more rustic would be cooler and fit the vibe of the house better. Our house is slightly on the modern side, so toning it down with some rustic/earthy vibes helps balance it out, I think.
I found
these legs
(for some reason, again, IKEA doesn't have just the legs for sale on their website, that I can see. I bought them individually at the store, though, for $10 each). Then I went to Lowe's and bought some wood. I'm not sure what the length of the pieces I bought were, or what type of wood they were (bad blogger), but when I brought them home they looked like this:
A lot of people don't know, but Lowe's and Home Depot will actually cut the wood for you. I didn't have them cut it for me in this case, but it can be done, and it's a lot easier if you have a smaller car. I trimmed three pieces down with my Skil saw until they were all the same length, then laid them side by side on the ground.
Since I didn't take pictures of the whole process for you guys, I decided to draw some: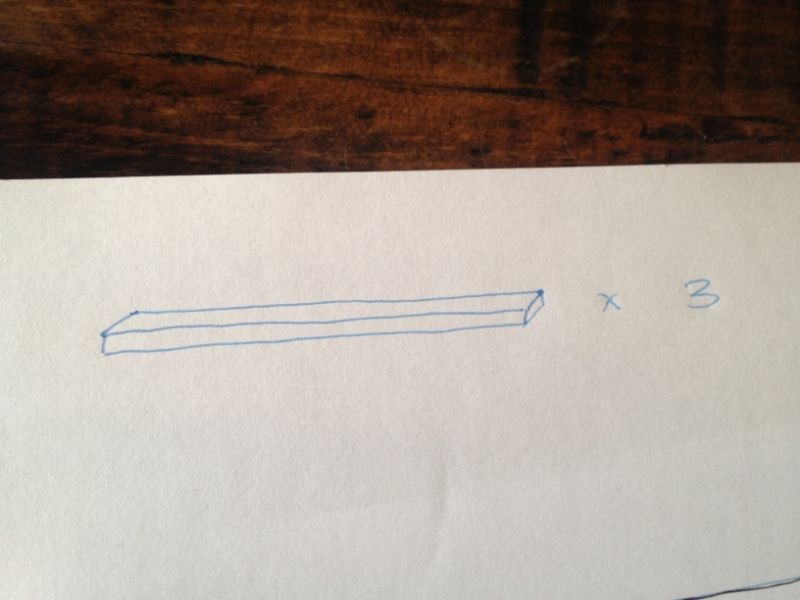 :)
lay your three pieces of wood out side by side:
Trim them to the same lengths, if necessary.
THEN-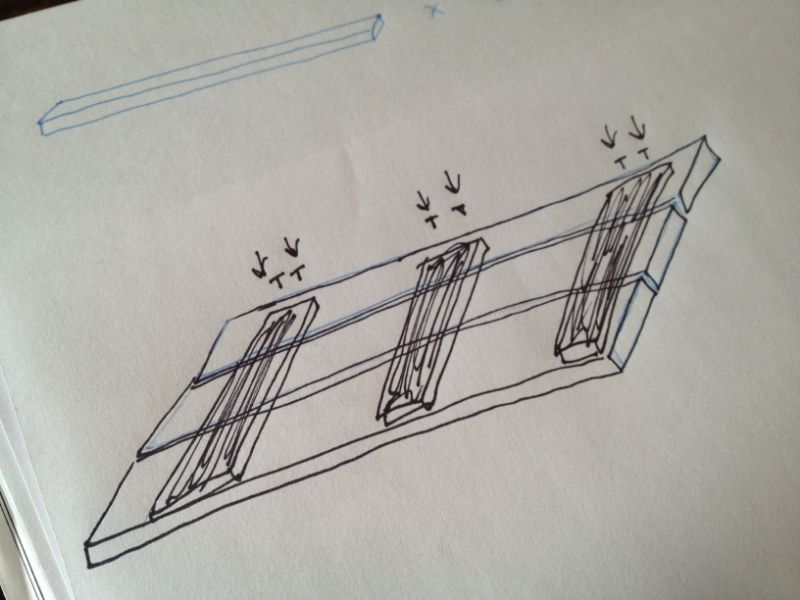 use short pieces to attach your three pieces together. Nails need to go into all three long boards and short boards. So, you'll have 9 areas of nails or screws. Make sure your nails or screws are long enough to go into both pieces of wood, but short enough so that they don't come back through the top of the desk! This is something important that I have forgotten in the past, and makes for an annoying mistake.
After that, your top of your desk is built. The ikea trestle pieces don't come with something to attach them to the desk with, which is weird. The guy at the store told me they did, but he was wrong (unless I am missing something...). Fortunately, the desk stays on top of the trestle tables pretty nicely, due to the weight, but if you have kids or are worried about it being knocked over, this is an issue. I'm sure there's some way you could attach it, but I haven't gotten that far!
when you are done, you have this:
oh- I forgot to say that I rubbed the whole thing down with diluted Jacobean stain. Very diluted. didn't want it to be strong. I also dragged a hammer and made a bunch of indention marks in the top for a more rustic, salvaged wood vibe.
Last week, I saw this desk on
Bryn's blog,
and it definitely reminds me of my desk: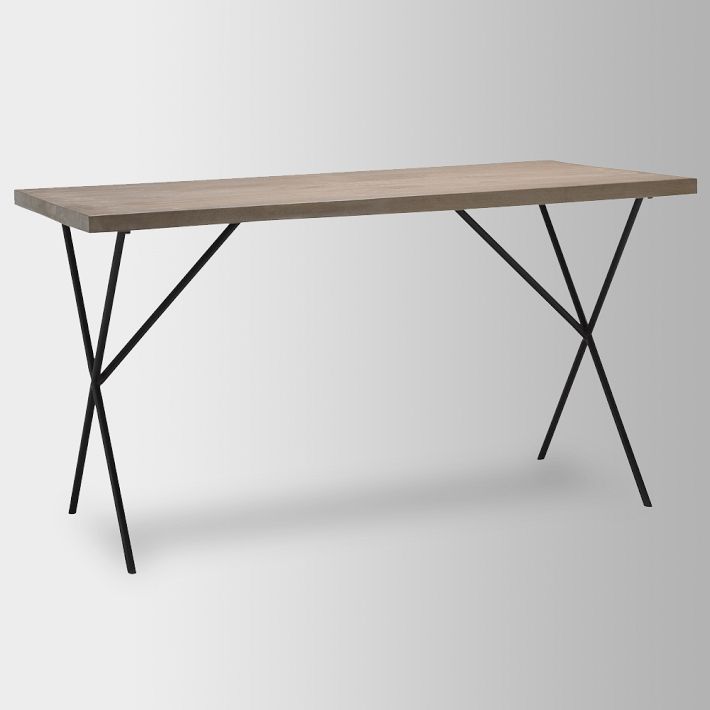 It's from
west elm
. It's $500, so I like the price of mine a little better, which came out at under $50 :)