As I mentioned a few times before, I recently was involved with helping create the backdrops for
Heather Hogan Robert
's window display for the
Borgias Unveiled event
. When Heather called and asked if I'd be interested in painting the backdrops, I said yes with no hesitation! What an honor to be involved in such a cool event (Thanks Heather!). We were under a tight, fast deadline that, at times, had us pulling our hair out. But, it all came together in the end, and the result was pretty great.
Anyway, I wanted to show you a few photos of the process of creating my backdrops. Suite Spot (The store that hosted) already had big set backdrops made for another event they hosted, but they were covered in a concrete like faux finish, that was going to be impossible to paint over. So, instead, I bought pieces of thin particleboard (I'm really not sure exactly what it's called) at Lowe's, and had them cut into 2'x8' pieces. I had to have each "wall" add up to 12'by 8' ,but I had to have my pieces cut into 2' divides due to the fact that they wouldn't fit into my Jeep otherwise! Kind of crazy, but it worked. After I painted them at my studio, I nailed them to the previously-made backdrops at Suite Spot.
here the boards are once I laid them down on the floor at the studio: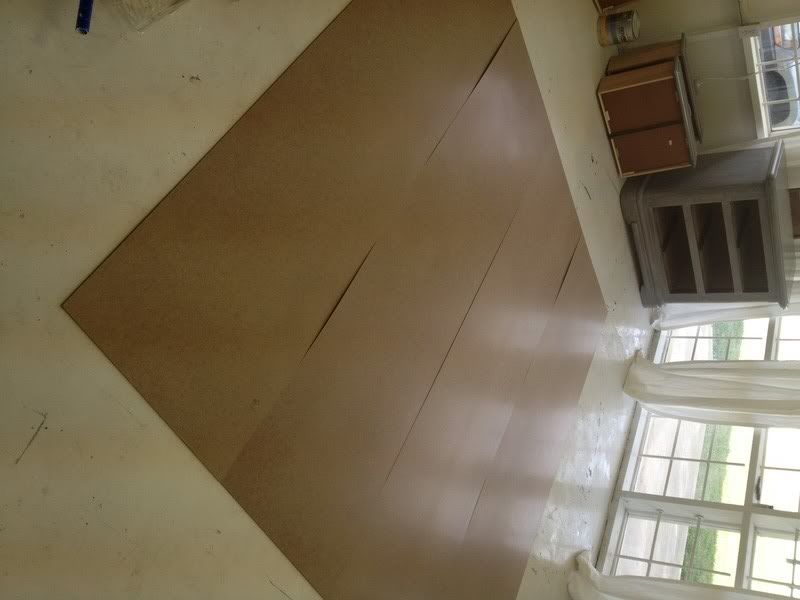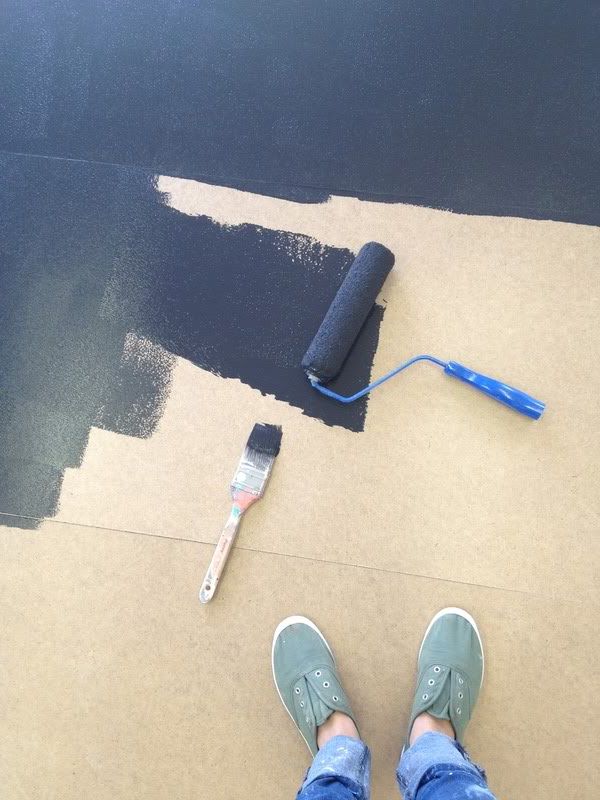 I let that dry, and got to work on my custom stencil. There are several scenes in the show with this cool (weird) star pattern in the background, and Heather and I KNEW we had to use it when we saw it! It was easier said than done, though. It was really hard to make, because the pattern interlocks with itself, so it's kind of never-ending.
I practiced drawing the pattern for a while, before I finally figured out how I was going to make it work.
(my iPad shows the pattern in the background on a photo from the show. PS - Dad, do you see I'm making good use of my iPad?!? :))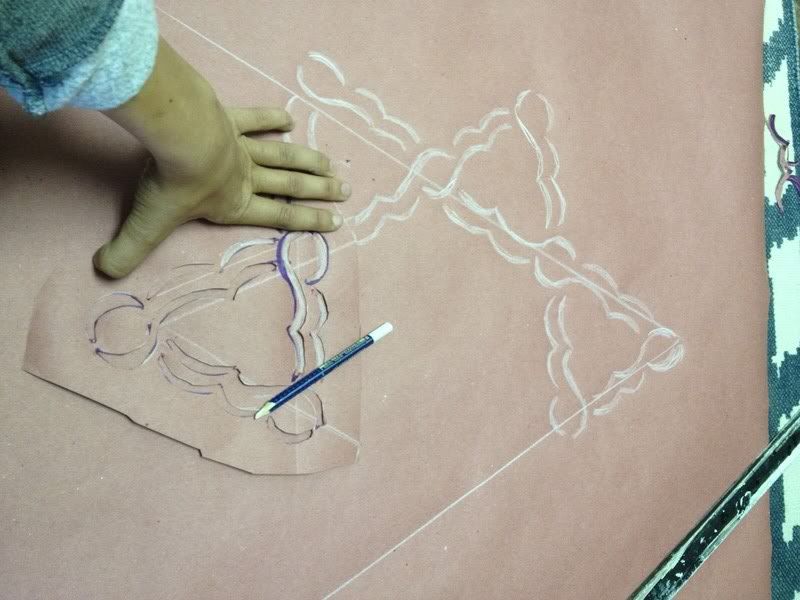 I drew it out on a piece of paper before I traced it onto my plastic. I used really thick plastic from Sam Flax for this. It was very hard to cut, but made a really durable stencil that I'll be able to use again.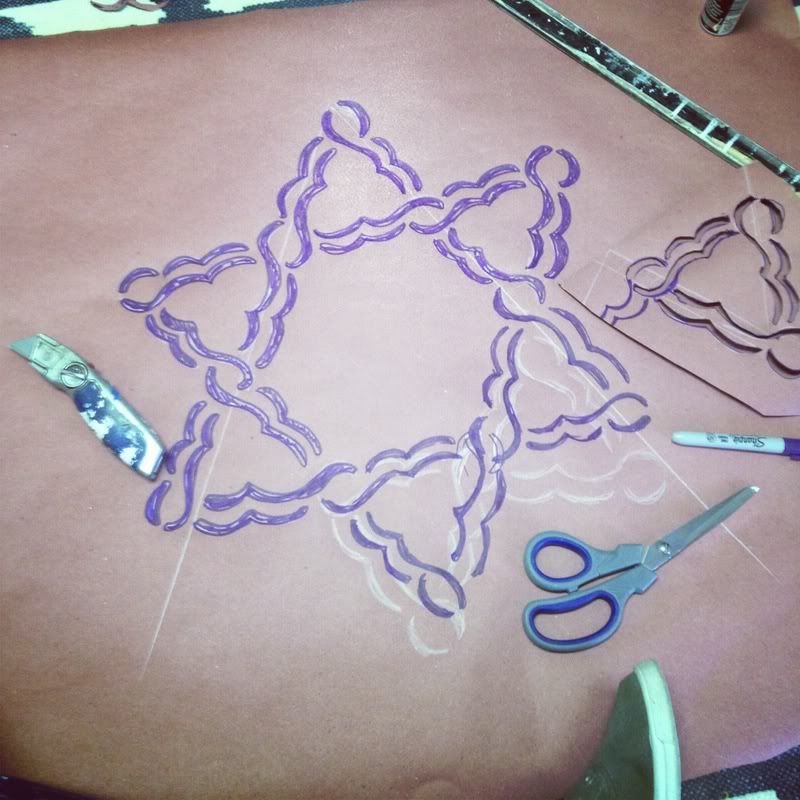 After I traced it onto my plastic with a permanent marker, I then cut out the shapes with a razor blade. It probably took 2 hours from start to finish.
After that, I was ready to put it to use! This was the exciting part.
It got dirty while I was doing it, so I had to finish it up wearing socks. The studio floor is, how shall we say...dirty. It wiped right off, though. After I did those first two stars, I was elated that my stencil and hard work paid off.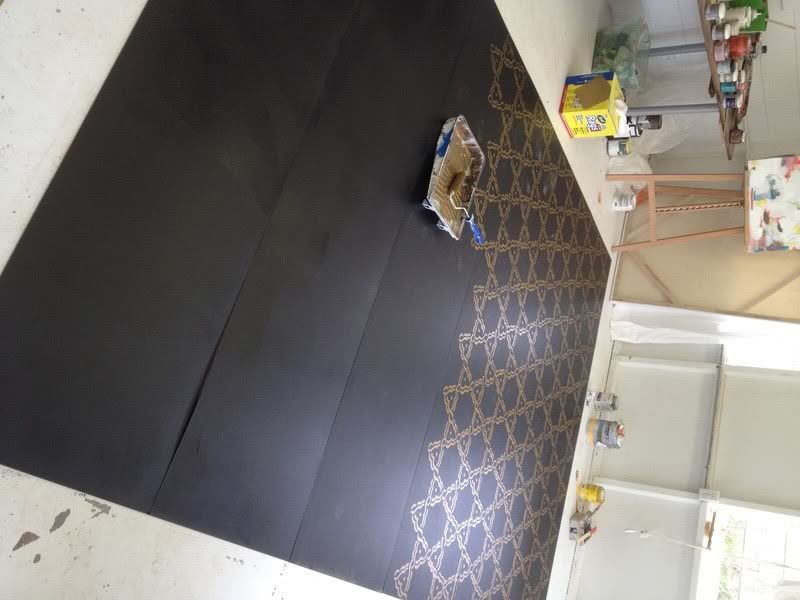 you might notice that the two panels closest to me when taking this photo are still wet with black paint. we had a little mis-measuring mishap that caused for some fun "drama" and crunch-time insanity on my part..but I went out and got two more panels and got them painted ;) plus, I was able to show my friends in the lumber department of Lowe's what I was actually doing with those boards they cut for me. I am good pals with all the dudes in the lumber department, though I'm pretty sure they're always wondering what the heck I'm up to :)
all done! I was a happy girl with a sore back (story of my life) after this!
here they are, all done, propped up against the windows at the studio:
(I thought they looked kind of cool in there)
here I am touching up the wall, after I nailed them to the backdrop.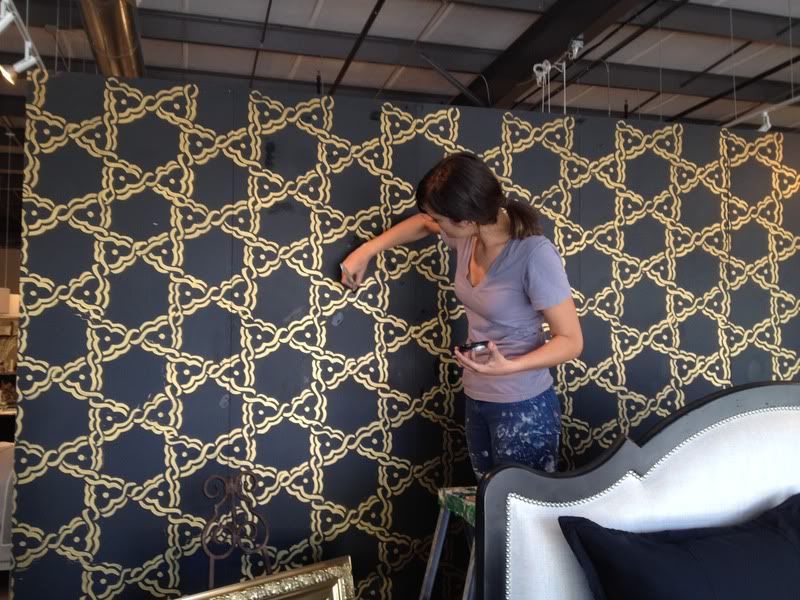 anyway, hope you enjoyed that long story!
Here is our final product for that room, incase you missed it: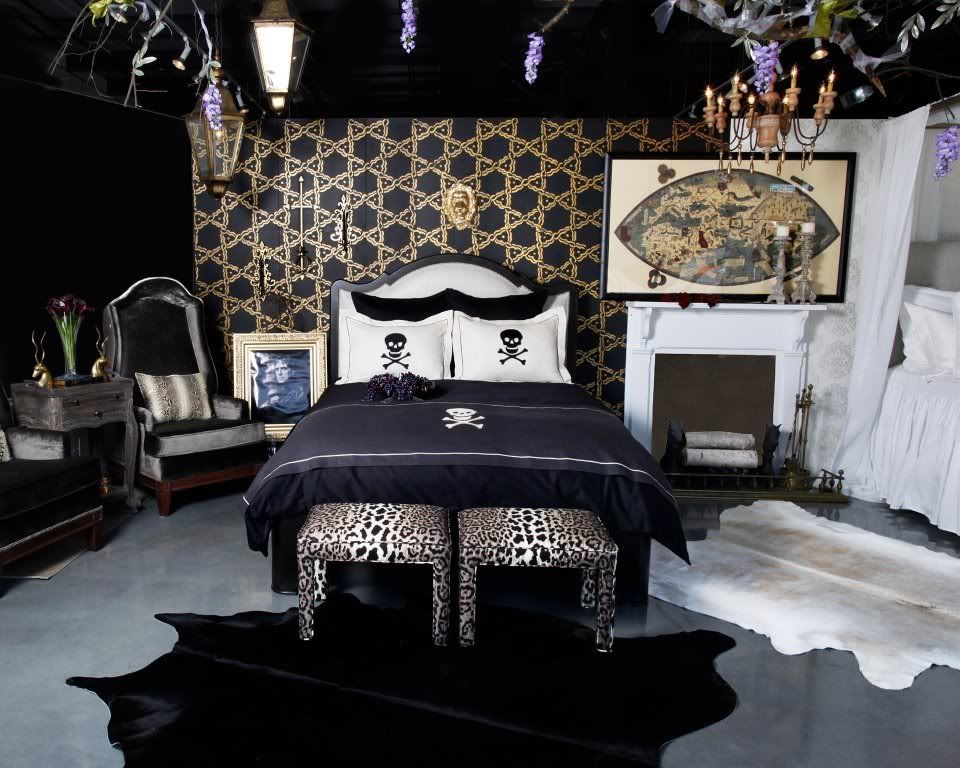 so, now for contest info! Here is the info I got from the publicist that we are working with. This whole event is actually a contest to win a trip to Italy, plus a pretty incredible shopping spree worth $5000 (holy moly!) to
Vintage and Modern
. Pretty ridiculously awesome, no? Please vote for us! I'll love you forever. Anyway, here is the info:
Westside homestore Suite Spot recently partnered with Showtime and Vintage and Modern on a national design project called "Borgias Unveiled" to promote the cable channel's premiere of The Borgias second season. Ten select designers in ten cities (Atlanta,

New York, Los Angeles, Chicago, San Francisco, Philadelphia, Boston, DC, Miami and Dallas) were chosen to create window installations in high-end retail stores based on themes (lust, greed, love, etc.) from the show.
We are encouraging Atlantans to vote for Heather Hogan Roberts of HHR Interiors, who designed Suite Spot's "Love" window, at www.borgiasunveiled.com. The deadline for voting is April 19.
Heather's signature design aesthetic - vintage upholstered furnishing, unique anchor pieces and what she likes to call a "bit of lipstick and rouge" - coupled with Kristen Fountain Davis' decorative painting and Suite Spot's timeless products beautifully reflect 15th century design with a modern twist.
As part of the competition - "The Borgais Unveiled Sweepstakes" - everyone who votes will be entered to with the grand prize of a trip to Italy including round-trip airfare courtesy of Delta Air Lines, five
nights at the Westin Europa & Regina in Venice, a private tour of the Monte Del Fra Winery and a $5,000 gift card to spend on BORGIAS-inspired décor at VandM.com.