Tomorrow, I'm scheduled to paint a new, fun pattern on some dining room walls, but until then, I have another furniture makeover for you guys. This piece was a family heirloom that my client wanted to keep, but give a little new life and character to it. She was decorating her bedroom in soft browns, creams and blue-greens, so we decided to go with a cream on the outside, and a pretty blue on the inside. Check out the "before" shot of the secretary: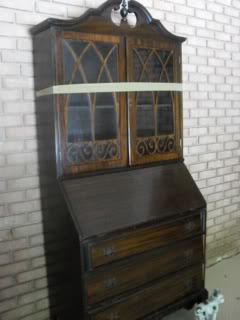 and, the most challenging part: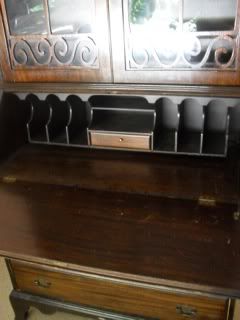 I say it's challenging because of all those little pockets! Not easy on the arm/back to paint. I couldn't remove the little shelf/drawer area on the desk, so I couldn't spray it. I painted that baby by hand! I have a knot in my back to prove it. :)
And, the "after" (I painted in the garage - this is not where the secretary is going to "live"):
Exterior is Benjamin Moore's "Manchester Tan" with a brown glaze on top, and the interior is "Palladian Blue". Palladian Blue is one of the prettiest colors Ben Moore sells, in my opinion. It's one of those colors that changes as the daylight gets brighter or darker, but always to a gorgeous shade. I used it on
this furniture
, too.
I did extra antiquing in the bevels and corners. I tried to make a video on my phone for you guys, to show you how I do this (lots of people seem to be interested, so I thought it would be helpful!), but apparently I can't figure out how to upload it. Geez! I can't get it off my phone. If I figure it out, I'll post it. Anyway, we loved how the antiquing highlights the pretty, feminine woodwork on this piece. It's so much girlier now!
See how the scrollwork and the cross sections on the doors stand out so much more now? Not to mention, how nice they look with the blue interior...
and while I'm talking about the blue interior, check this out:
I think it's such a fun surprise when you open the desk. I loved that she wanted to do the interior a different color.
I imagine a cute little desk stool, reupholstered in a pretty fabric sitting in front of this! And a cute little glass vase of peonies sitting on the desk, Domino-mag-style - don't you?