i dyed a rug. kind of a weird thing to do, but i found this oriental rug remnant at goodwill for only $5, so i didn't really have anything to lose. the original colors were not cute at all, so i thought i'd experiment a bit, and see what i came up with. i had a picture in my mind of what it'd look like, and these
over-dyed rugs at nomadic trading
were sort of what i pictured (coincidentally,
camilla posted about these
a couple of weeks after i finished my project!).
anyway, first, i took my rug remnant and bleached it out for a couple of hours in the tub...i stirred it a bit with the end of the broom to make sure it was fairly even.
here is the rug on the floor before i started anything -- at least you can see what the original colors were. dusty rose and purple - my favorites. ;)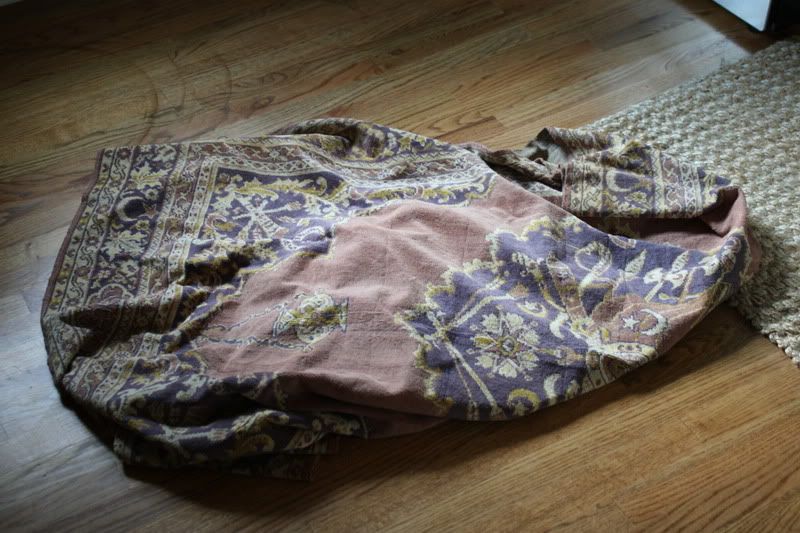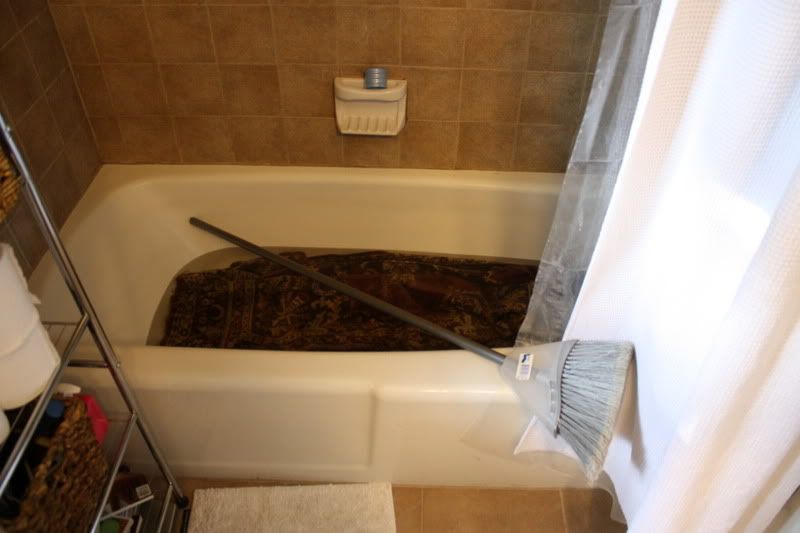 this is what it looked like after i bleached it out: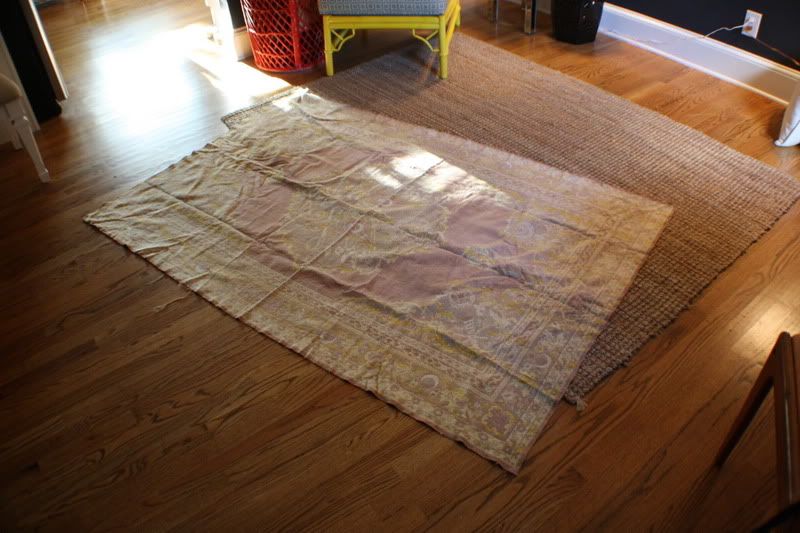 i didn't want to remove all of the color, because i wanted to still be able to see the pattern when i dyed it...
i was going to dye it outside in an old bin, but i decided to go the old-fashioned (washing machine) route instead. in college, i dyed things with "rit" fabric dye all the time, in the washing machine. i have no idea why, i guess i was just experimenting. i used to sew clothes sometimes, back in those days :) (actually, my brother and i had a short-lived t-shirt company, too). anyway, i threw it in the wash, with one box of fuschia dye, and one box of scarlett:
i wanted to make sure the 2 were mixed well, before i threw them into the wash (though, i guess a tie-dyed look could've been cool), so i put them in a tupperware container and shook the powder:
before you put the fabric into the washing machine, you are supposed to wet it completely, so i did that in the sink:
this is the dye bath in the washing machine. scary. sort of looks like a scene from true blood. eeks.
anyway, i ended up doing another layer of dye after this one - it wasn't bright enough for me. i still think that i probably would've bleached it a little less (so more of the pattern shows) than i did, and maybe i will do a little more dyeing, but all in all, i think it looks similar to some of the popular over-dyed rugs that are for sale these days!
mika models: