so, i kind of felt bad
leaving you guys hanging
like i did something super-exciting in my bathroom, when it really wasn't that exciting! haha...i just hadn't had a chance to really take good photos, because you have to wait until about 4-5 pm to get any light in there, and even then it's really hard and awkward, because i'd guess the square footage is around 20 feet. tiny bathroom. nevertheless, mini-makeover i promised, and mini-makeover you shall receive.
here is my "after" pic: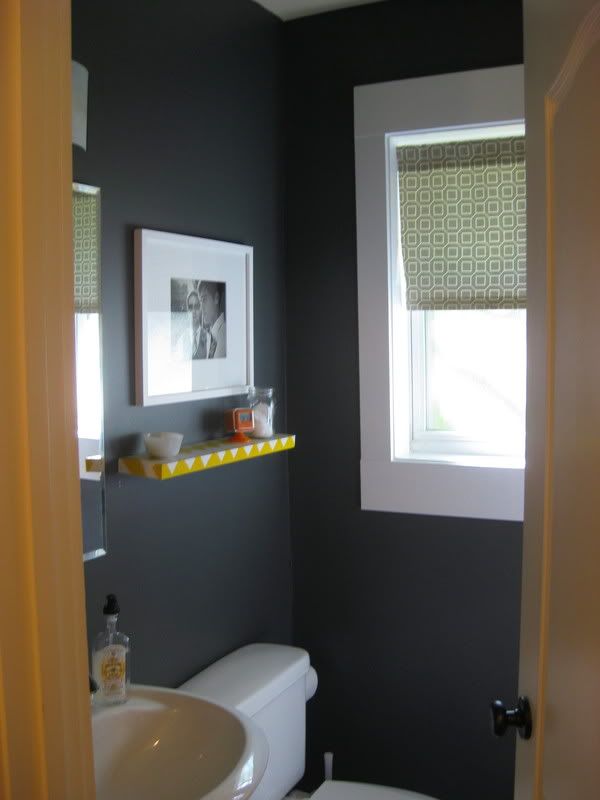 as i mentioned in my previous post, the wall color is a mixture of 2 colors i had on hand already. i love the way it turned out!
i also ended up making a tiny curtain for the window (with some leftover fabric i had from another project), and also painted the little shelf in a chevron pattern.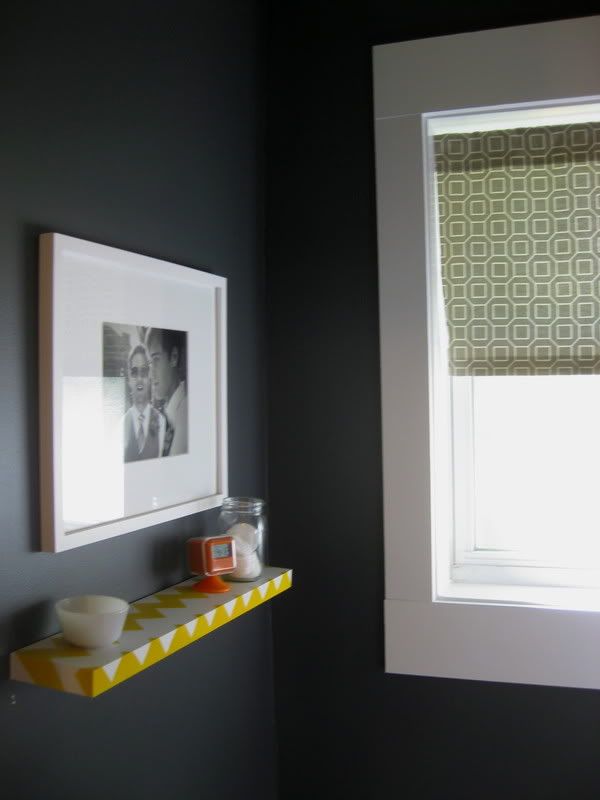 the photo above the little shelf is a photo from our wedding that i blew up (of my husband and my brother) and framed in a target frame, and the small white shelf happens to be from target too. i already had it, and it used to live in that exact same spot, but after my wall color switcheroo, i was craving something different for the shelf. i actually initially covered it in a yellow and white fabric, but after i covered the whole thing, it didn't want to be hung up again due to the fabric keeping the screws from going in the right place on the wall. i removed all the fabric, and decided to do a spraypainted chevron print, sort of like
"everything LEB's" tray
.
i started out by covering the whole thing in masking tape (i didn't have painter's tape on hand, but this worked fine):
sketched out the chevron pattern with a sharpie (you could get technical with a measuring device or a tracing device if you want to be perfect for this, but i was in a time crunch)
cut it out with my utility knife: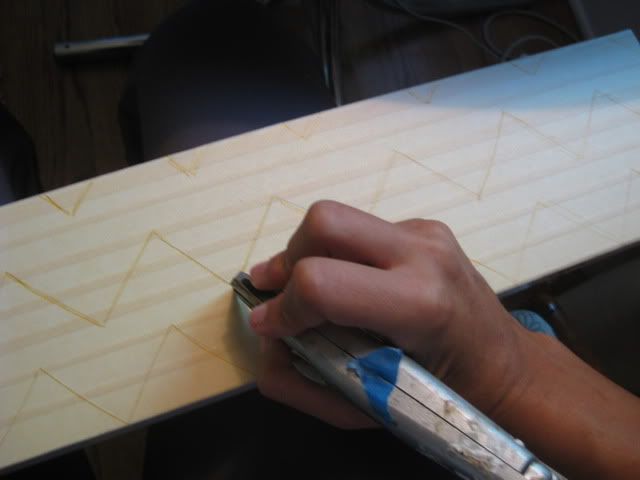 peeled off every other row of the tape to create the lines: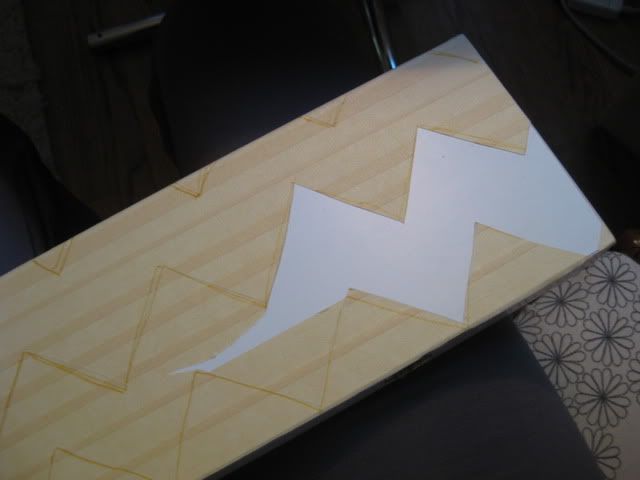 the put it outside on dropcloth, and spray-painted away, with spraypaint that i already had: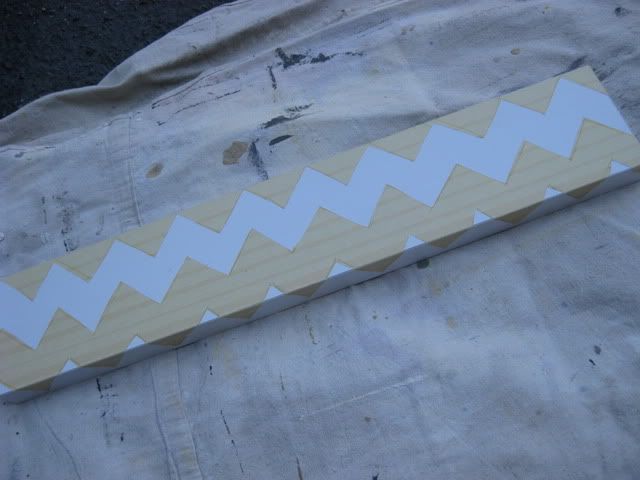 i did 2 layers of paint, and was really happy with my outcome!
what was mika doing during all of this, you may ask?
that's right, snoozin'.
anyway, next, i made a simple, small curtain for the window. i already had this geometric gray fabric leftover from my
chair project
, so i bought a small dowel rod at target (actually, that was the only thing i bought for this entire mini-makeover), then hot-glued the ends under to "hem" them into the curtain shape. i fed the foldover onto the dowel, and voila! i guess hot-glue wouldn't be the number one method of making a curtain under normal circumstances, but since this one will never really be moved or rearranged, it's ok if it's not sewn.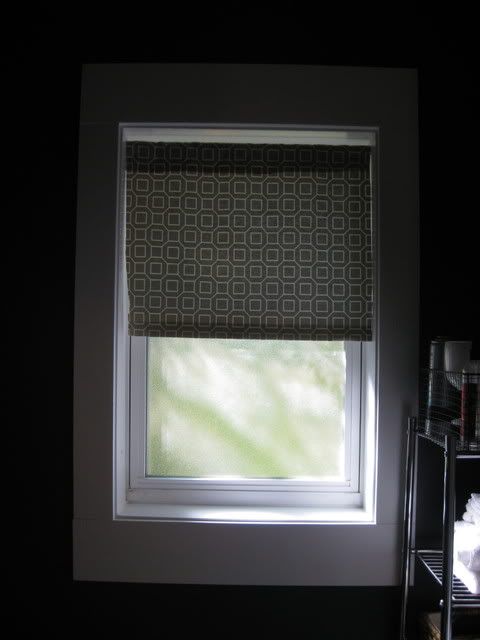 and now, i will show you how i stood in the shower stall to take these photos: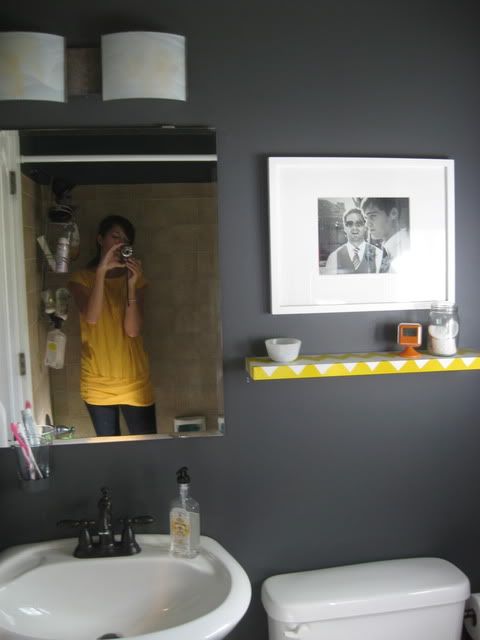 hah! hope you guys enjoyed my virtually-free mini make over. it makes me a happy kristen. :)