so, along with the two projects i've shown you guys from this week, i also painted a baby nursery for megan's (future) baby. it's only in the verrrrry beginning stages, but i'm going to show you the bedding/bed so that you can get an idea, and later on, i will have a proper "after" shot of the room!
***
the room was already painted this bright, happy turquoisey color, so we decided to go with all-white for the painting (i thought the contrast would be really nice, plus, we are going to paint the "sweet dreams" letters in the future, too).
here is megan's crib that has yet to arrive:
i think she is buying it in white, but isn't it cute? i love it!
and here is the bedding:
chocolate browns, greens, reds and turquoise
they aren't going to find out the gender of the baby before it is born, so it's a perfect gender-neutral choice, i think! megan decided to go with a "sweet dreams"-themed room, with stars and swirls and circles, so here's what i painted (the crib will obviously be right below this, and i think when the bedding comes in, we will be painting the sweet dreams letters in stripes to match the bumper on the bedding! isn't this a cute nursery idea?)
i love the circular window in the room, and with the moon up to the right of the painting, i think it kind of gives the circles some balance (i'm weird about having balance/symmetry in rooms. don't ask me why. too many art class critiques, maybe? ugh.)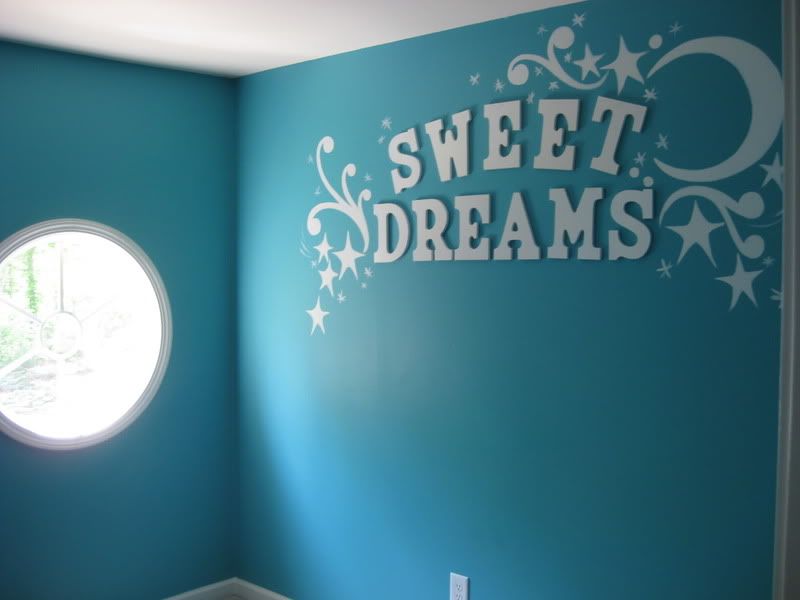 to the right:
a little sprinkling of star dust next to the lightswitch, too: