Yesterday, I completed this master bedroom for a long time client that I did some stencil work for a few years back. She and her cute family are building a pretty house and they close on it soon. I came in to do some stenciling in the master bedroom, and will be back Monday to do some stenciling in the little girl's bedroom.
Anyway, I used a stencil I haven't used before-- the
Indian Paisley Motif stencil from Royal Design Studio
. My client selected the color and the stencil -- I just applied it. We decided to do them a little closer together than RDS did their's, just because the stencil is small, and we were doing it on only one wall. We wanted it to make an impact!
Check it out...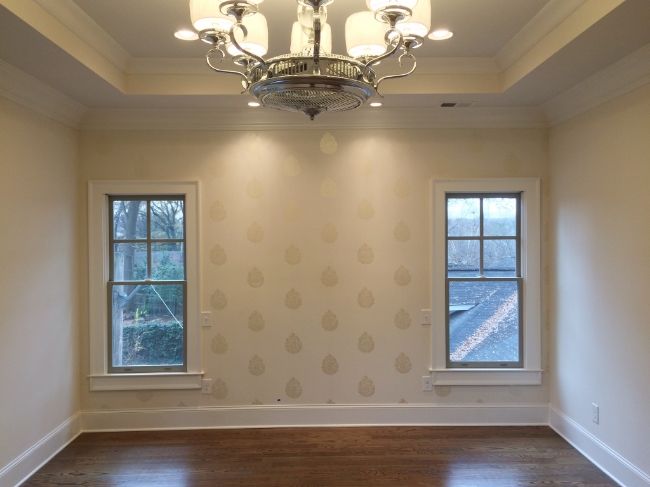 I love the soft wall color in here. It was a rainy day, so hard to capture pictures, but the paint I used was a metallic from the Ralph Lauren line at Home Depot in Oyster (Btw, glad that line is back, but I am sad that the Martha Stewart paint line is gone. I loved their metallics!).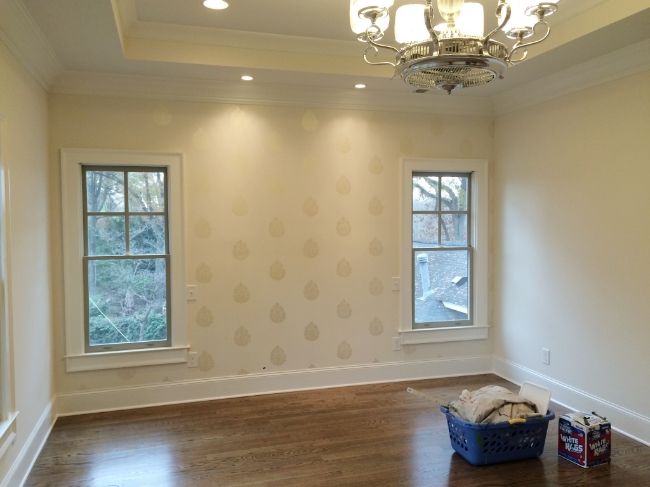 by the way, their light fixture is a fan/chandelier combo. Cool huh?
And also, because I couldn't resist, I wanted to show you guys the cutest chair ever that came in for the client I am helping do a little decorating:
AH! It's from Furbish, and I love it. It came in last night, so I went over to check it out. So cute! This room is going to be great - hopefully I can show y'all pictures when it's all said and done.
Just a reminder, if you haven't checked out the
BLACK + DECKER Big Finish
, don't forget to
head over here
to check out the contest (enter for a chance to win $10K, plus an assortment of awesome prizes, and the chance for your project to be featured on a big screen in Times Square in NYC).
My shower curtain and new rug are set to come in tomorrow! Yippeeeee.
Have a great weekend, everybody!