Since I was a whirlwind of paint for the first ten days of this
BLACK + DECKER Big Finish
challenge (bad blogger), I am scrambling to get things finished by December 10th. This is actually proving to be a nice kick in the pants.
I know I
posted about three rug options
on Monday. Howeeeever, after I was perusing Etsy for way too long, trying to find a small, colorful kilim, I decided to check out what Urban Outfitters had. My thought is always that surely if a trend has been on the market for 6-12 months, UO should have some kind of knock off ready. I have actually checked there in the past, several times, waiting for them to have one, because I knew eventually they would. And Monday was my lucky day, because they did. Most of the ones that I had found on Etsy were at least $150, and I was happy to find
this one
for something like $40:
Yes!!! I am glad that it is actually woven, and not printed. And, it was pretty great that it just happened to be Cyber Monday, because shipping was free, and I got $15 off my "$75 or more" order.
Yep, while I was there, I looked at shower curtains for fun.
And found one!
Yessssss. Finally a rug and shower curtain that I really love. I shouldn't have even bought the other ones. Dangit. Oh well. I moved the red rug downstairs, and it looks good by the front door.
AND! In other exciting news, I picked out some cararra marble for the bathroom countertop. Woo! This is very, very, very exciting to me. I am using Christmas money to buy a new countertop for my guest bathroom. Weird? Kind of. I know that I will just go in there and stare at it. Weirdo.
Here's what it looks like now: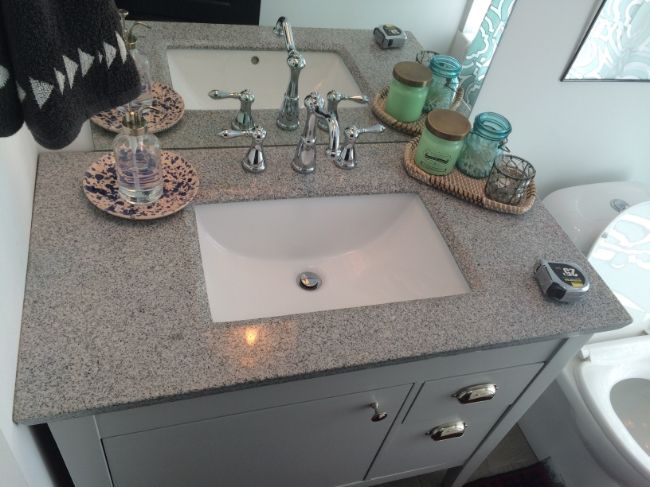 and what I found:
I like that it's a bit whiter, with less large gray veining. I wanted a more white slab, since the tile in the shower is also cararra, with LOTS of gray. I thought the contrast would be good. And it's honed marble, so it's not shiny. I think it'll be a nice change from that shower tile. And the honed marble will be softer. I was lucky to find a remnant slab. Wish me luck that I can get it in in 7 days?!? Ahhhh.
If you haven't (or want to again :) ) checked out the
BLACK + DECKER Big Finish
initiative, please
go here
and see what everyone is up to! There are lots of cool projects to check out. And, like I said, you can enter to win their contest for $10,000 cash or some nice prizes.
Thank you to BLACK+DECKER for sponsoring this post and inspiring me to FINALLY finish this room!