I'm down to the beach with family this week, but thought I would check in and show you guys my new coffee table and rug that came in last week, before I left.
It was a crazy day - after ordering this rug Sept 10, I thought it wasn't going to come in until the end of November. Last Wednesday, it surprisingly came in early. I also ordered the coffee table on Tuesday, from the store. I got a phone call Wednesday that it was in already. So Wednesday was a busy and exciting day.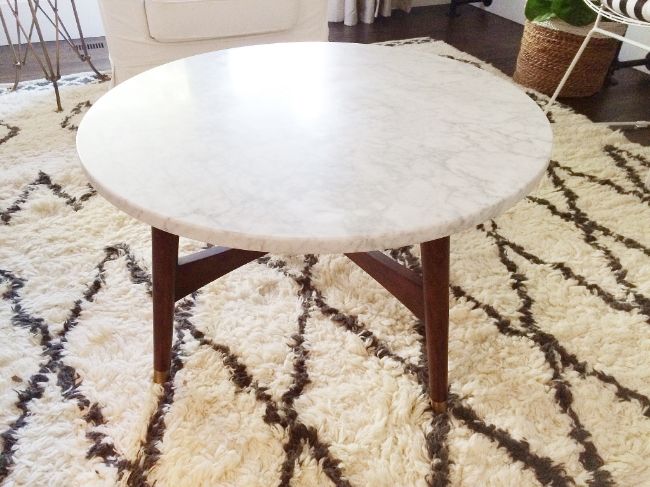 It's the
Reeve Midcentury table.
I ordered it in-store, because there was a $30 delivery surcharge, plus shipping, so it saved me about $100 to pick up from the store. The only glitch, was that there was a wooden shipping crate around the marble top, which made it really difficult to open the package. I literally was sweating after 45 minutes of trying to pry open the shipping crate. Kind of crazy! I wonder if anyone else has had to deal with this. The employees at the store were surprised to see the crate around it, but said that west elm probably did this as a new way to prevent the marble from being cracked (which was apparently an issue in the past). They should, however (in my opinion), remove the crates before customers pick up the pieces. I was afraid I was going to crack the marble myself, just trying to use a hammer to pry open the shipping crate. And, yes, the hammer was recommended to me by a store employee. Anyway, I finally got it off, assembled the table, and I love it. It's taller than the CB2 acrylic waterfall table we did have (I sold it on Craigslist), so that makes it more comfortable for life.
I really love the rug, too!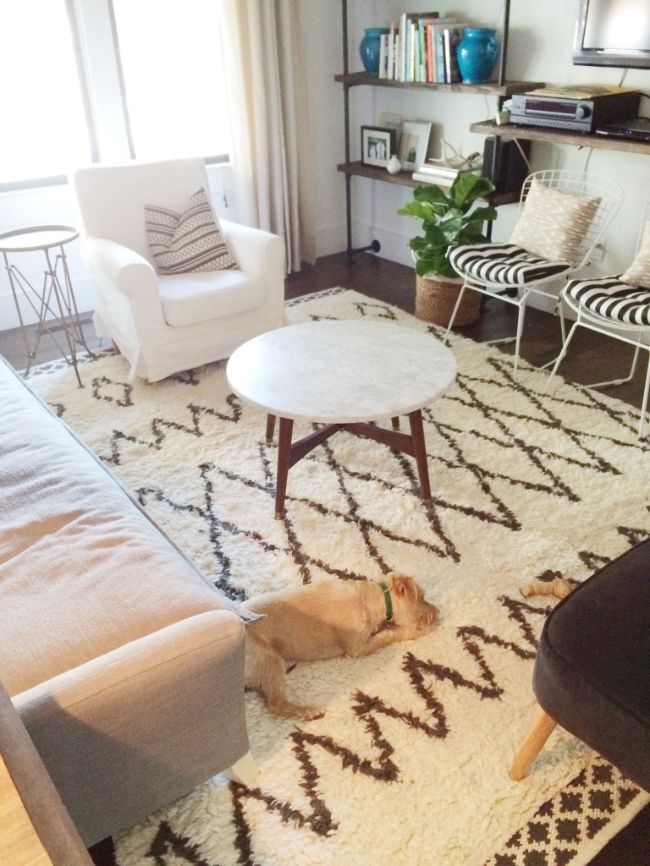 Please ignore the design and pieces in the living room now. Its not terrible, but I am certainly in a transition time with this room! Too many arrows and triangles right now -- I'll remove some of that stuff when I get home from the beach.
It's the
Kasbah shag rug in 8x10.
It was apparently backordered, but came in earlier. I noticed that the price jumped up too, since I ordered it. Must be popular! I love how it feels underfoot, and the abstract design on it. I also was choosing carefully, since Max tends to like to chew on rugs. This one doesn't have any nubby characteristics (a max-fav for chewing), or tassels or loose pieces. So far, all he does it lay around on it, like it's one giant bed. It's a little creamier in person, than it seems to be online, but I am ok with it, since we have white-white walls.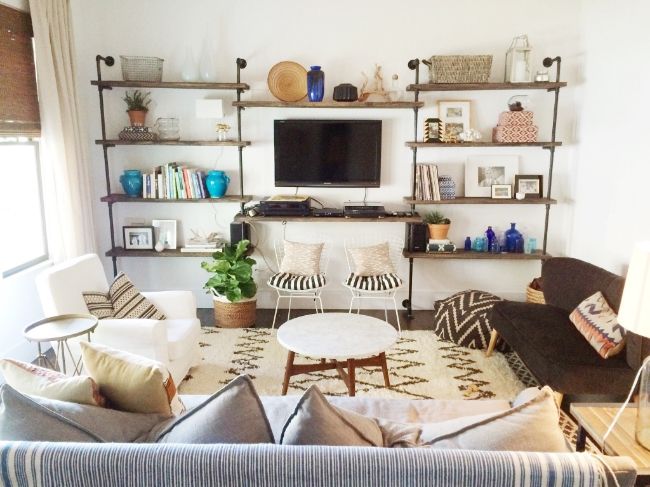 (I love the marble top!)
AND! also exciting: west elm picked up our sofa last Friday, so that we can be refunded and buy a new one. I believe we are going to order this one:
http://www.westelm.com/products/crosby-2-piece-chaise-sectional-h067/?pkey=e%7Ccrosby%2Bsofa%2Bsection%7C105%7Cbest%7C0%7C1%7C24%7C%7C4&cm_src=PRODUCTSEARCH||NoFacet-_-NoFacet-_-NoMerchRules
hopefully the sectional part will be extra cozy, and the pillows on this one are nice and firm.
Yes, our living room is like a west elm showroom right now - I'll fix that with the accessories that I will change out when I get everything in order!