I haven't been feeling as compelled to write about and photograph my house. I'm not sure why? There has been a big shift in blogging the past few months (not to be dramatic. I have been meaning to write about this, even before all of
this
happened.). Did you guys read
this
New York Times article? I guess I just feel like so many design blogs are getting over-saturated with ads and sponsored posts. I miss the days of "I bought this dresser at the thrift store and painted it!" Those were fun times. It seems like everything was exciting and new, and now you have to have a freaking production of a blog post to get hits and reads and comments. Each post has to be magazine cover-worthy and everyone is in competition. I feel like I can't keep up! What I can do, is photograph my work, and talk about it, so that's what I have been doing. I don't want to shy away from blogging about my house, decorating, projects I take on and crafts I do, but it is what it is. I intend to continue writing about my house, just because it's fun for me to decorate, and writing about it here is an interior design creative outlet (since I don't do that on a daily basis for work). I just thought I'd put it out there, and see what you guys thought about the article and the "shift in blogging" that everyone is talking about. Are you guys tired of blogs turning into commercials, too? On the one hand - I get it (I have been known to do a sponsored post! I am not against them, if they are done sporadically), but on the other hand, it just makes things seem not as organic. Anyway. What do you think?
And now, I will move onto a lighthearted "what I have been up to" post. Or, the iPhone photo dump, if you will.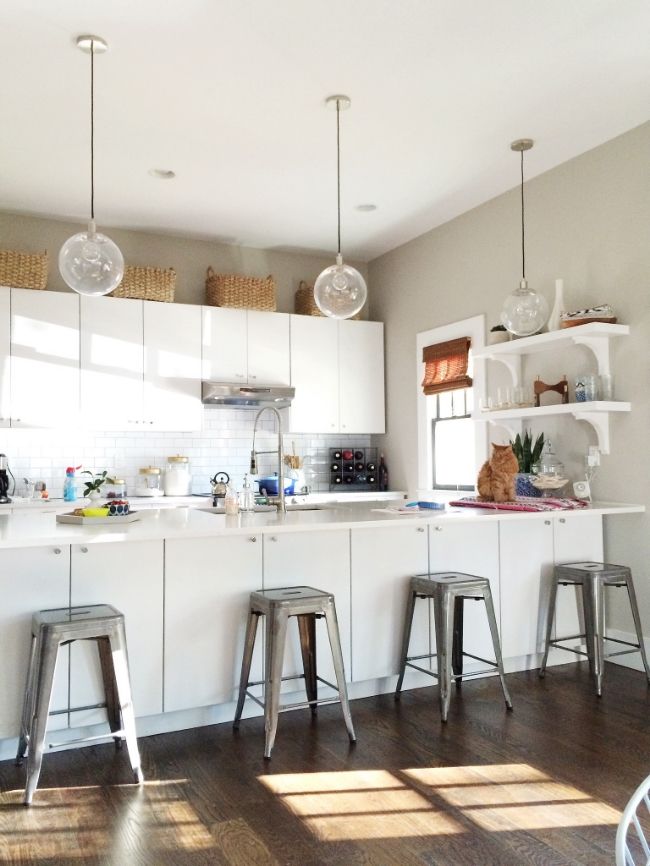 I bought the gray metal stools from Target, to replace the orange ones in our kitchen. I am keeping the orange ones, too, I just wanted a change! I tend to be all about color one day, then crave neutral the next. I think it's a change in seasons thing. Anyway, I love the gray ones. What do you guys think!?
In other news, I am doing a really large scale watercolor painting for a client down in Florida. I had fun yesterday at the studio, playing around with the paints I bought and getting the feel for what I wanted to paint. I think I like where this is going: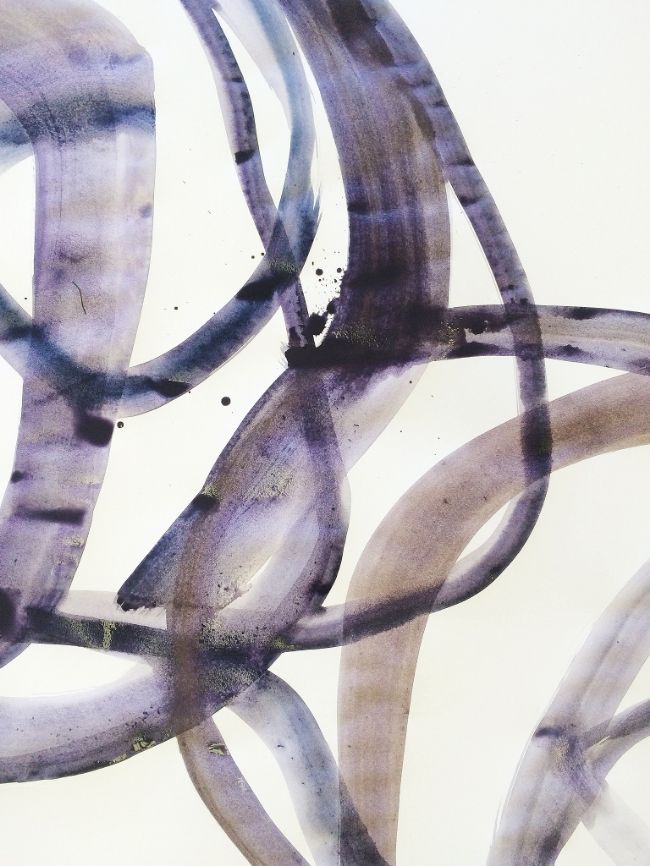 That's just a little clip of the painting I did. It's funny, because I still don't consider myself a painter (because I barely took painting classes in college. I was more a drawing major and took lots of drawing classes). I never realize how well I do actually know how to manipulate paint. It's when you introduce a medium that you aren't as familiar with, that you realize that! The one type of painting I did do in college was watercolors, so it was easy to jump back into the saddle. Watercolors are so fun and entertaining. The way they are headstrong and do what they want to do, and it can either go so wrong or so right - that's the great thing about them. This project is making me want to explore them some more. It's just so fun to play around with them.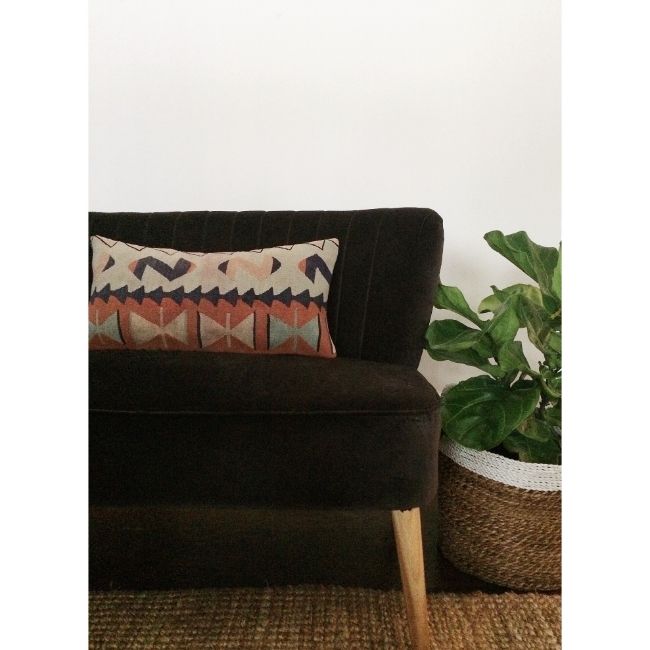 This is the settee in my living room. I bought that lumbar pillow on Etsy. It just came in the mail the other day, and I love it. Like I said - neutrals, neutrals.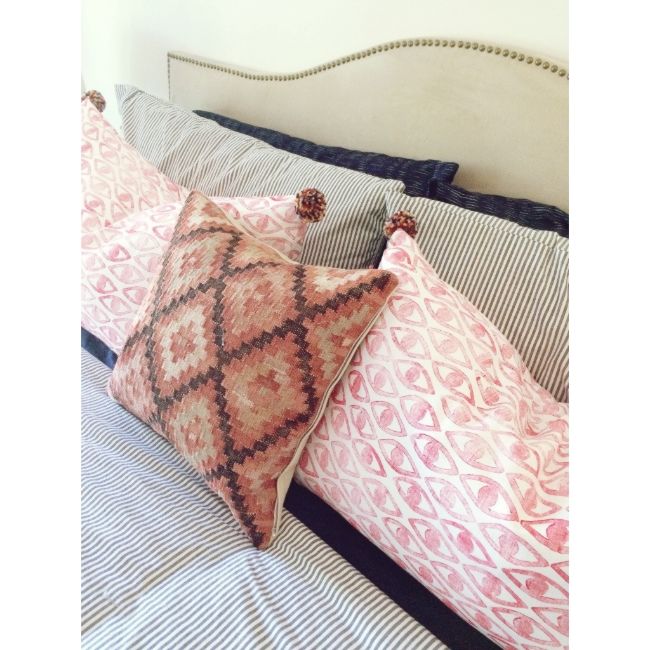 These eye pillows are from
Kari Fisher
! She makes the stamps, hand blocks the fabric, then makes both the pillows and the pom poms herself. Amazing. I feel really lucky to have some of her work in my house. She and I did an artist trade (I did a painting for her). She did the pom poms to match the rug in my bedroom. Amazing.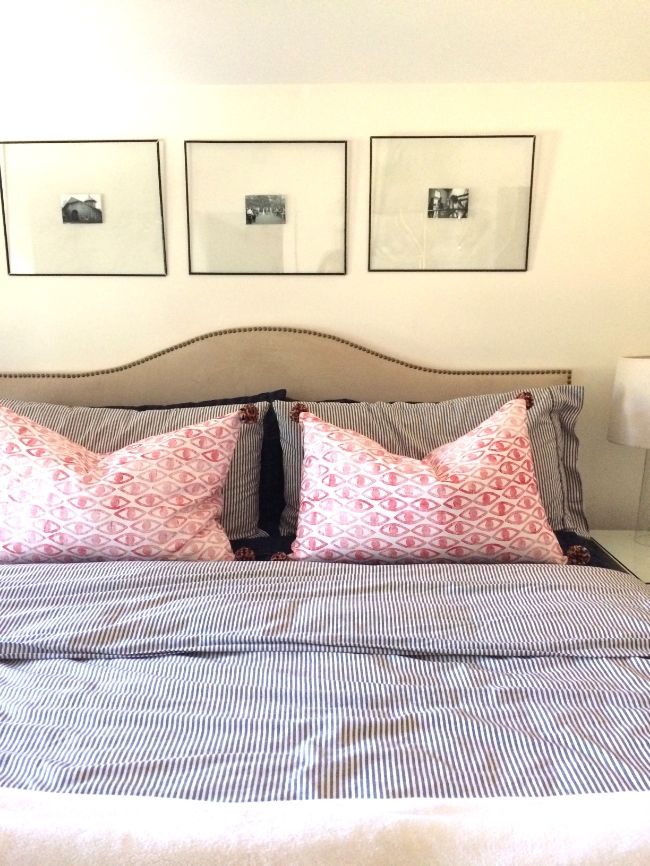 A little fall sampling on my countertop. I posted this photo to my Instagram account (@kristenfdavisdesigns). We always have Halloween candy in the house during this time of year. Speaking of this time of year, have y'all decorated for Fall yet? I don't know if I'm going to get a pumpkin this year, but I do like to get those Bath and Body Works plug-in things. I love the "Leaves" scent and the "Cranberry Woods" one. I have both in my house now, and it smells like Fall to me.