I finally was able to make some improvements at the studio, and get some photos taken. Have a look!
If you remember, this is what it looked like before: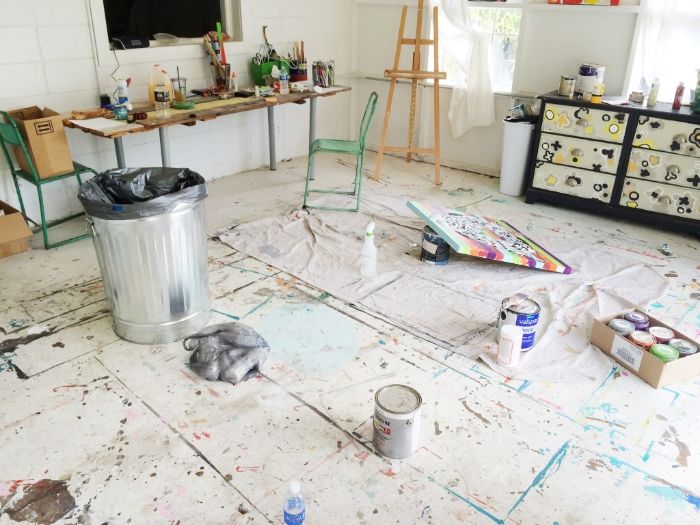 I'd painted the floors three years ago when I moved in, but hadn't redone it since. I have used the like permanent drop cloths, so they've been ready for a new paint job for a while. I love the fresh new white! Feels so clean.
ahhhh!
Repainted floors. I also bought a long desk from IKEA (like I mentioned before) and put it in front of the windows. While I was at IKEA, I picked up that cute gray storage cart for all my junk that I tend to keep sprayed all across the desk. Try and wrangle in my mess a little. We'll see if it works ;)
I also bought a fiddle leaf fig at IKEA for the studio, because doesn't every space need a little green? I think it'll like living in the light-filled studio.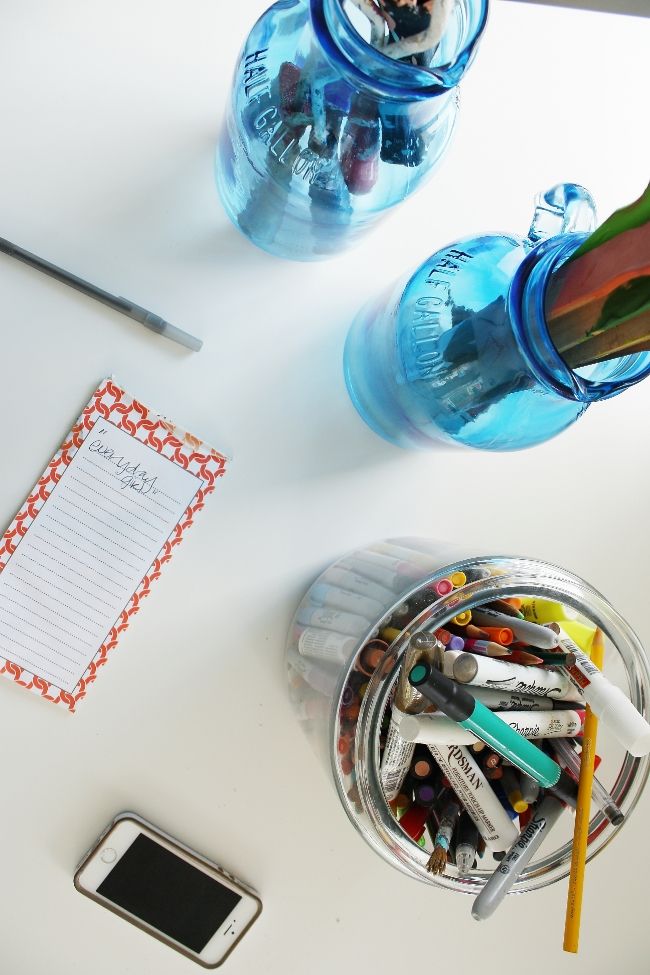 I got some new storage containers at Ross, admittedly because they were just cute. You can see the two white containers on the table to the right, in the photo above, and then the two blue jugs here. The white containers are supposed to be utensil holders for cooking, but I'm using them for brushes and tools. You need something heavy to keep them from getting too top heavy, so they're perfect. Plus, they were around $6 each.
The blue jug things were just cute. Not sure how practical they will be.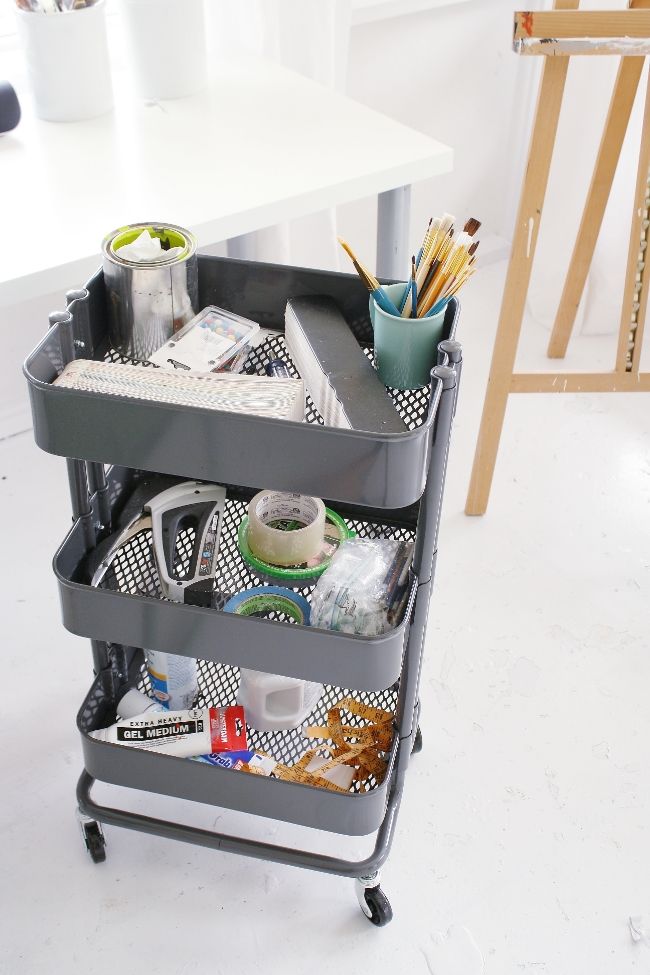 this photo, taken with my wide-angle lens, shows you a little more of the room. To the left, you can see that I painted the cool Morrocan armoire, and also hung a bulletin board. I bought a large bulletin board from Staples, and painted it white. I did this because A) I always have papers all over the place that I need to keep track of, whether they're receipts, notes from clients, notes I make to myself, etc.; and B) I wanted to cover the "window" that looks into the room behind it.
See?
That's before I hung it. I simply painted it white with white paint I had on hand. Worked like a charm.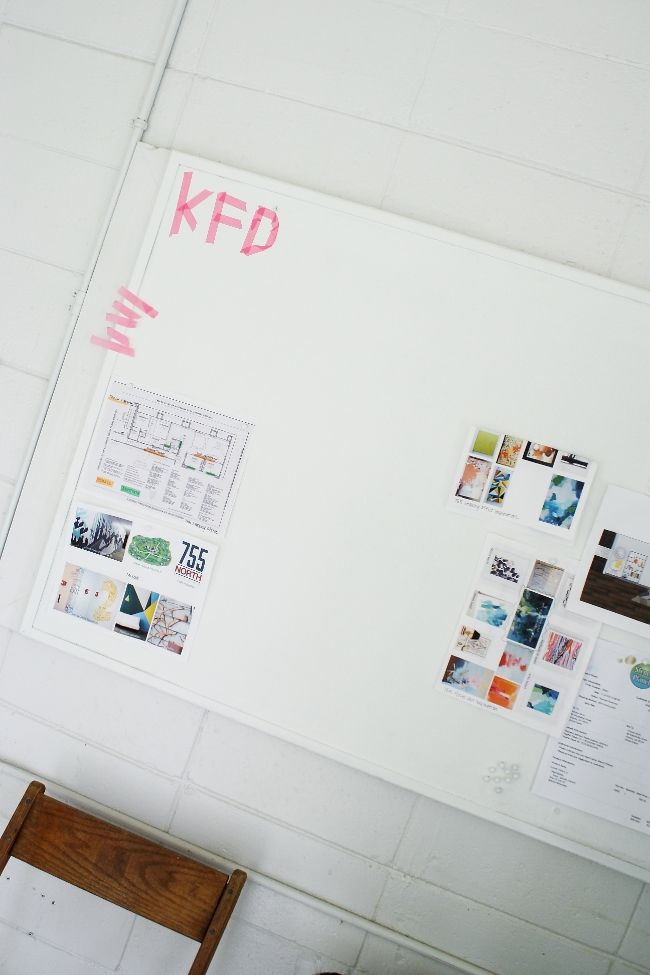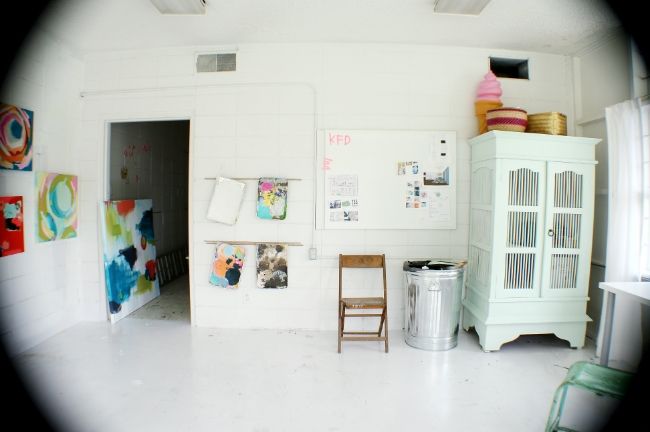 I bought a cute(r) Oscar the grouch trashcan for all the trash. My old trashcan was tiny and filled up so quickly... this one holds a lot more. Plus I think the galvanized metal is cute.
Here's an upclose shot of the cabinet.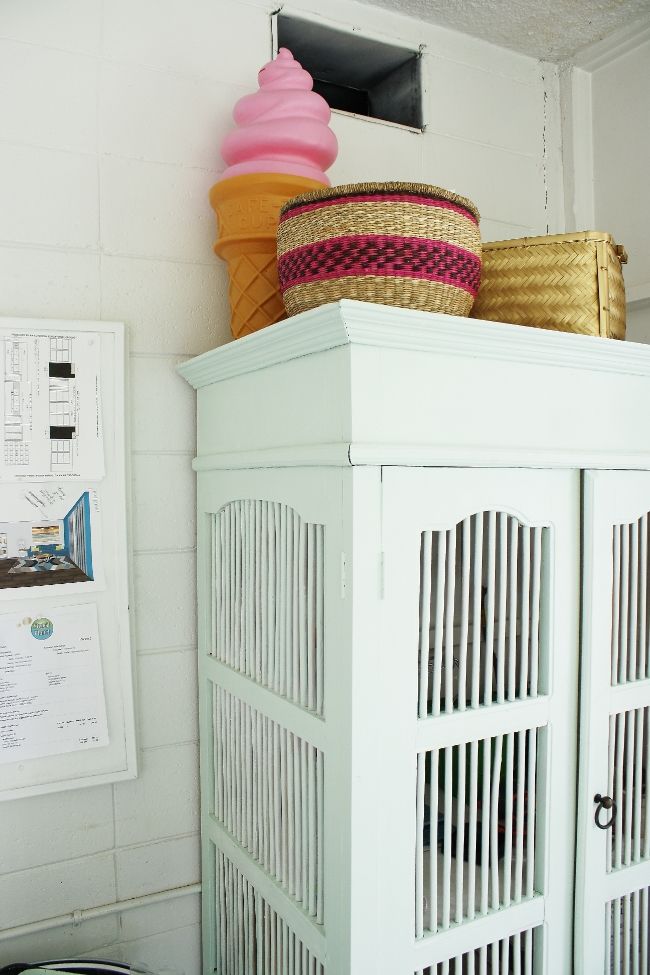 I painted it mint green (It's not a certain color. I mixed a medium green and some white that I already had at the studio!) and put it in the corner, next to my desk. It holds a ton of stuff! Why was I not using it for storage before? Duh!
The pink and black basket on top is also from Ross. And you might remember my giant plastic ice cream cone from the thrift store a while back?! :)
The gold basket was another thrifting find, but I think it is originally from Target.
one of my favorite ideas for sprucing up the studio, was my tray storage/display solution.
I still plan to do another row above these two (hence the extra pole you see here), but haven't yet.
I wanted to display them, because they often turn out so cute! I use them as my palettes when I'm doing canvas work, and as regular roller trays. So, I figured they should be seen! :)
I put hooks into the wall, and then used dowel rods into the hooks. Easy. I also bought a cement drill bit for my drill - something I should've done three years ago. This whole time I've been thinking that I can't hang anything on the pretty white walls, and I could.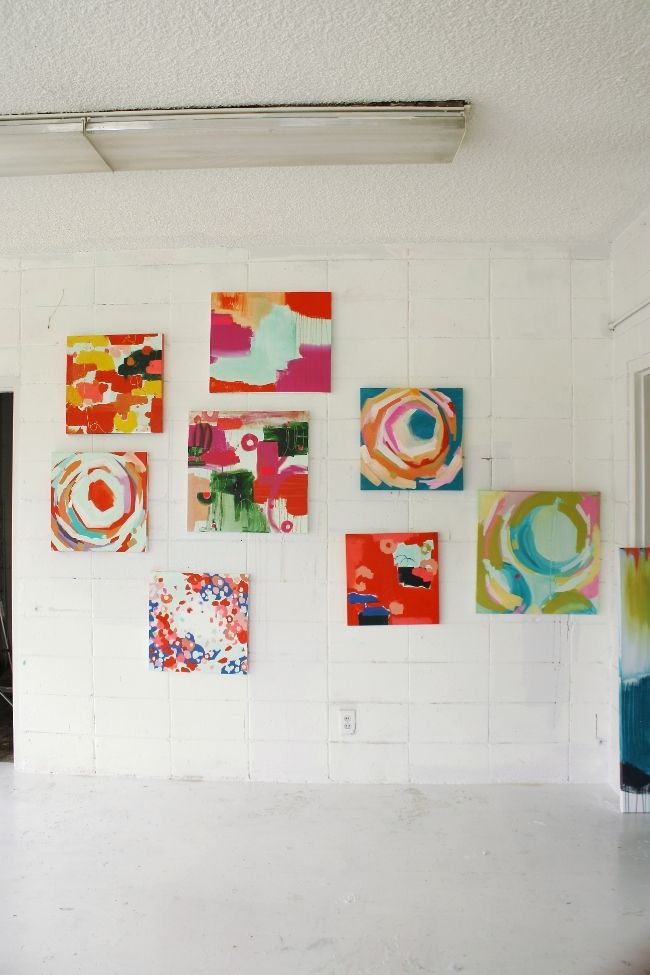 I hung a ton of canvases that I have at the studio onto this big wall.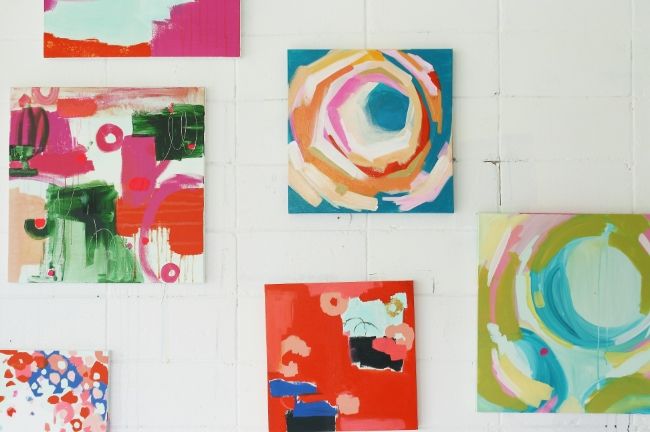 geez, can you tell I like color?
I hope you enjoyed the new look at the studio! I definitely feel more inspired when I'm there now.
____
Good news on my sofa problem. west elm seems to really be stepping forward to resolve the issue, so I'm SO happy that you all encouraged me to contact them! I will provide a full update when the issue is completely resolved, but let's just say they are scheduling a pick up of our current sofa as we speak. YAY.