So, I had some impromptu 'time off' (not really time off - I still have stuff to do, just not AS much as I thought I had to do, which is nice) and have decided to spruce up the studio a bit. Also, there is a possible photoshoot happening there, so I'm trying to make the studio look better than it actually does on a regular basis, ha.
Kidding. I guess it's pretty neat in there, it's just that it's not as cute as I wish it was, so I'm giving her a little sprucing up.
First up, I decided to re-paint the floors white. I have been meaning to do this for months and months. I know what you're thinking "I like the paint drops". I do too, except for they have gotten to be too much, and in general, the floors are just dirty and some spots have peeled.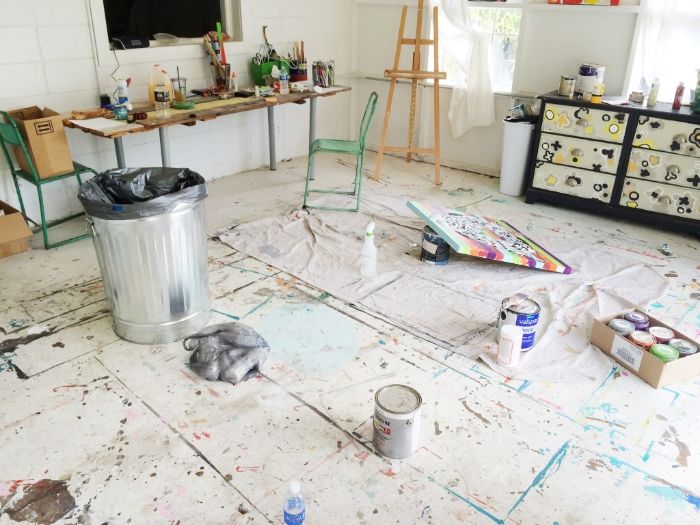 This is what I started out with yesterday.
I cleaned the whole room out, and painted the floors white again. I know they'll just get messed up again, but it's taken three years to get here, so I figured I might as well. It feels so much cleaner in there with the white floors. When it comes down to it, the studio is a warehouse... not a fancy office building, and it's kind of ... warehouse-y. So it's in need of a little improvement every now and then. I also took down all the white curtains and washed them at my house yesterday. Ahhh, fresh and clean!
I also went to IKEA and bought a lonnnng desk to replace
this table that I made a few years ago
. Surprisingly, the table has held up perfectly well. But, it's always been pretty wobbly, and I have wanted a fresh clean white table since the beginning. I figured I'd just go for it.
I'm excited to put it together today.
It's cuter in person. I think it'll be great for putting under or beside my desk, and holding lots of things. I was trying to think about function at the studio, now that I have been there a while. What do I use and not use? What would make things more convenient? I tend to have lots of little things on my desk. Pencils, pens, little tools, etc. I have little containers for them, and some things I put back on the storage shelf in the storage room. But, I think it'll be much better to have a container for them beside the studio desk, rather than going back to the storage room to retrieve them all the time. Now, hopefully this thing isn't too hard to put together. Ohhh IKEA. i was a little disappointed to find the box that it comes in was about 1/5 the size of this complete thing put together. haha.
What else, what else? OH! I plan to build a cool pole thingie to display my paint trays, aka palettes. :) I was trying to think of what would make the space look neat, and I always love the way my paint trays look, because I use them as palettes when I'm painting small things - not just for paint roller trays. I am going to somehow attach a few poles to the wall, then hang the trays from them. Wish me luck on that! I Haven't figured out exactly how they will hang, but it'll hopefully look cool.
Last but not least, Im finally painting this awesome armoire thing that my dad and stepmom gave me years ago.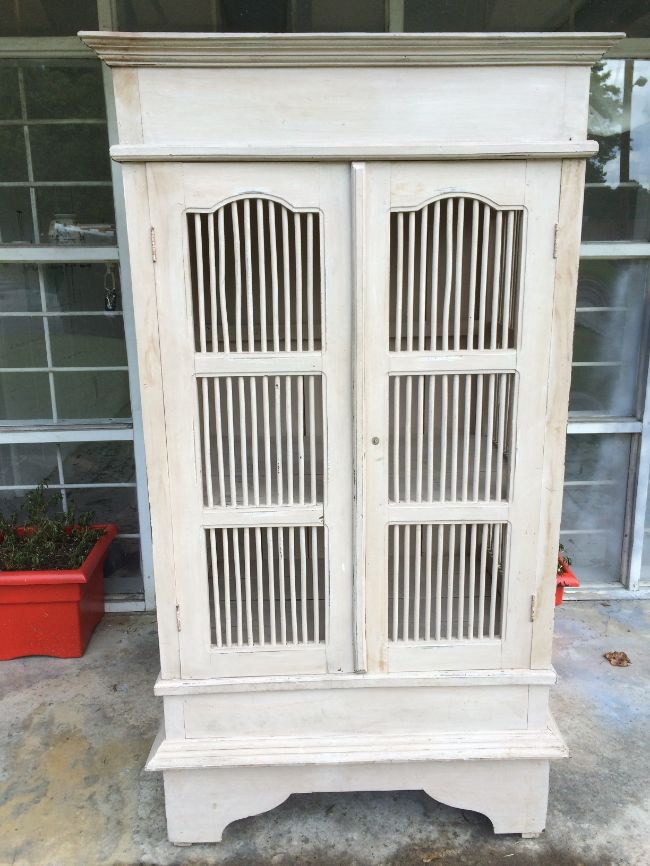 I'm painting it mint green. I actually bought spray paint for it yesterday, and then dragged it all the way outside by myself (NOT EASY) and primed it... then it started raining. ANNOYING! So I had to drag it back inside while it was still tacky to dry. I might just hand paint it today instead of spray painting, since it's such a pain to drag around.
It'll be cute to store some items in, too.
I'm going to throw those planters away since I can't seem to keep any plants alive there. I'm just not there to water them enough, I don't think. I am also going to paint some signing on the window, naming my studio.
I think that's it! OK, better get to work. Wish me luck! Follow along on instagram (@kristenfdavisdesigns) if you want to watch some of the progress throughout the day.