Well, it looks like I've made a complete mis-step in the sofa selecting for this house. I bought the west elm bliss down-filled sofa last year, after LOTS of research. Unfortunately, I didn't find any bad reviews upon my research, so I went for it. If you will recall, we
bought the extra long 90" version
, so it took something like 3 months to come in. While I do still love the look of the sofa when it's behaving (hah), it requires a lot of fluffing up to look good again.
The back cushions basically ALWAYS look like this.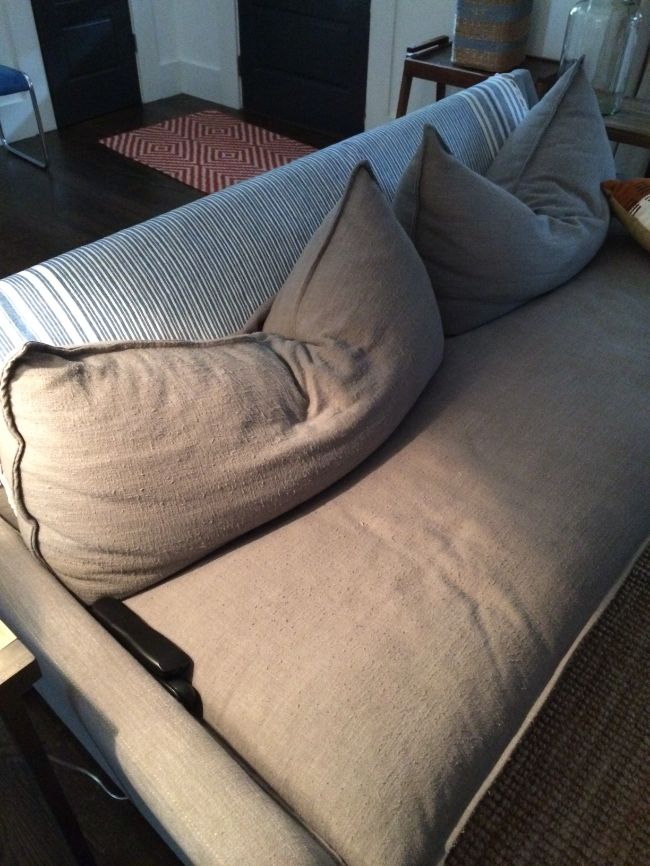 Flattened out. I even had new inserts made at an upholsterer's (to the tune of $190, even after spending around $1500 for the whole couch) that supposedly would help keep them fluffier longer, but it didn't work. The original ones are down-filled, and the upholsterer recommended a 50/50 down/poly blend. They still look the same. Sad. And worse, it really is not comfortable. That cushion sits so low on your back - in order to get comfortable, you have to basically lounge and lay down.
Also, the couch pills REALLY bad. Given, I have not tried shaving off any of the pilling, but still.
Yes ,I can flip the cushions around on the top, and the big long one on the sofa upside down. I will. I just think after less than a year of use, it stinks that it looks like this all the time.
So, I think Jordan and I have decided to suck it up and get a different sofa.
We're going to TEST THEM OUT together before purchasing. I tested out the west elm one by myself in store, but I guess it's just hard to know what the wear is going to be long-term with things like this.
I've been doing a little research and we're thinking of going with an IKEA couch this time. There are so many reviews about the IKEA couches online, which is very helpful.
Also, in an effort to make our living room a little more comfy, we're thinking of getting a semi-sectional. I like this one from IKEA, which is the KIVIK series:
Our's would be rotated for the chaise to be on the opposite end. I think having the chaise would really up the comfy factor in there! One of the main problems with our living room not being as comfy as I would like, is that the couch has to "float" in the room; you can't put it against a wall with your back to the wall. So, it feels a little less cozy. Anyway - I showed Jordan this couch, and we're going to check it out.
It sucks to just be buying another gray sofa, but live and learn, right?! I think we will just put the west elm one upstairs in the extra bedroom.
Do you guys have thoughts? Suggestions? KIVIK reviews? I saw
Nicole from "Making It Lovely"
bought the KIVIK, and she is a master-researcher (I am not), so that makes me feel good. :)
I will have studio shots tomorrow, hopefully! It's rainy here in the ATL today, so hard to take proper photos of it. Hopefully it clears up later.