Thank goodness it's Friday. For real. I'm exhausted, and I woke up in the middle of the night, thinking about work. Argh. Glad it's the weekend! It's been a really busy week for me, and I'm happy to spend some time at home this weekend, hopefully working on some good home projects. I have come to a realization about something in my living room that's off - my rug is too small. It's a weird size - I bought it at Ross for cheap. It's like 7 by 8.6 or something. Anyway, it's a perfectly fine rug, it's just too small for my living room. I've been thinking and coming up with plans for the living room to finish it up (for now - it's never been completely finished since we moved in last June and I'd like to complete it by the end of the year.), and I think buying a 9 by 12 rug will do the job. I have been searching around my usual online spots for simple home items (overstock, amazon, ballard, home decorators), and come up with a few options.
Here's the living room.
I really like jute or sisal rugs. They always fit my ever-changing tastes, because they're plain and match anything. I found this one at Ballard for $550 for a 9 by 12:
I like the one with the tan border. I don't love bordered rugs like this, BUT young Max the dog likes to chew on rugs and I don't think he'll be able to attack the edges of this one (the other knotted ones, he can tear apart, though he has kind of chilled out on this behavior with time). Plus, it's a defined edge, which is nice, and I like how light it is in color. The one in our bedroom is light like this and its so pretty. I thought about moving that one down stairs, but it's just really pretty up there. So this is a nice option. The only thing is that in the pics online, some of the photos show a version with a much darker contrast on the tan edge, so I can't tell which is correct. I think this pic is the correct version, but not positive. Going to have to investigate that before I order.
I was set on a jute rug until I came across these cute patterned options. Plus, they look super comfy! So this is why I need your help.
I think this one is really cute! It's that Beni Ourain look and super comfy on the feet. Hmmm. It's from Overstock and it's $671 (weird price and I hate how they go up every time I go back and click on them). I thnk it would actually be pretty good at hiding stains (better than a solid), but would I get tired of it faster? I love the look of a light rug like this with white walls in our guest bedroom: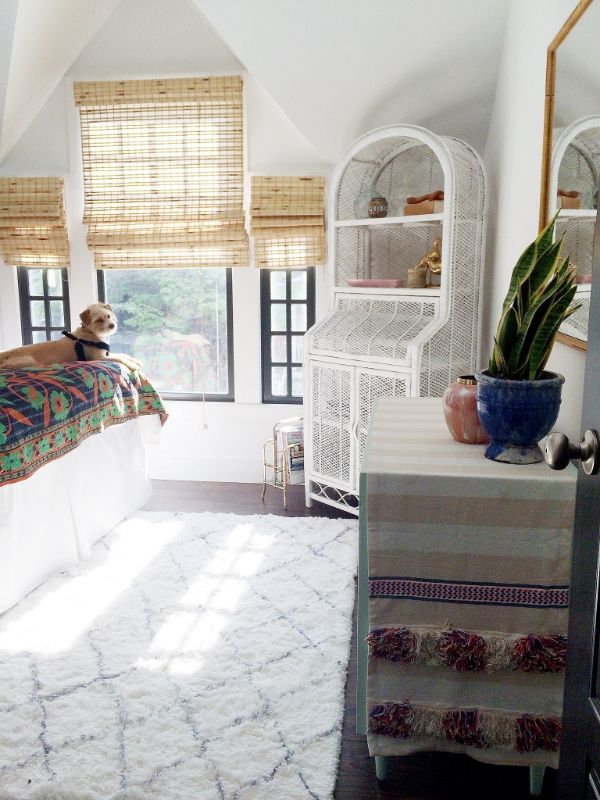 And then I also found this one on overstock for around the same price as the others, though it's saying it's sold out now:
I guess in reviewing it's not my favorite - I like the other beni ourain one better.
so, your thoughts?
My idea is to order a new rug and that leather coffee table:
then deal with the side chairs issue. Still deciding on what to do about that, but I'll probably find a couple of thrift store chairs and have a slip cover made. Once I have a bigger rug and coffee table, I think i'll have room for two chairs in there. If not, I'll just do one big side chair. We'll see what I find! it's time to make something happen.
have a great weekend! i'm excited to play with my new sewing machine.