Lately, I've really been into buying plants. All spring and summer. I did a lot of gardening this summer (front yard looks great - my tomato and herb garden? terrible), and I find myself popping into Lowe's garden section a few times per week! Why is it so much fun?!
I've bought a few more houseplants lately, and I love them. My mother and grandmother always have had lots of houseplants, so I guess it kind of rubs off on you. Our old condo didn't really get proper light for keeping plants, so it is nice to have a house where I can keep them and they don't need more sunlight than what they are getting. Lots of sunlight at this house! I just thought I would share my happy plants with you guys today, since they make me smile so often.
in our bedroom, I have several plants on this bamboo stand. I bought the sticky plant on the top left from Lowe's and the other bright green plant was a gift. I recently found this little succulent plant at Lowe's and love it! I got three - I gave one to a friend. They are so cute, and I love the little planter!
see?
I have another one in my living room:
(also - I recently got that blue and white ceramic vase from Ross. They have lots of ginger jars, cute vases, and really cute owl umbrella stands in this style if you are looking for some, FYI!)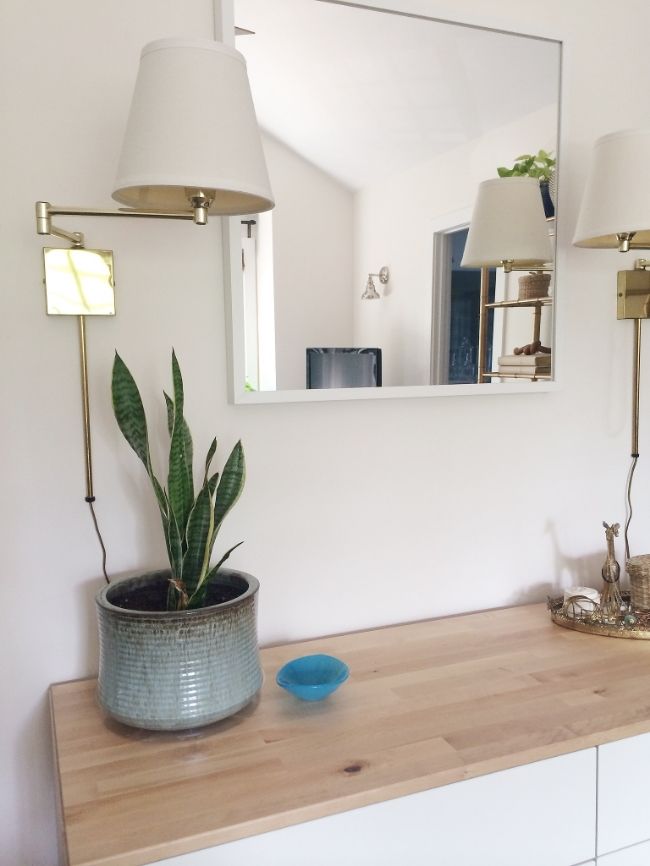 on my dresser. What are these plants called? I don't know, but I have a lot of them in the house. A favorite for sure. I think they like being houseplants though - I put one outside and it did not seem to love the harsh sun. I brought it back in, and it's happy again.
lastly, I recently (like, this week) got a fiddle leaf fig from Home Depot. How are they so trendy? I guess they're just nice to look at, and everyone agrees? Either way, I love it.
So pretty and thankfully Mika doesn't try and eat it! whew.
PS - good news for you cat lovers and people that were concerned about Mika (our cat) when we got a dog back in December. We bought a baby gate and put it at the bottom of the stairs. Max gets the downstairs domain, and Mika gets the upstairs domain. It works great! Mika is loving life again. He sleeps with us at night now, and lies about on the couch and our bed all day. Happy boy! And it makes me really happy that he is happy again (he may have been perfectly content downstairs all the time, who knows. I just felt guilty that he sat only on the top of the table or on a dining chair ALL DAY LONG to be "higher" than Max).
See?
TGIF, folks! Have a great weekend.