A couple of months ago, I was asked to match a faux finish in a kitchen that already had a previous faux finish done a few years ago, by a different finisher. The contractor (Matt Widmaier) on the job site had seen my work previously, and had me over. They were ripping out part of the kitchen, then adding new parts and random bits of trim, throughout. The finish was a greenish-gray, distressed look. I used to be intimidated by these jobs (admittedly, they're not easy when you're first starting out), but now I really enjoy them. It's a fun challenge. This one wasn't hard, and my clients and the contractor were really please. Yeh!
I wish I still had some "before" photos, but I didn't save them. I will try to label them to show you guys...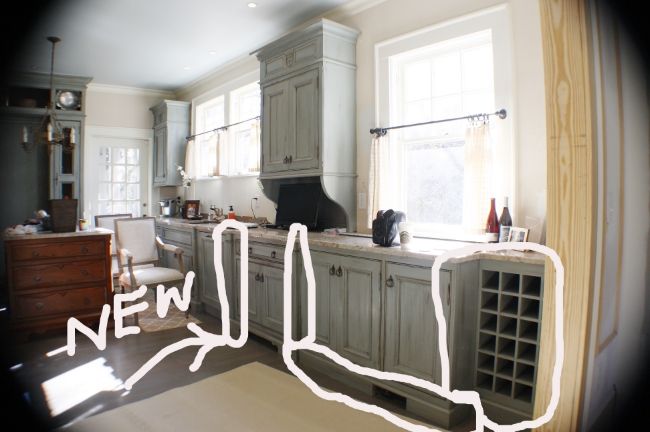 I circled all the new areas, that I painted and faux finished. They blend in pretty well, if I do say so myself! It all comes down to finding a match to the base color they used (the green color here), then I can hand-mix a glaze for the top, after that. You have to find a paint store that has a willing color matcher. The guy that mixed the paint for me in this case was at Sherwin Williams. He was pretty reluctant to do it (I'm not sure why some times they are into it, and sometimes they just really don't want to try!), but in the end he did a great job with the match. As the painter or homeowner, you really just have to be "on them" about making sure the match is exact. That probably sounds bad, but it is your job to make sure it will match and meet your clients expectations.
Here is a photo without my ugly circle edits:
(they were still having some more work done here, hence the unfinished wood showing on the right side)
here is a very unfocused photo:
actually, all the stalls (the surround around the doors) were new here. They had moved the doors from another area of the kitchen, reusing them. So ,the surrounds needed to match for the new placement.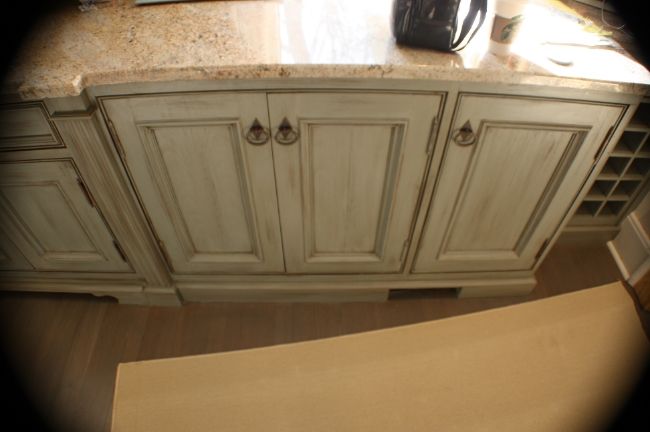 here is the opposite side from what I showed before, where you can see that they built a beautiful custom banquette! It was all brand new, and I faux finished it, too. It later was upholstered.
the ends of the cabinets in this photo were faux finished by me, too.
The insides of the seats weren't faux finished, because they weren't going to show once the upholstery was done.
Here is an iPhone photo I took when I went back:
so pretty, right?!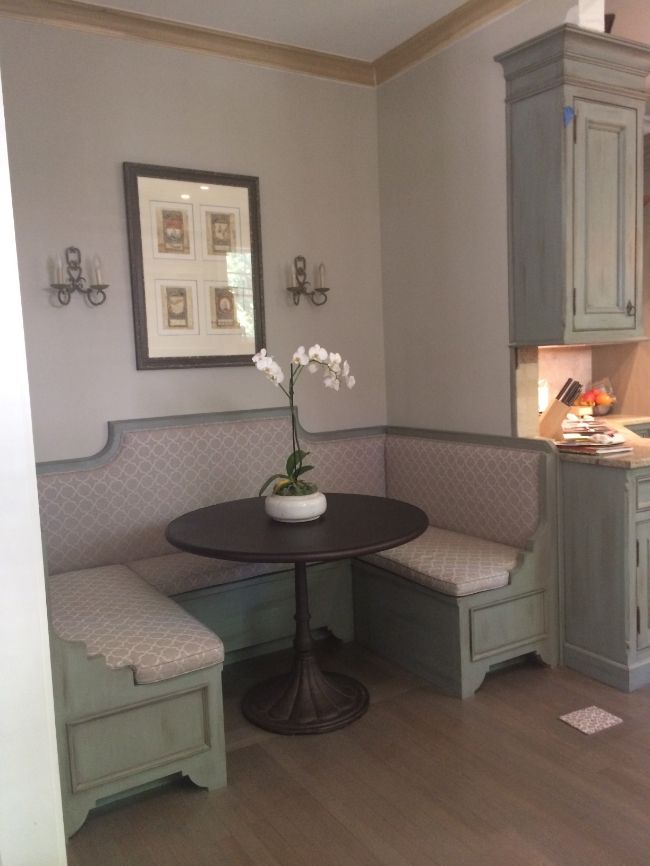 (crown trim wasn't painted yet here either!)