Hi!
I wanted to share with y'all a little bit of the project that took up the last week and a half or so. I painted kitchen cabinets and brand new living room built ins for a client in Inman Park. The renovation was GORGEOUS. I could move right in.
Here was her kitchen before:
(well, it's after the old backsplash was removed, and after the new countertops were installed, and after I removed the kitchen cabinet doors, hah)
But, you get the general idea of the darker feel the kitchen had. I don't have a real "after" shot, because we were waiting until everything was done, but here is the list of things that were replaced:
wall paint changed
countertops replaced
backsplash installed
cabinets painted
plus, light fixtures were added and new hardware is being installed. So much fun! So, see the little corner above? here's a sneak peak of what it looks like now: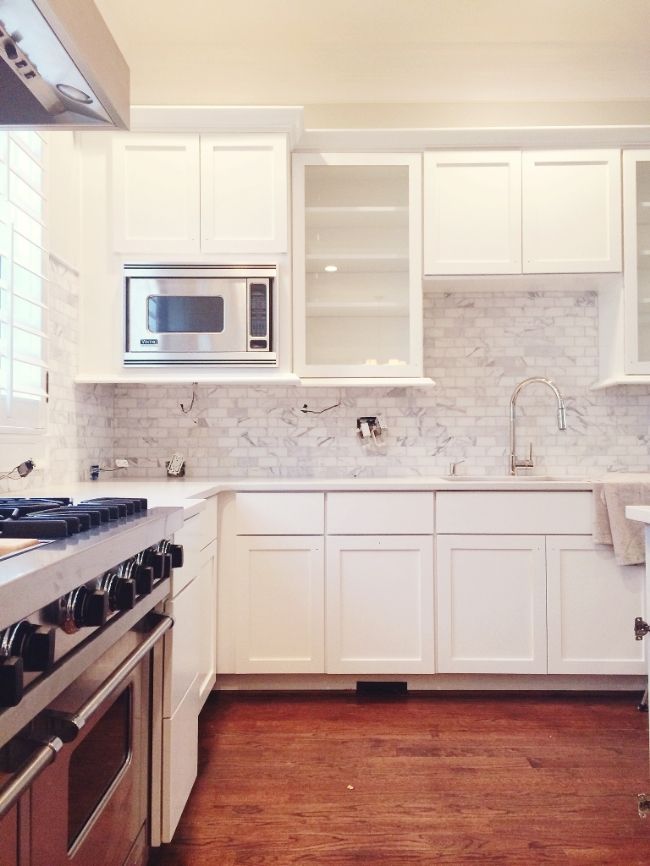 weeeeee! My client probably thought I was a freak, based on how much oohing and ahhing I was doing over her new kitchen. Is it weird that I told her I could move in?
Here's a photo that I took of the honed calcutta marble when it was being installed. i LOVE it.
beautiful. Her countertops were also honed caesarstone in misty cararra, which is what our countertops are. I love how she had her's rounded on the edges though.
(all interior design by Jane Goetz who is a great visionary and a genius with color, in my opinion!)
I promise to post real "After" shots when everything is installed. The real piece de resistance in this kitchen were the new island pendants. Ralph Lauren. Polished nickel. big. insanely gorgeous.
And, like I said, I also painted the living room built in's:
they were brand new - they were not there at all, before. There was a fireplace, but it got majorly beefed up, with lots of new moulding added. I LOVE IT.
here it was before I painted:
and, after:
Obviously, I have a filter on it, because I edited it in my phone. BUT. Trust me when I say the color and woodworking were beautiful. It's Benjamin Moore Stonington Gray.
two sconces will go inside the woodworking on either side over the mantle. I adore the woodworking at the toe kick, too! the little scrolly details. <3 p="">
and the MARBLE! AH!
I could imagine all my furnishings living in this space. Haha. OK, I'll stop.
better accurate depiction of the color:
what do you guys think? I LOVE!
3>