hi!
just thought I would post some photos from life and work lately. We had a friend's wedding this weekend, and my brother and his girlfriend were in town staying with us, so it was busy but fun.
first up, i ordered a sample swatch of this wallpaper from hygge and west, which is rifle paper's new line.
it's the ebony pineapple one. i LOVE it! i was thinking about hanging it in our guest bathroom, however, the more i think about it, the more i think wallpaper and me is a bad idea. even staring at the sample for a week has gotten a little old, which is horrible. why do i like to change things up so much?! i'm thinking about just painting the walls black and possibly doing a stencil on top, to satiate my need for pattern. i also am going to get a new mirror for there, and do some brass sconces on either side of the mirror. i have some picked out from etsy. there's not enough light in that bathroom, which i have come to realize in the last year living here. so, there will be some fun changes coming up for that room.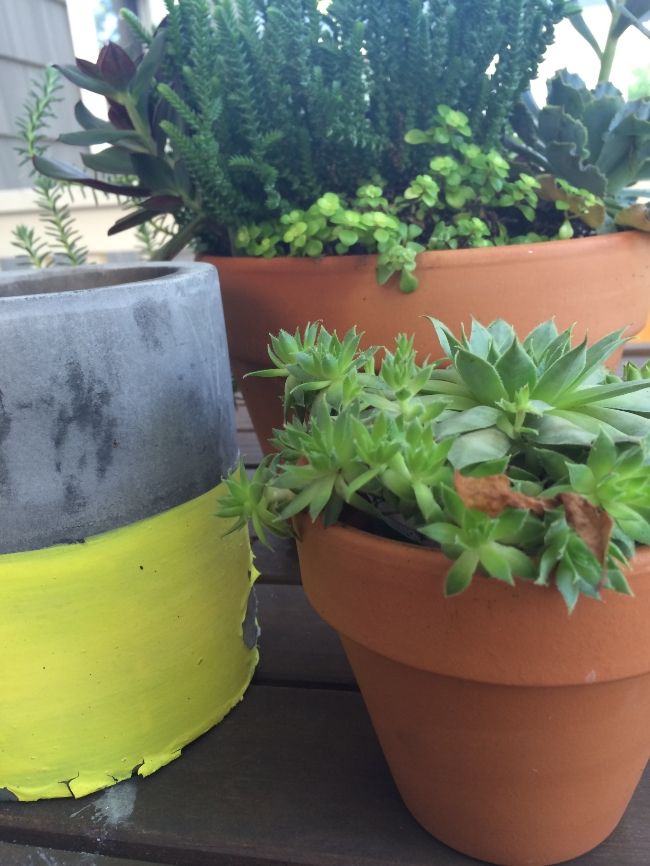 we have been spending about 90% of our time at home, outside. it's so nice to finally have a deck and backyard to hang out in. all my plants are so happy and thriving. except for one of my (most successful one of course) tomato plants, which something crazy happened to. i'm not sure if some animal got after it or what, but it was DESTROYED yesterday morning. :( so sad! it had lots of little baby roma tomatoes growing on it, and something just completely tore it up, and disrooted it. so sad!
anyway, my succulents are happily living on the porch. i painted for
vicki
again last week, and when i mentioned how cute her little hen and chick succulent was, she just gave it to me. so sweet! you can see it above.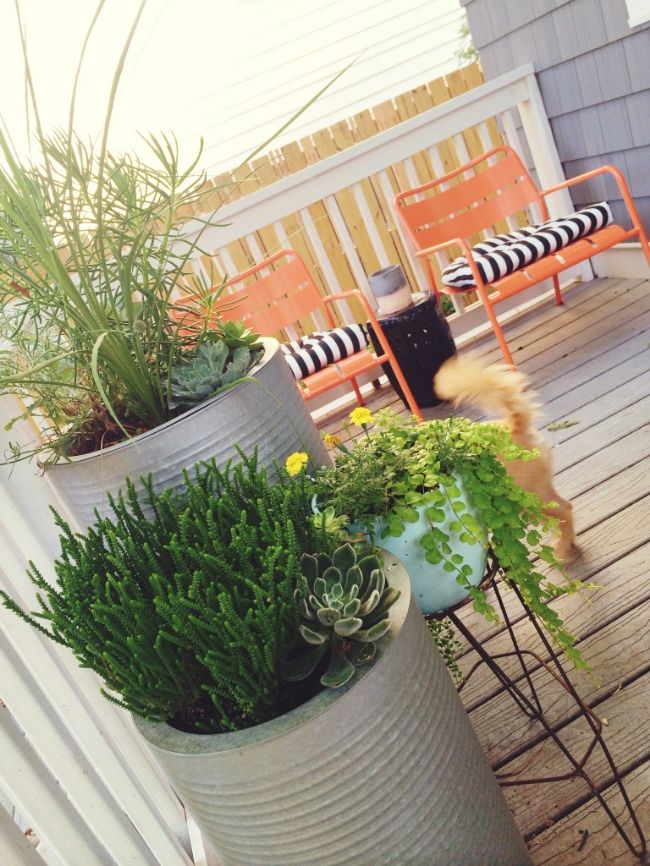 i also snapped a picture of one of my other succulents which is flowering and so pretty...
speaking of pretty, we had the craziest storm thursday night in atlanta, and our skies turned the craziest shade of pink for about 15 minutes! we were sitting out on the porch and i said "i think it's going to rain"... well, it down poured HARD , then the skies lightened up and turned pink.
this is a photo from my porch:
beautiful!
speaking of vicki, here is the project i'm working on now for her: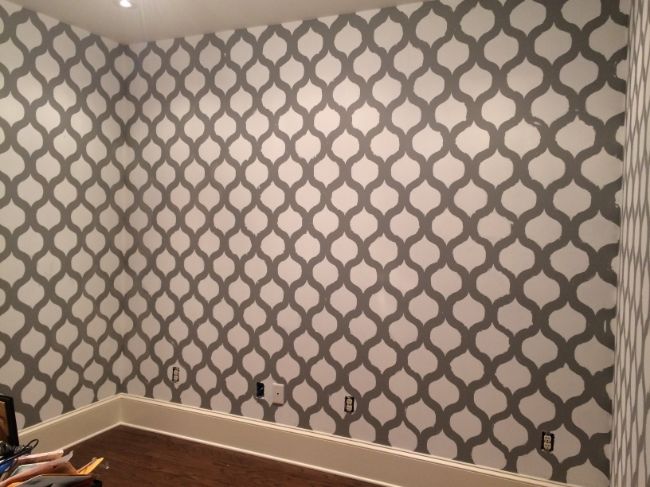 stencil! it's a
pretty intense stencil
. the touchups had been started on the left side here, but still have lots more touching up to do (as you can see). the stencil is from royal design studio. what they don't tell you about these stencils, is that yes, they go on, but it is not that easy. there are always so many touch ups involve that sometimes it feels like hand painting a pattern on a wall! but i think the outcome will be fabulous!
speaking of projects, one of my long time clients Lee, commissioned me to paint this coffee table for he and his family. lee does not do interior design, but he and his wife have a great eye for it (i painted
this fireplace wall
for them a few years ago! among other things). anyway, lee is redoing his mother's basement hangout room, where he and his siblings grew up. his mother still had the coffee table from when the kids were young, and the family used it up until the '80's, i believe.
they are going to hang it on the wall, with a gallery wall, and the family will all sign in the big empty space. so cool right?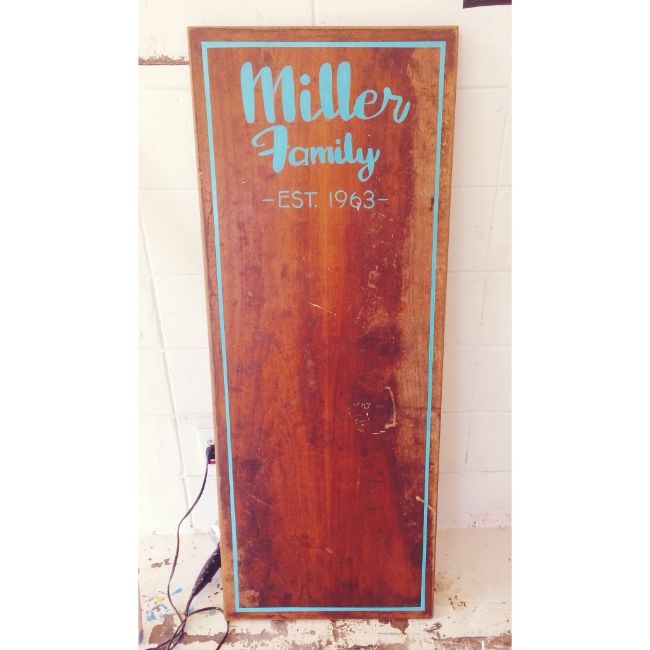 Lee had me paint the border and the "miller family, est 1963." i used a midcentury modern type of font for it, to fit the style of the table and the year that it happened.
here's a photo from when i was working on it:
lastly, i wanted to share this fun photo from a walk on the belt line: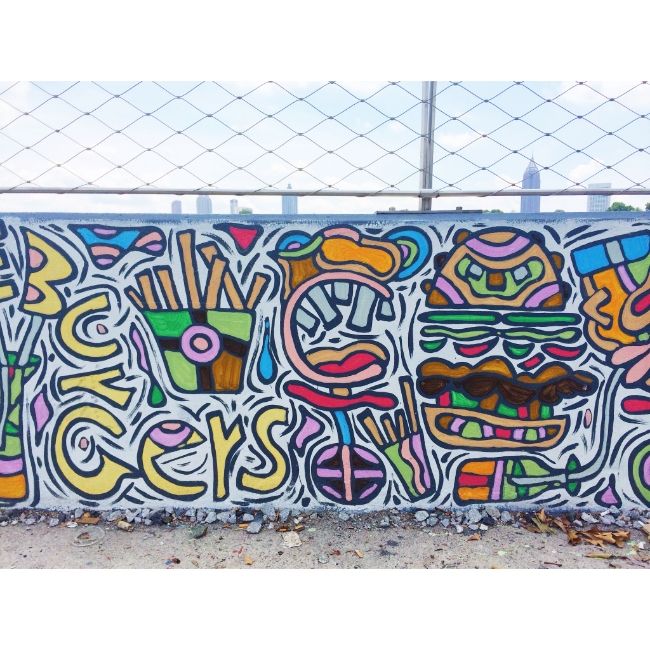 I love this mural! having a hart time figuring out who the artist is, but it reminds me of keith haring. very cute!
alright, that's it for now. have a great monday, folks.