I recently have mentioned that I have been doing some design work on the side. I have long done paint color consults, but took on some other design work when a neighbor asked me to. She came over because she was buying a house that the builder that built our house was building (weird sentence). She wanted to see something in our house that was similar to how her's was going to be, so he sent her over to look at our finished project. Long story short, she liked our style, and hired me to help her select paint finishes. Well, interior paint finishes turned into exterior paint finishes, too, and then that turned into all of her light fixtures, and now other design decisions like furniture and window treatments.
I thought I'd share a few photos of our work, because the house is all finished now and she closed last Monday, woo! It was a lot of work to take on on top of my regular work, but SO much fun and so rewarding for her to be so happy with it. Christopher's homes are so different - a mixture of modern and other styles, so there's really not a way to pin down the style, which makes it fun to mix in all my crazy taste :)
Here is her exterior. I got to pick every paint color, and even helped pick out the stained glass for the transom window, which was made by a local stained glass artist. It was so cool to go to her studio, and see all that she does. She does work for huge companies like Coke and Disney, too (in her awesome little Cabbagetown backyard studio). We are lucky to have her work on our windows! (Jordan and I also have a window made by her)
House exterior color is "Granite Peak" by Sherwin Williams. The door is "Hep Green" by SW, and it is AWESOME. haha. I love the bright door. Trim is Extra White and black color is Black Magic, both by SW, too. Our lights are Schoolhouse Electric.
Here's the stained glass window before it was made, after we selected the glasses.
I need to get a photo of it finished and upclose.
The colors look black here ,but they're really dark gray.
Another fun element that is one of my favorite parts: the powder bathroom.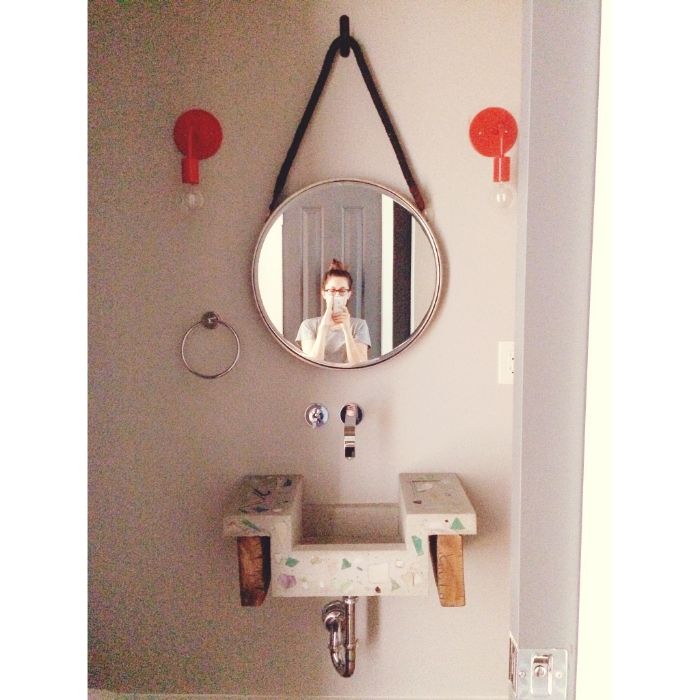 i picked out the sconces which are from One Forty Three (hand made! Really cool company), and the mirror which is from Pottery Barn. It's a leather band that holds up the mirror. Amy (client) wanted a "whiskey bar meets modern" vibe, so I think this pretty much sums it up. That sink is cool, and was Christophers design. The wood was salvaged from the property before they built the house.
another fun design element that I love is the master bath. I got to pick the counter top for this space, and instead of going with a marble, quartz or corian, we did wood.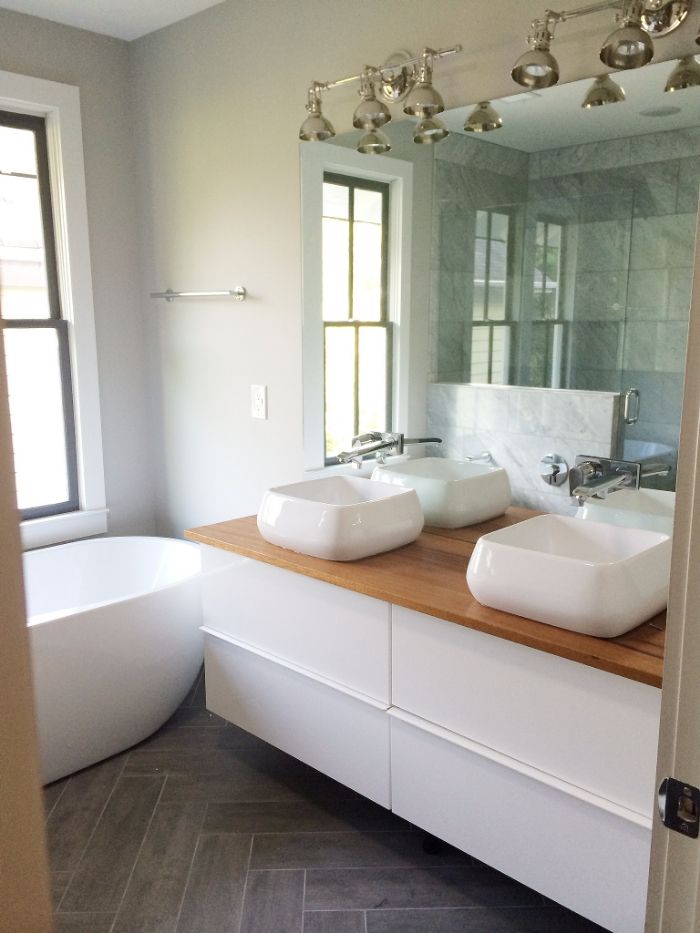 my friend Jason (who built my console table) made it.
Here's a photo he sent me before it was installed:
cool.
I also picked out the kitchen backsplash, the countertops and the base color for the bottom cabinets.
we love how they turned out!!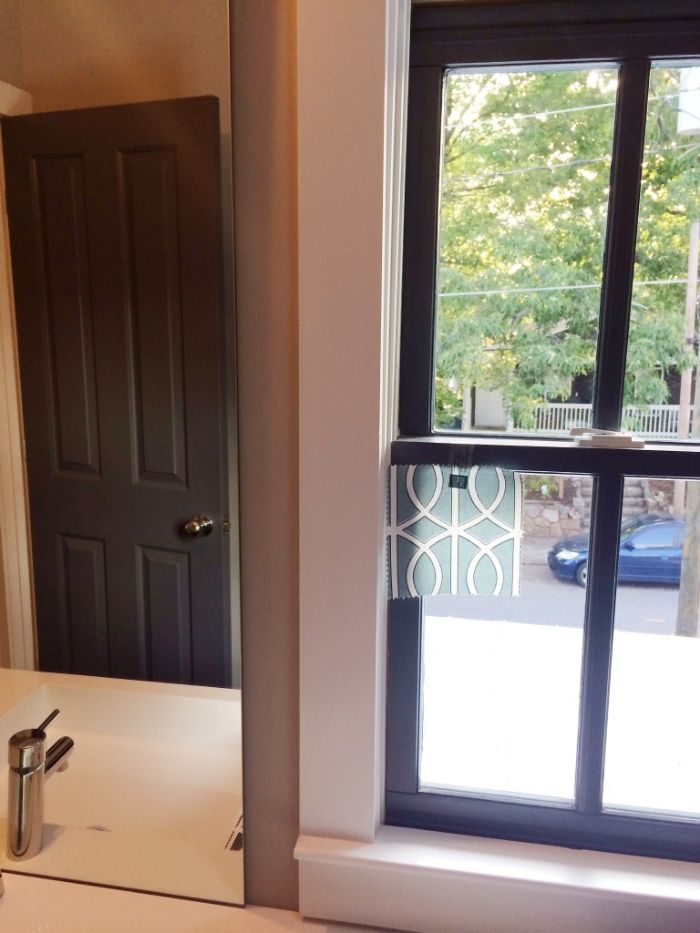 now we're picking out shades. Woo! So much fun.
Hope you enjoyed the mini tour. I need to take pics of all of the light fixtures and show you guys. We found some really cool ones.
have a great weekend!