Hey! sorry for the prolonged absence. I have taken on probably too much work, and barely have any time for myself! I've been working hard, thus not blogging hard. Blogging takes a lot of time, and I just haven't had any. Of course Photobucket isn't cooperating, so I am just going to share a couple of photos I have on my phone (I am working on a large kitchen project right now, so not much to show there)...
I'm helping a girl pick out colors (interior and exterior) for her new house, which is being built by the same guy that built our house. Check out her cool door!
yeah! cool, huh? I was excited to see it. I wanted our house to have a brightly colored front door, but i ran out of time and just had it painted black. I still might paint it yellow one day.
we have been having a lot of rain, and my potted herbs and vegetable gardens are doing really well. I swear the tomatoes have tripled in size in the three weeks I got them. Craziness! The cilantro is going nuts, too:
I finally clipped some yesterday (which I am taking to my client today:))
have y'all ever picked out grays? I find that when clients or whoever are doing the samples on top of yellow walls, it makes ALL grays look blue. every time.
case in point: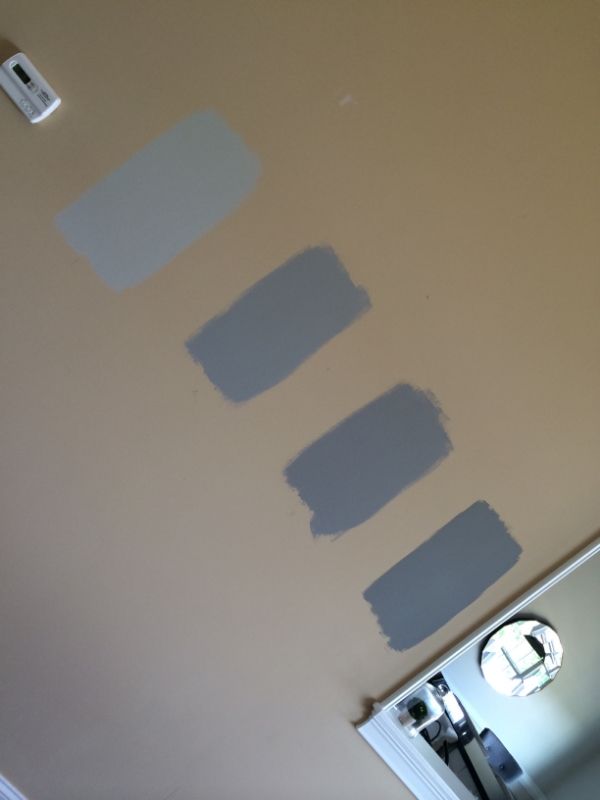 the good news is that the one we picked turned out beautiful. Here is the yellow "before:"
and the gray afters: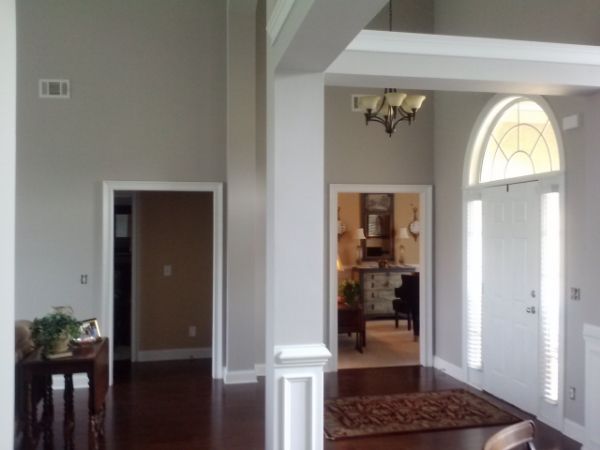 we (I) wanted a putty gray, not a cool gray. I am tired of cool grays, and I think the putty-ish ones are much better. It took a few samples, but we found the right one. I'm helping my mom redecorate her living room, so hopefully I'll have more pictures to share with you guys in the future.
here are the cabinets I'm painting now - so many!
yowza! :) Finishing up today, and it's looking good. We did the main cabinets off white, and the island Revere Pewter by BM. She had new white subway tile installed, and its a wonderful kitchen update. i just love a white kitchen.
I'm also working on some dog sketches for another client (seriously, the projects are never ending. I feel like I can't keep my head above water. I know its a good problem to have, I am just swamped)... here's a photo I posted on instagram the other day (i'm @kristenfdavisdesigns if you want to follow me)
:)
my home remains my happy place, and i love coming back every night (after i sit in traffic for 1.5 hours. :) sorry - being a complainer today)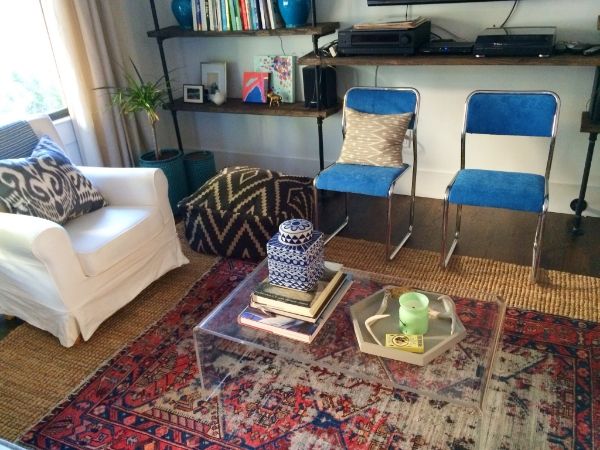 also! mika is freeing his mind a little bit, and getting more used to maxie being around. he actually walks on the ground now, sometimes. amazing! haha.
alright -- off to finish my cabinet job, wish me luck!