I had a client contact me about painting the playroom for her grandkids at her house. She was very open to basically anything, and wanted help with the whole project. AKA, I helped her pick out all of the paint colors (I don't ever talk about it here, but I do paint color consultations for exterior and interior walls as well as painting work), for the mural and for the walls/closet, and am also helping with some design work for the room. We will be replacing that ceiling fan with a cool light fixture, and I am also painting all of the furniture that goes in this room. It will be transformed with bright colors (The colors used in the mural on the ceiling).
Here is what the room looked like before: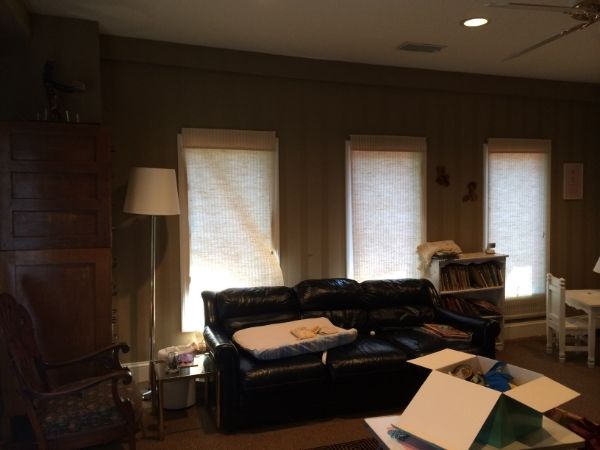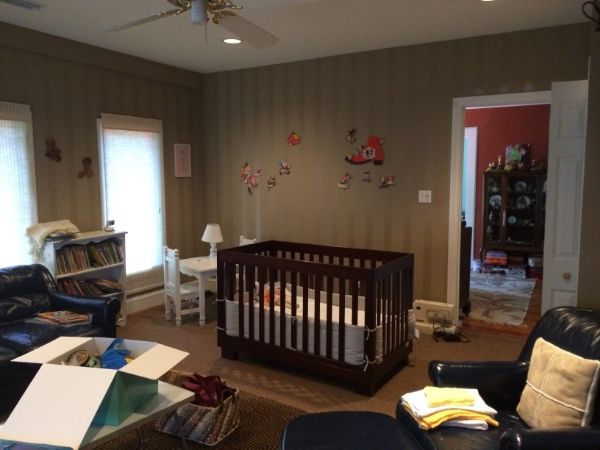 '
The walls were brown stripes, and I suggested majorly lightening it up in there! You can see some of the furniture we're painting in this photo. It's a kids table/chairs, a bookshelf, a desk/seat, and a jewelry case (She has lots of granddaughters!) I had her paint the walls Sherwin Williams' "Swimming", which is a light turquoise, and the inside of the closet is "Daredevil" by SW, also. The trim and doors were getting a new fresh coat of white paint after I came in, and the ceiling had a fresh coat of ceiling white before I painted the mural! I was inspired by the cute vintage wooden characters she had hanging on the wall, that you can see over the crib in that photo above. For some reason, my immediate thought was to do a ceiling mural in there, versus a wall mural. I guess I knew that the walls would have those cute wooden figures on them again (obviously, since we were inspired by them), and then we also needed room for the furniture to remain, since the room also services as a nursery/playroom/gameroom.
Anyway, onto the pics!
I painted dots of all sizes, using a homemade compass. :)
The yellow on the ceiling is SW "Daffodil" and the peach/coral is "Jovial" also by SW.
like I said, we had the inside of the closet painted tomato red, and the doors removed. it will be an arts and crafts closet for the kids. I am coming back to help make it cuter and functional, with cute baskets, boxes, etc.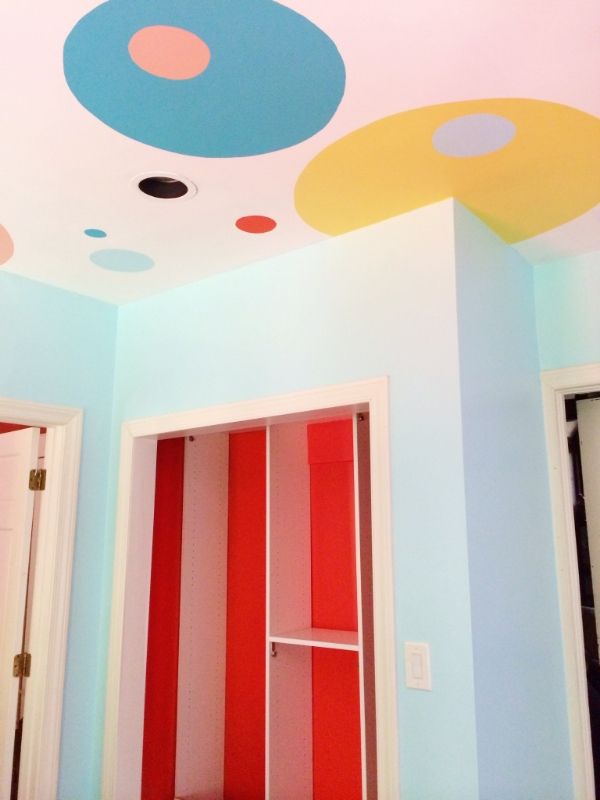 The ceiling fan will be replaced. I'm thinking maybe something like this:
or this:
both from IKEA. We don't need it to be the main source of light, since there are lots of can lights in here, so it'll mostly be decorative.
I also painted the darker turquoise color on the metal slats on the door, just for fun. Remember, the doors and trim were being painted a brighter white after I left!
that's it for now. I will be back with more pictures of this room when we make some more progress!