hi!
So, I don't think I mentioned it this week yet, but Jordan and I are "Staycationing" this week. We'd planned to go out of town, but then decided to just stay at home. You know how sometimes you get so, SO busy that you aren't able to get things done around the house, and are just craving to be home? That's how we were feeling. So, here we are. And it's awesome.
I have gotten so much done already (of course mixed in with some work, too. Oops). I have cleaned out lots of closets and the pantry, and did some outdoor work yesterday. I worked on the patio. I ended up sweeping the porch (the little pollen drops from the tree above our house are never ending, but I'm at least trying to stay on top of them!), planting new spring flowers and succulents, and bleaching/scrubbing the trim on our porch. The white trim had gotten really dingy, so it was in need of a cleaning. I Still have to do the same thing to the actual porch floor. Our porch is not wood, it's some sort of composite, so it takes a bleach cleaning pretty well. I don't do it often, obviously, but sometimes there is no cleaning like a bleaching!
(my trusty assistant by my side of course. Verrrrry helpful)
Anyway, here are some fun pictures I took of my hard work...
The little patio area. We've actually already had dinner out here several times this year. It's a small patio, but very functional and I love it.
I got those chairs at IKEA last year, and the table is from World Market. The table sat out through the winter, and unfortunately one of the wood slats is buckling. :( I hope it can be repaired! Otherwise, it still looks great. The chairs are awesome, because they're light weight and very comfy, plus they, too, can be bleached.
Opposite of the table and chairs is a little seating area with two of these orange chairs, which I also bought at IKEA. I put my little midcentury modern planter here.
(see how the porch needs cleaning? Yikes.)
I finally bought these two planters from CB2 that I have wanted since before we moved into this house. I tried to buy them at end of the season last year, and they were taken off the CB2 catalog and there weren't any in stores! I was bummed, because I thought I missed out on them forever. But, this spring, they were back! I guess they were just seasonal items. They're called the
"Oscar" planter
. So fitting, as they're aluminum :) I read the review online, and put rocks into the very bottom of the planter, and at the top, under my plants, for drainage. They're big planters, but very lightweight, so in the event of strong wind, they won't blow over. Or the event of a little dog jumping up on them, which has already happened.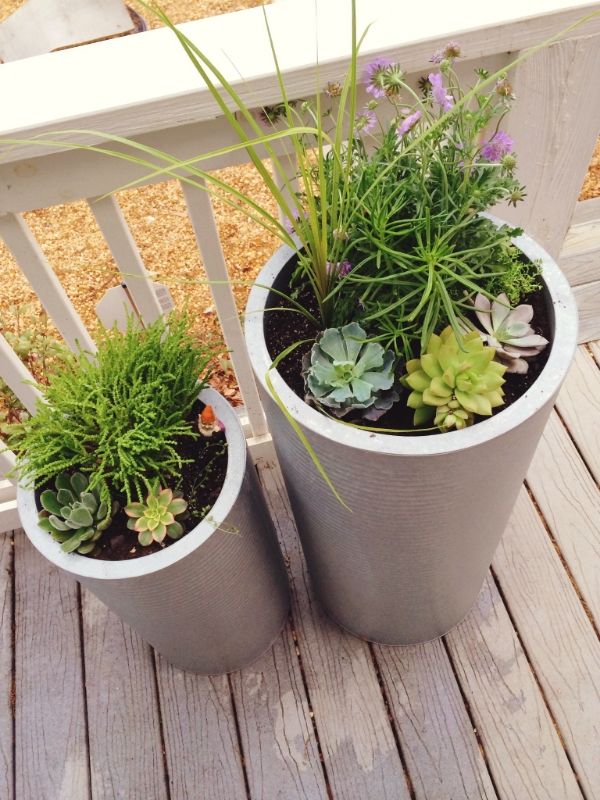 I got lots of succulents and some wildflowers at Home Depot and planted them yesterday.
Home Depot has the best little succulent arrangements right now.
This one was as-is like this, for only $15. Perfect! I bought two, and disassembled one of them to distribute into my big planters, and one sits here on the table.
The boring/hard work part of the project comes today. Our back yard was not landscaped when we moved in, except for grass and some big bushes near the porch. We are not ready to professionally landscape yet, but I do plan to tackle some of the "ugly" today. I want to dig up some of the ugly plants and weeds that are in our side beds, cover it in weed killer and gardening fabric, and then cover that in mulch. Oh, and do some liner that will give it a clear line of "flower bed" and "grass". Like
this stuff.
That will at least be more attractive than our current situation, which I'm almost embarrassed to post: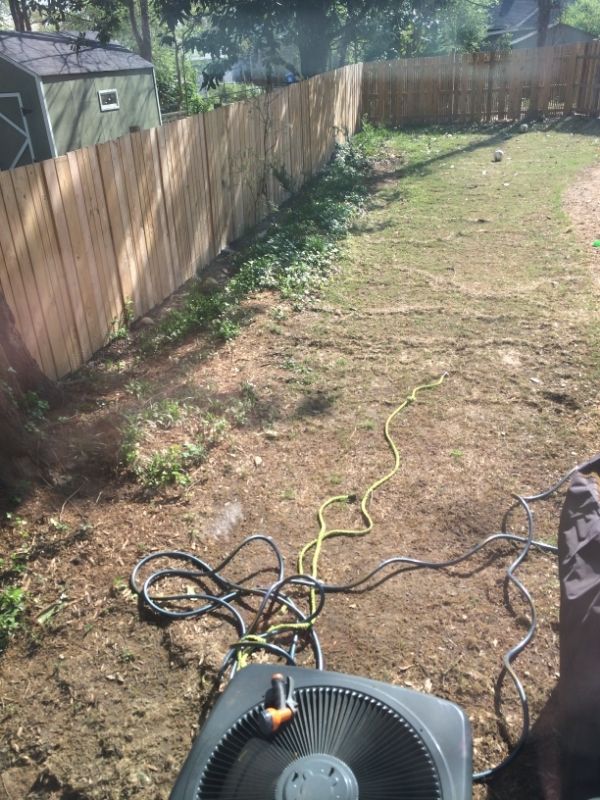 ok, I am not almost embarrassed, I am embarrassed. Hah! Our grass is thankfully coming in green, but needs some filling in. We get a lot of water build up back there, which isn't great. The hoses need wrangling. (!!!) I also want to build a little paver patio for the grill to sit on, like a mini version of
what John did here
. Although it seems like a LOT of work. Yikes!! I think it'll help with the drainage issues though, since grass clearly isn't going to flourish in that area.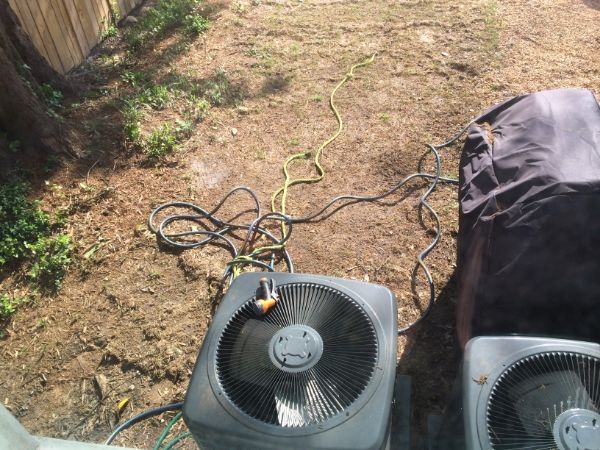 yikes.
wish me luck!!!