I'm finally starting to kind of feel like I'm making this place "ours." There's still a lot that I want to do, and I constantly tell guests not to look or judge spaces, because they're not done yet. But, whatever. At least spring is around the corner, and that's project season. I can't wait to get things done!
The bedroom is starting to make me happy. It's far from done-done, but I can see it coming along nicely. The bathroom is also looking way cuter, and I absolutely can't wait until the roman shades are done. It's been four months since I placed the order, so I am more than a little antsy! :) After they come in, I just want to order a bamboo chandelier from Shades of Light, and that will be it. I'll hang it over the tub.
The pops of color in there right now really make me giddy, and yesterday I found myself so happy over them. See?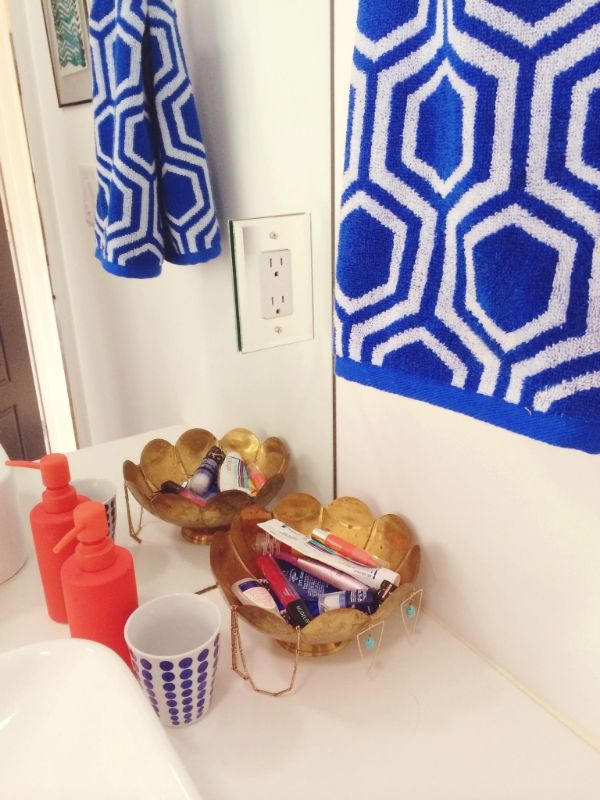 I got that towel at Ross the other day. Ross is my secret gem.
oh! and I still want to
add these gold pulls
to the drawers. I actually bought cheap-o pulls from Ikea that I was going to paint gold, but when it came time to do it, I just thought it might look too cheap, and not be the same effect. Espeecially since they're in the bathroom - the wear and tear might be rough.
the mixed metals; the colorful accents;
my heart art
; touches of vintage, mixed with modern; my
fuchsia elephant
-- all these things make me smile!
Something else that is making me smile is those peach walls. I really love 'em. I got a cute little vintage gold jewelry box yesterday at a thrift store for $5. It's very cute on top of my Ikea dresser:
and guess what? the inside is peach satin.
I have a good amount of jewelry, even though I'm not even much of a jewelry wearer! So it's nice to have somewhere to put everything, even if I'm not wearing it all that much :) Do you guys shop at Madewell? I have a hard time resisting their jewelry section, especially when its on clearance. I find myself buying lots of treasures there!
I also found a home for my thrift store brass mirrored tray:
and! I found some brass thrift store sconces that I hung. They are really similar to the ones that I had at the condo, but these are more substantial: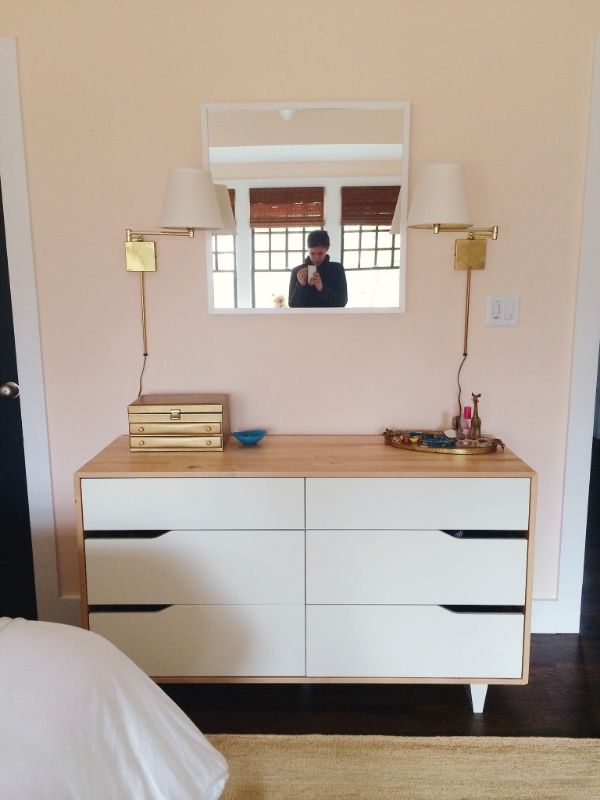 can you tell i love gold with the peach wall? someone needs to restrain me.
Anyway! Just thought I would share some snaps from my house, and what is making me happy, now.
They are way prettier in person. Also, I ordered the longest length available, and am going to make them into more of a pinched pleat curtain style, and hang the over the couch in our bedroom. The chartreusey curtains look really cool with the peach walls, and they are only $45 per panel. That's a significant price reduction, even if I were to make my own with fabric from a fabric house here in Atlanta. I bought the 84" ones from our local World Market, but when I got them home, they were too short. So I returned those, and ordered the 104" ones online. I found a 15% off coupon with a google search, so they were less than $100 for both curtains. I think that'll work quite nicely! I can't wait for them to come in.
ok, that's it for now. Hope you all have a great day!