hi!
Hope everyone had a nice weekend. Our's was pretty low key. I got a lot done around the house, and am ready to get back to work today. The built-up snow days have work kind of piled up for everyone. And, a couple of my jobs have gotten pushed forward because of the contractors building things before I'm supposed to come in, have been pushed forward because of the snow days, therefore I'm pushed forward, so I have to kind of tweak my schedule around. Not a big deal, just makes the work-week different. I have been bringing some of my studio projects home, lately, because It's been so cold at the studio. But, I have two giant pieces of furniture there that I can't bring home, and I'm going to have to suck it up and brave the cold at the studio today and tomorrow!
Anyway, before I head out the door, I have a client coming to pick up a painting, so I am blogging while I wait for her. I have a few photos I snapped around the house this weekend and thought I'd share them here...
This is a shot I took in our guest bathroom, that includes
this painting
that I did.
The light in here is so nice most of the day, and it makes me happy.
I got that turquoise patterned shower curtain a couple of months ago too, and its a nice bright surprise in there.
here is Mika's dream come true - a giant pile of leaves. Does any one else's cat love to eat flowers/leaves? he goes nuts for them.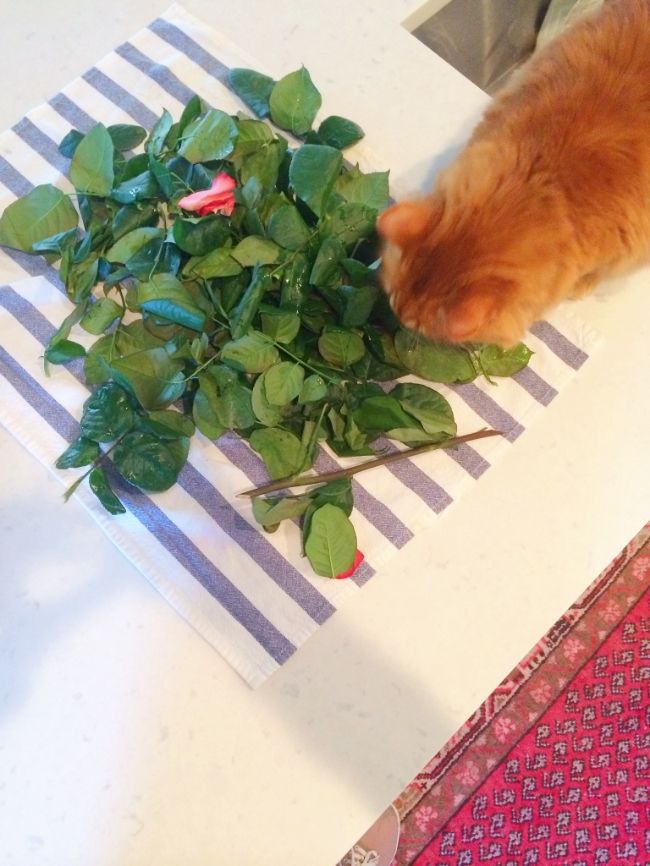 Here they are, all pretty on the table:
another shot from the guest bathroom. I kind of love it in there.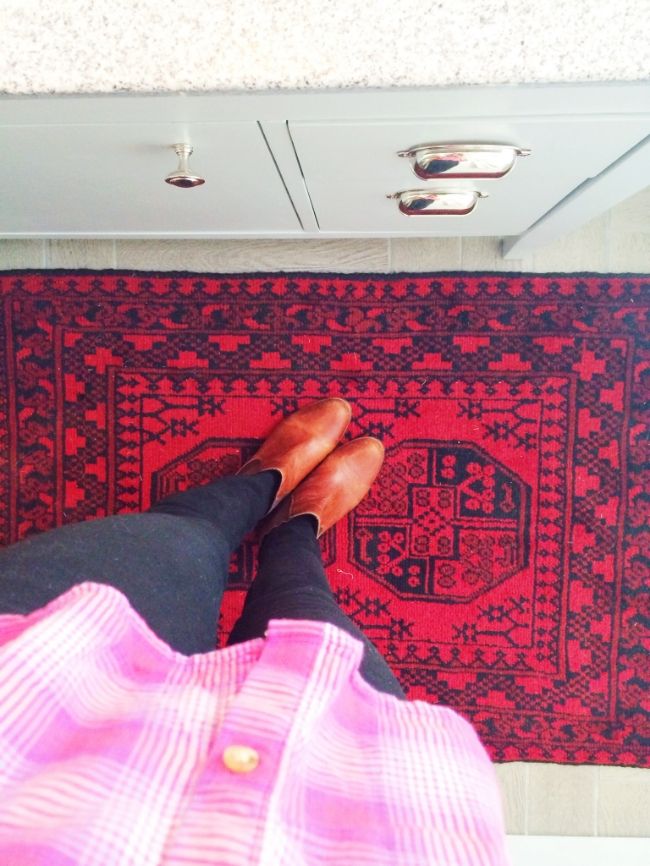 incase you missed it,
here is a link
from when I painted the cabinet (it was originally a builder grade pre made cabinet from Lowe's that I updated with paint and new hardware). My rug was from Ebay.
apparently this is the bathroom post, because this shot is from our bathroom...a little vignette: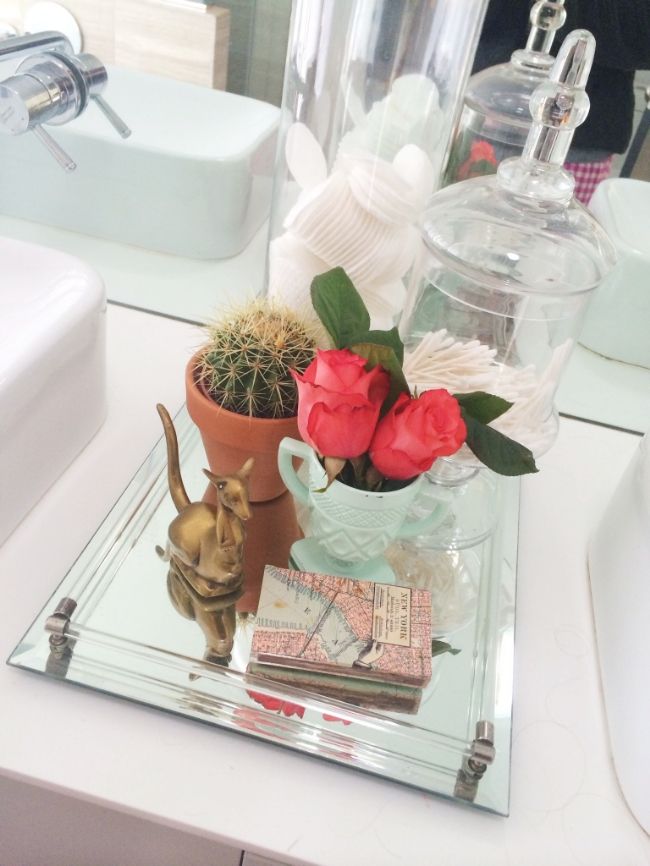 I recently bought these gold and white napkins from West Elm... They only had these 3, and they were only 1.99. I'm thinking I should have pillows made out of them.
Also, I finally picked a fabric for our master bathroom roman shades. It took forever!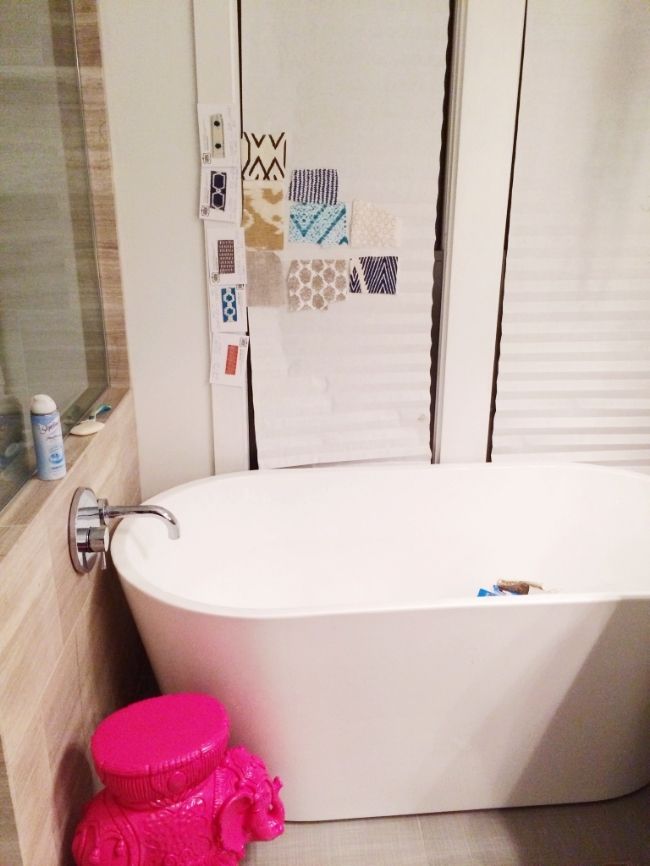 Here were all the samples I picked up. I ended up going with...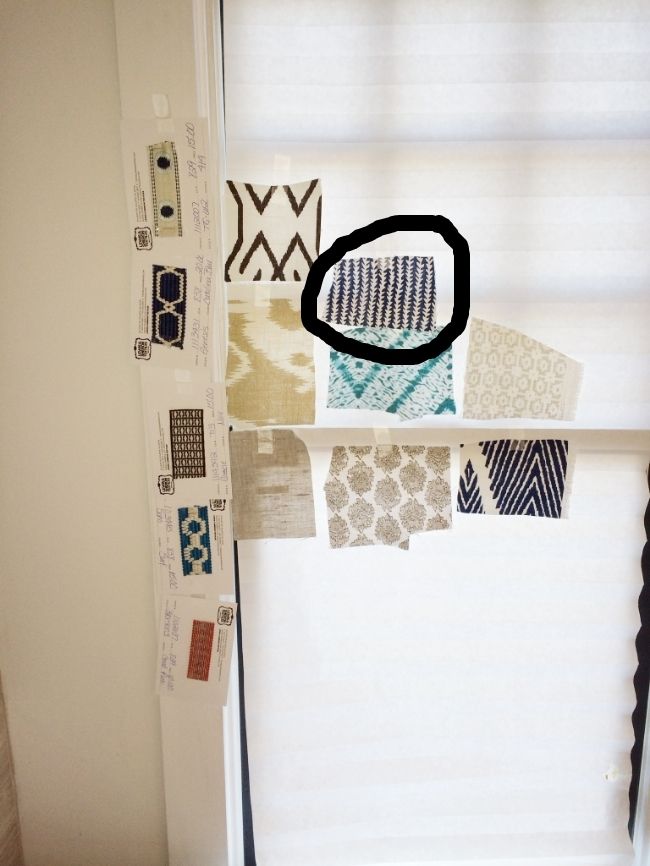 A5F9484A347C_zpsxs0gebdi.jpg"/>
It was narrowed down to three, and I picked this one because,
a) it's a small pattern, that I don't think I'll get tired of quickly
b)it's not too trendy
c)it's a color other than tan (which is the color of the shower tile), white (wall color), or gray (the floor tile). It's neutral-y, so it should be good for a few years at least!
The lady who is sewing the shades picked up the fabric yesterday, and they should be done the first week in March. I'm excited to see them up!
Alright, off to paint. Have a great holiday, if you are off today!