Yesterday, I got a wild hair and hung curtains in our living room. Crazy, I know. I actually only say that because I had been contemplating and planning for months, which curtains/fabric I wanted to use, but then yesterday out of the blue I just decided simple Ikea curtains were gonna be it. I don't know what it is about this house that makes me so indecisive? I guess because everything's bigger, therefore more expensive, and I don't want to make the "wrong" decision. Something I never worried about in the past. Getting old is hard.
Anyway, I had been planning to do a pattern on the curtains. I had several saved in my cart on Spoonflower and Fabric.com, but for some reason decided that the tan/oatmeal colored cotton ones from Ikea might be really nice, along with a cool trim to offset the simple color. So, I went over to Ikea and got them. They came in packs of two, and I bought two packs, so that I could make an impact by hanging 4 panels. I think if I ever get tired of that dramatic look, I can always double them up on either side of the window by just pushing the middle panels over on either side.
Anyway, I bought these curtains: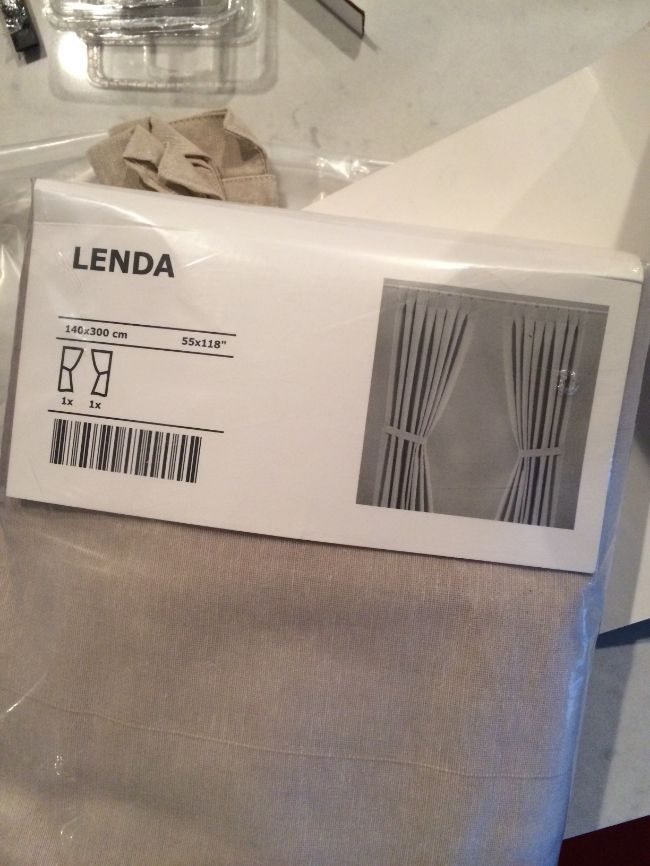 Good ol' Lendas. They were $34 for a 2-pack and they're 100% cotton. I actually used the exact same ones in white at our old condo. That's where I discovered this trick, which kind of makes them look like a Goblet pleated curtain. A very loose and casual pinch pleat style. I am very much not a fan of the way that they look in the photo on the outside of this package, but I found doing this little trick makes them look SO much better.
I take the curtain and fold it down, then hot glue the panels back onto the curtain like this (from the inside):
and then when I hang it, I put the rod through the panels that have been glued down, which results in that sort of pleated look at the top. If you want them to look a lot more crisp, you could iron them in place. I was in a hurry to get them all hung and just up on the wall last night, so I haven't done that yet. These curtains were some of the only ones that would fit our giant windows. They needed curtains that were around 108" long - not easy to find. I wish more companies made ready-to-buy curtains that were long lengths!
I bought a rod from Ikea too, which was also one of the only sources I could find for long curtain rods. This one extends to 130" if you need it to! Pretty great.
Here they are!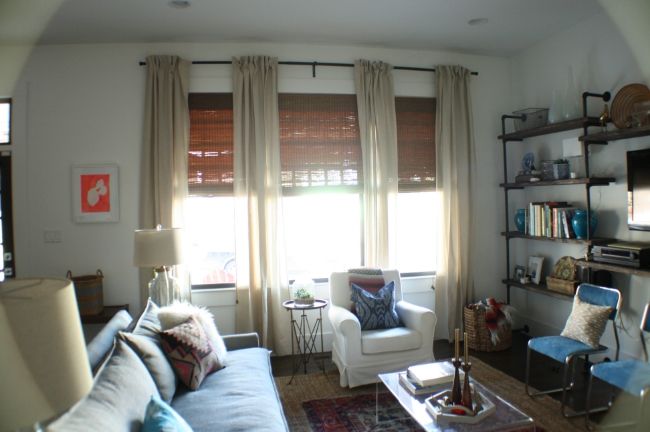 And yes - I hung them slightly too high, like an inch. Argh. Too much of a pain to move the rods down. I'm hoping once they settle into place they'll be better. And also, once I add trim, it won't show.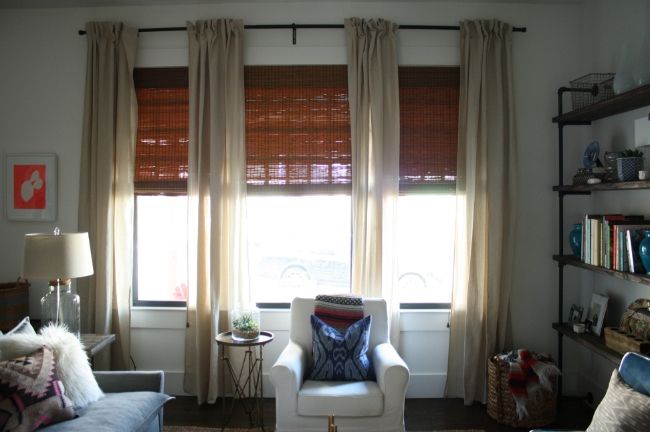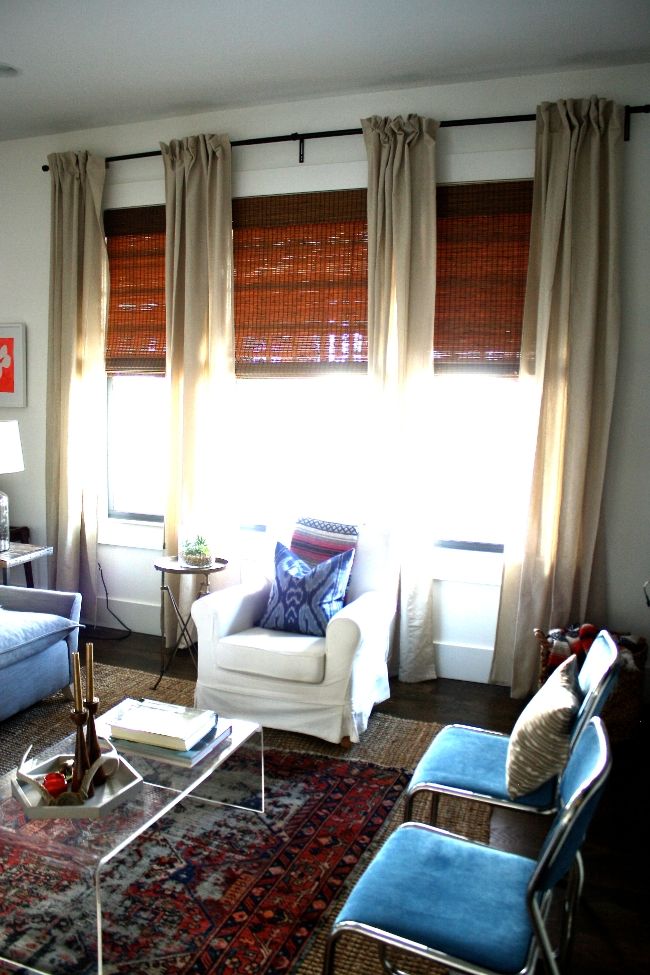 Close up. I need to go back in and straighten them up a little with my fingers, but I think the look pretty good for cheap curtains! And, I'm happy with the light-flow in the daytime. I didn't want sun-blocker ones.
Now, to find some awesome trim! Can't decide if I'm going to do it all up and down both sides of the panels and the bottom, or just the bottoms... Hmm... Maybe it just depends on what trim I get! For now, I'm digging them sans-trim.