I am back from vacation - sorry for my longer-than-expected absence! I really didn't mean to not blog all week. I was going to, and it got away from me. I'm playing catch up now, though, and it's not easy, haha.
I wanted to write a post about the little furniture piece that I stripped and painted for a client. I usually never strip furniture, but I took on this small piece for some really great clients. I learned a lot, and thought I'd share a few of my tips here.
Here's what it looked like before I stripped and painted it:
As you can see, it's a really old piece with a lot of layers of very old paint. I knew this going in, but what I did not know was that the paint was all oil-based and there was about ten layers of it! I believe this piece was very old, too - probably 50 years or so. Made for a challenge!
Anyway, I bought Citristrip after reading that Jenny from
Little Green Notebook
and Kate from
Centsational Girl
both had lots of luck with it.
The Citristrip container said it had an open time of 24 hours. Or, that it can take up to 24 hours to really work. I left it for about 2 hours or so, and came back to this: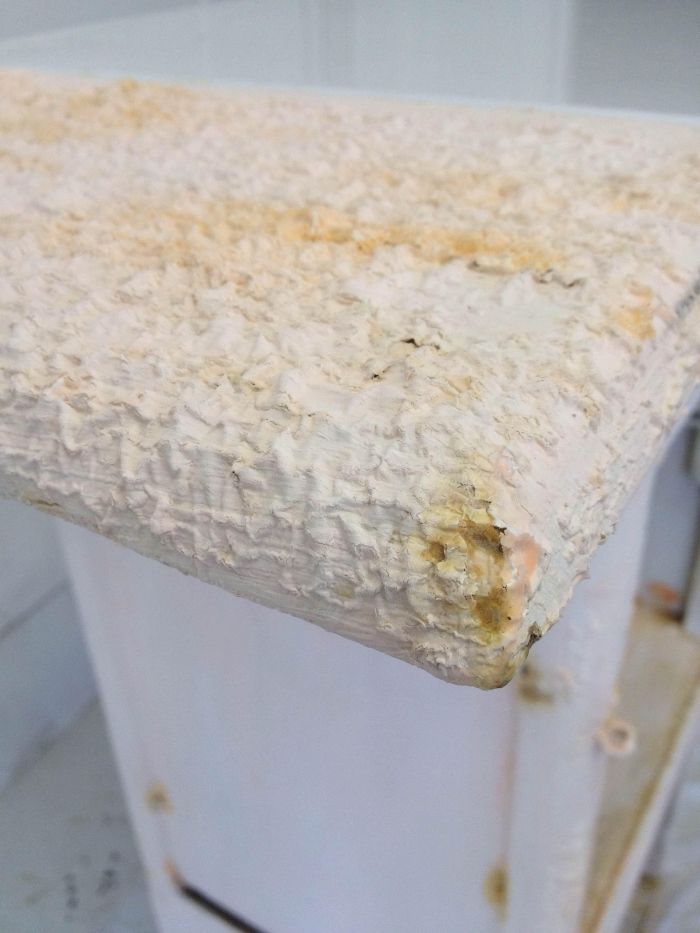 It looked like it was ready to scrape. Jenny said that you shouldn't ever have to really push hard on the paint to remove it - it shouldn't be challenge. She is the DIY queen, so I took her advice to heart. I did, however, have a little bit of a hard time getting mine to all come loose. I think it's just because it was so many layers, and they were very old and oil based.
The first few layers came off, but of course I had about four more to deal with! I did another coat of Citristrip, and at that point I was about to run out of it. I decided to try Klean Strip. This stuff is hardcore, smelly and works much better than Citristrip, in my opinion. I think Citristrip would've been fine in the case that I had fewer layers of paint, or not as old of paint, but for my job, it was much better. I also picked up some stripping pads and little wire scrubbers at this point. They were both completely necessary and helped a LOT. A must for any stripping project! I also discovered a secret: as you start to scrub the paint (provided that it's oil based), the paint comes loose with the stripping pad and scrubbers, but it helps tremendously to
have a little bucket of mineral spirits beside you
. You can dunk both of the tools into the mineral spirits to clean them, plus the mineral spirits help to loosen the paint. Almost like water would with latex paint, but even better, I think. This was my secret weapon and it was pretty much smooth sailing after that. Scrubbing the hardware was almost fun after I discovered that!
After it was all stripped, I did quite a bit of sanding. You can imagine my excitement when everything was stripped down to the wood. I'd say the entire stripping process took about 6-8 hours of work and about $35-$40 in supplies.
I then primed and painted it turquoise!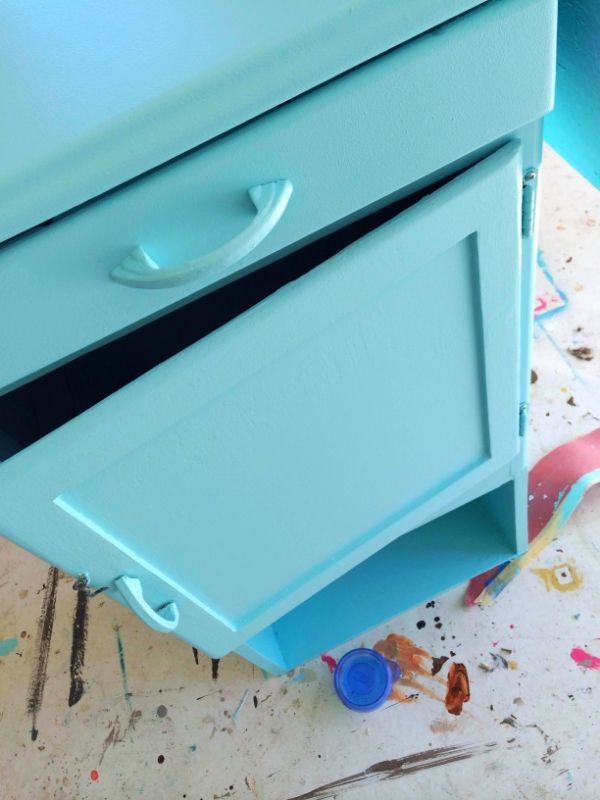 It's going in my client's kitchen, where I actually just finished painting their cabinets white. Its going to be a fun little spot of color.