Hey guys, how was your Labor Day weekend? Our's was really nice. I got a lot done, and got to spend time with friends as well. Productive! I was all ready to go back to work today last night, but then slept really bad last night, so now I'm a little tired. Oh well, carry on anyway, I guess.
I thought I'd share with you guys some snaps from my weekend...
I went out Saturday and tried to find some bedding for our new master bed. I moved all the stuff from our bedroom, including the mint green Target bedspread, to the guest room, so now our room is rather bare. I only found a king size down insert and a fluffy blanket for our bed, but I guess that's the essential thing. I'm still on the look out for a cute duvet cover/pillow cases/bedskirt. I actually know which bedskirt I want, I just have to go to Anthropologie to order it.
I went to the store at Lenox to see if they had it, but they don't carry the bedskirts there. I did see lots of other cute things there (naturally), including this cool midcentury modern chair that was upholstered in vintage rugs:
it was a lot bigger than it looks in this photo, and cost something like $1500. Hah. I always wonder where they get away with thinking they can charge that much for things? I guess their stuff is so unique that they have to, which I understand. Did guys ever watch that show on the Sundance channel about the guy that went around the world scouting the "found" pieces for Anthro stores? It was really interesting and cool, but also kind of crazy. Anyway! Moving on to more bed-stuff.
I went to TJMaxx and Marshall's, and didnt find much, buuuuut I did find a section with a few pieces from Serena & Lily! I was so excited, even though most of the pieces were for baby cribs. I found these king pillowcases for only $15. They retail for something like $75!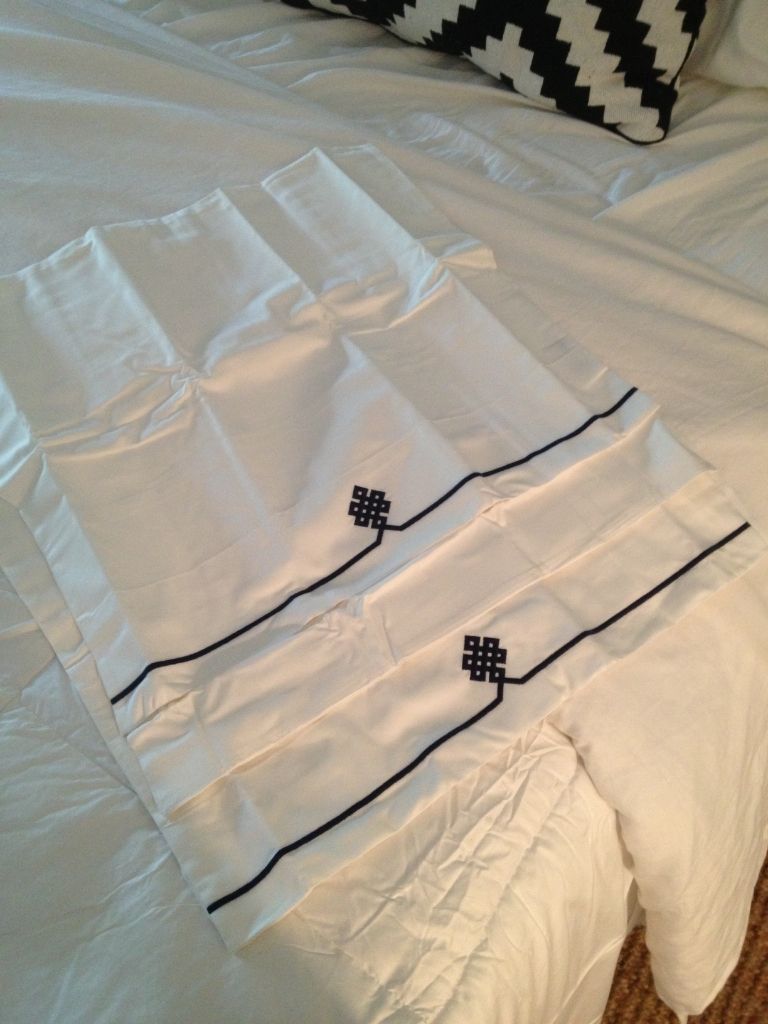 The embroidery is nice and thick, and it's navy blue. I plan to use a bedskirt from Anthro that is navy and white, so it worked out perfectly :) I was super excited. If you are in Atlanta and curious, it was the Marshall's on Peachtree St, in Buckhead. They didn't have much, though, and I had to dig!
I also got around to a lot of painting projects at my house this weekend that I needed to work on.
I painted that bamboo shelf a nice putty-gray (super light and pretty), and I painted two of those modern chairs you see here the same color. I found those at a thrift store this summer, and they were previously green. I like them much better now!
I also painted the bamboo desk that I got from a friend (thanks Sara!) bright white, and replaced the knobs with modern ones for a little mix-up!
I was really happy with finding those cool shiny knobs at Lowe's. I went in thinking that I wouldn't find anything there, but I thought they would be an awesome contrast to the old-school bamboo desk, and I love them. The chair was one of the ones I painted too, but I don't think it'll stay there, since it's not so much a comfy desk chair :)
I switched our guest bedroom and office rooms this weekend, too. I decided the room that was closest to our guest bath made more sense for a guest bedroom, so I moved our old queen size bed in there, along with a bunch of other stuff. Now, the old charcoal ikea futon and my new desk are in my office. Which still doesn't look very officey, but, as you guys know, everything here is still a work in progress.
The only office things in there now are the two things you see on the desk. I got that little organizer from the Nate Berkus section at Target. All his stuff (and Nate himself) is so cute. I love it all! I got that neon pink paper holder in the clearance section, too.
last but not least - I found this photo on pinterest ( think it's an Anthropologie bed) and really love the shape of the top. I'm thinking of making another headboard for our new bed, and wanted to maybe use this as inspiration for the shape. I wouldn't make the fabric tan, though, since the
last headboard I made was tan
. I'm thinking something darker - like maybe black or charcoal? Not sure.
Thats about it for my weekend! I'll be back tomorrow with a giveaway opportunity for you all :)