it's Friday! YES!
These last few weeks have been such busy ones. I'm glad it's the weekend - I painted a whole lot of walls this week, dudes.
In between painting walls, though, I of course had to decorate my new shelves. :) Naturally.
I think I did all of this on Monday, though. I filled them with stuff I had and went out and bought a few things at Homegoods, too, because most of my accessories are smallish things from the old condo. They're good filler, but I needed height. Still need some stuff, but it's a lot better at least.
Here we go: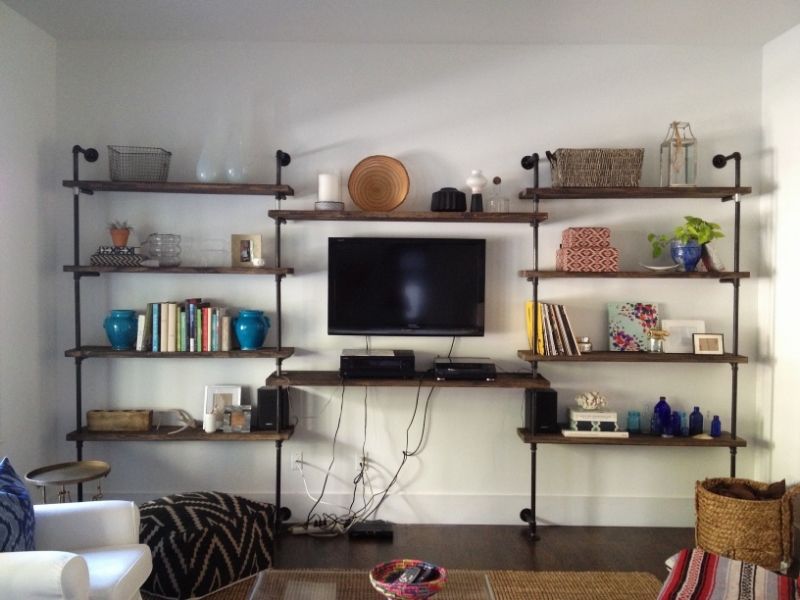 I know the cords are hideous - that is not something I've made time for yet! Priorities. I think I'll try and hide them today. Gotta get something to help out with that. I have a plan. Just ignore those for now.
right side:
No, I still havent painted those galvanized pieces yet. Woops. Look away, Dad.
left side:
Oh! I got that old sugar mold (bottom left) at a Goodwill this week. Can you believe it? I was happy. It was $3.
I like the shelves with my newly framed pieces, too:
I got that little midcentury modern chair at a thrift store this week, too. We'll see how I get it reupholstered... do you guys think that camel/caramel colored leather would look cute on it? I'm not sure. I didn't get the World Market chairs. I thought that they might be a little heavy for my space, and maybe too big to have two of them? Still undecided, so I didnt go for it.
You know what else is still up in the air? My couch's delivery time. Actually, it's not really up in the air anymore, but my paper that came with my receipt said it would be in between the 15th and the 18th of August (I ordered it Aug 8th from west elm). I called about it yesterday and guess what the projected delivery day is now? Sept 26th! Oh no. When I asked about it, they told me that it is special order, since it's 92" and not the standard 80", so it takes way longer. They failed to mention that when I ordered it. Sad. So, we wait. Good thing we didn't move our current sofa upstairs like we were planning to the other day! We still have a month. :(
last but not least, I went to see Bruno Mars last night and he was amazing. I wish I was a backup dancer and singer for him. Oh, to dream.
But who ever thought that having that many people in an arena is ok? It's kind of ridiculous. So big. So many people.
have a good weekend!