Well, we officially closed and own our home now, woo! Feels great. A little anti climatic because we've been living here a couple of months already, but still, feels more secure now, and more importantly, I can start decorating. :) I went out yesterday afternoon after the closing and got some things. I'm having the hardest time picking out a couch, which is leaving me feeling like I'm not moving forward. Can't decide which route to go. Ikea has a light gray version of the Karlstad now, which I sort of liked... but I still keep coming back to that west elm one I showed you guys. Better lines, and I'm afraid the Ikea one will get rumply. OK, maybe I answered my own question? hah!
Anyway, I saw these cute pillows at Anthropologie yesterday - love the pom poms.
Would be easy to do with my
pom pom DIY
! Anthropologie is so inspiring. When I first graduated college, I worked at anthro for a short time, aspiring to work in their creative department. I still think it would be such an inspiring workplace. Their installations are the best. And I know that I, along with everyone else, always thinks "Oh I could make that!", but the original ideas are just super creative and on point every time. We may could make it, but we did not think of it ;)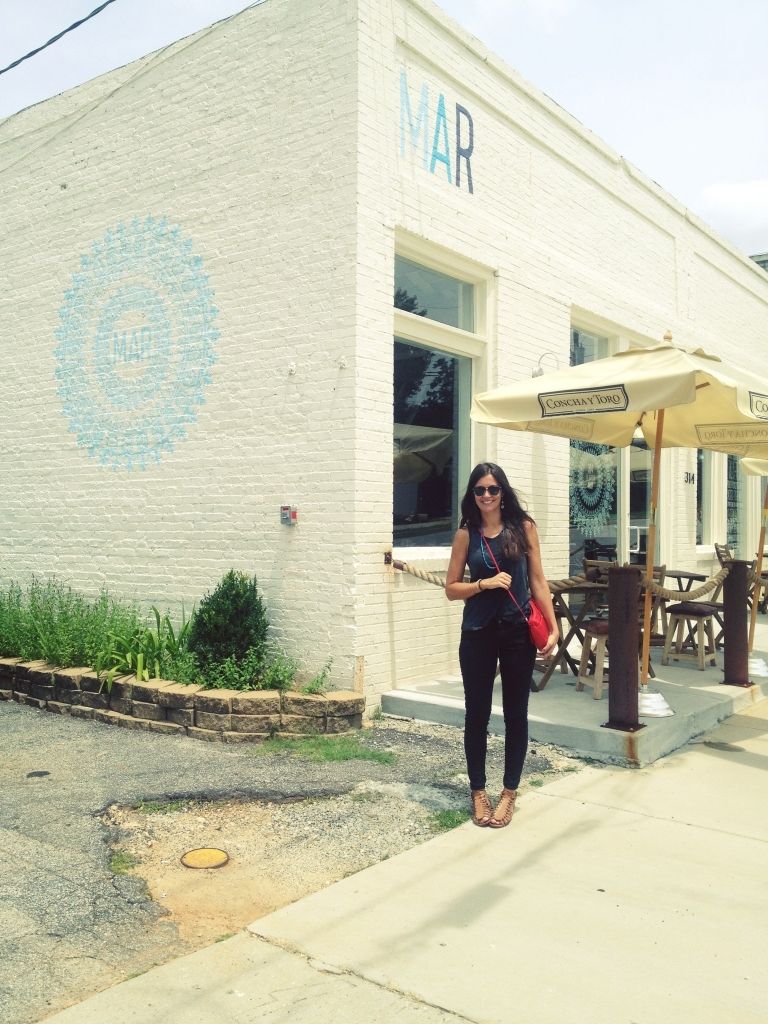 Saturday, I went to lunch at
MAR
in Decatur,
where I did two murals back in the winte
r. It took a while for them to open, but their space is really beautiful, and the food was delish. My friend and I split a tuna ceviche, chips and salsa, and a lobster taco. All really good. I'd been wanting to visit ever since I painted there (it was a painful painting job - super cold and windy out when I was doing it, on a ladder about 20 feet up! eeks), and it didn't disappoint.
And I took a photo with my mural, like a dork. :)
This is just at my house. It'll move for sure, but I bought those two green vintage chairs at Tuesday Morning fairly recently, and the midcentury-modern barcart was my recent thrifting score. The lamp I bought a couple of years ago at Highland Row Antiques, here in Atlanta. It lived at the studio for a while, but I recently brought it home. I really love it! It's so huge. Probably needs a less dingy shade though. The blue vase is from Tuesday Morning.
This little vignette makes me happy, though I know I'll change it soon.
Oh, and that little painting I have been working on for about a year now, hah. It never seems finished to me, but I like where it's at now, so I left it and brought it home from the studio, too. Some times it's good to just stop and let something be. Stop messin'.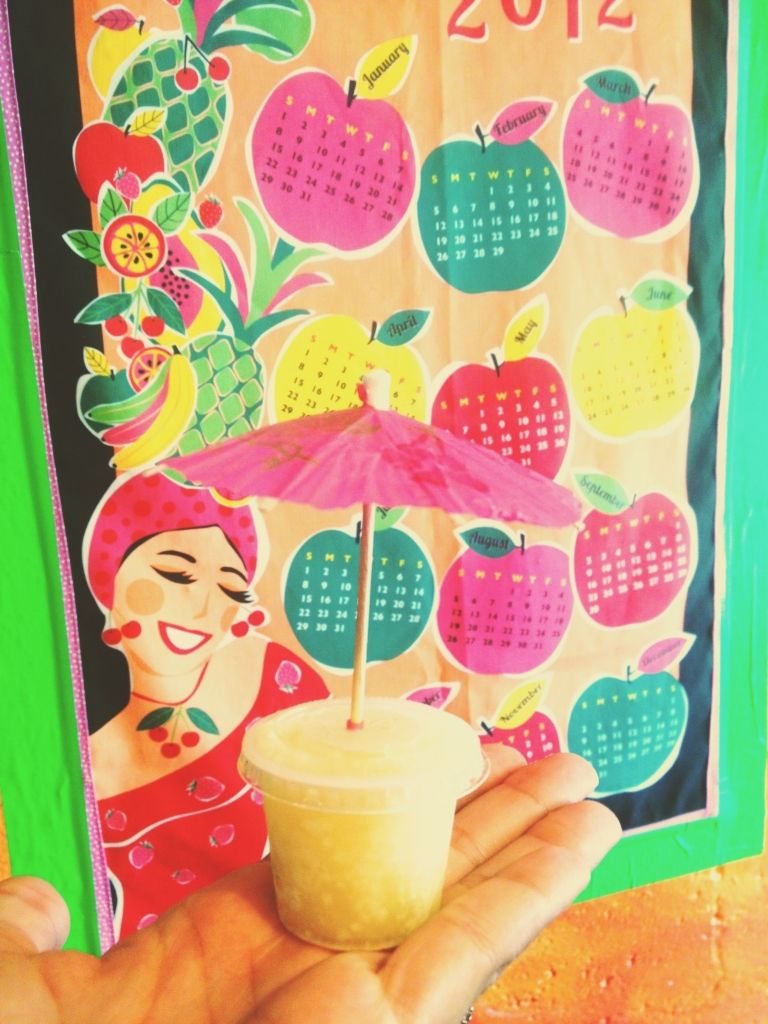 Yesterday after our closing, we stopped at this little place in Old Fourth Ward here in Atl for smoothies and ended up buying some little paletas. Cute huh? It was super sour, but really good.
last but not least, i got in my new artwork from Bowerbird by Kate Roebuck.
It's the neon cactus hanging by the door. I really love it! I'll post a better photo of it later, because you can barely see it here. It makes me happy.
happy tuesday!