Wow, thank you all for your input and help with the shelf issues. You all definitely came to the rescue! I think it's been decided that my dad and I are going to try and build the pipe ones. He texted me right after I posted that and said "I like the second option"... which I, of course, took as him volunteering to help me ;) He's super handy (
we did this project together, remember?
), so I'm sure they'll look great. Plus, they're more custom than buying shelves off the shelf. hah. Meaning, we can make them as tall as we'd like, and even include the TV area if needed (which I like the idea of). Woo! Excited for this.
Anyway, glad that dilemma is solved. Yesterday, I ordered my sofa (t
his one in the 92" option!
) and it'll come in a couple of weeks. yessss! It's nice and long and also very deep, so it's a way comfier option. Plus, it's pretty. Done and done.
Last night after work, I decided to paint the dresser I got at Goodwill this week. Non-stop painting in my life. It's good. It really makes me super happy to be painting stuff for me again : ) Though, I did use leftover paint from a client job for this! The color is Ozark Shadows by Sherwin Williams, and when I painted my client's night stands in it a few months ago, I really loved it. It's a soft putty gray that I thought was super pretty and I love it in my house, too.
Here's my console before I painted it. I do love the wood look, buuuuut it was in horrible shape (clearly). It's a cheapie piece of furniture anyway, so it was not something that I could've restored and restained or anything. It just made sense to paint it. Plus, with the bookshelves and other pieces I have coming in the living room, it didn't need to fight with other wood stains.
Ozark Shadows it is.
Here's a progress shot. Mika inspects, as usual.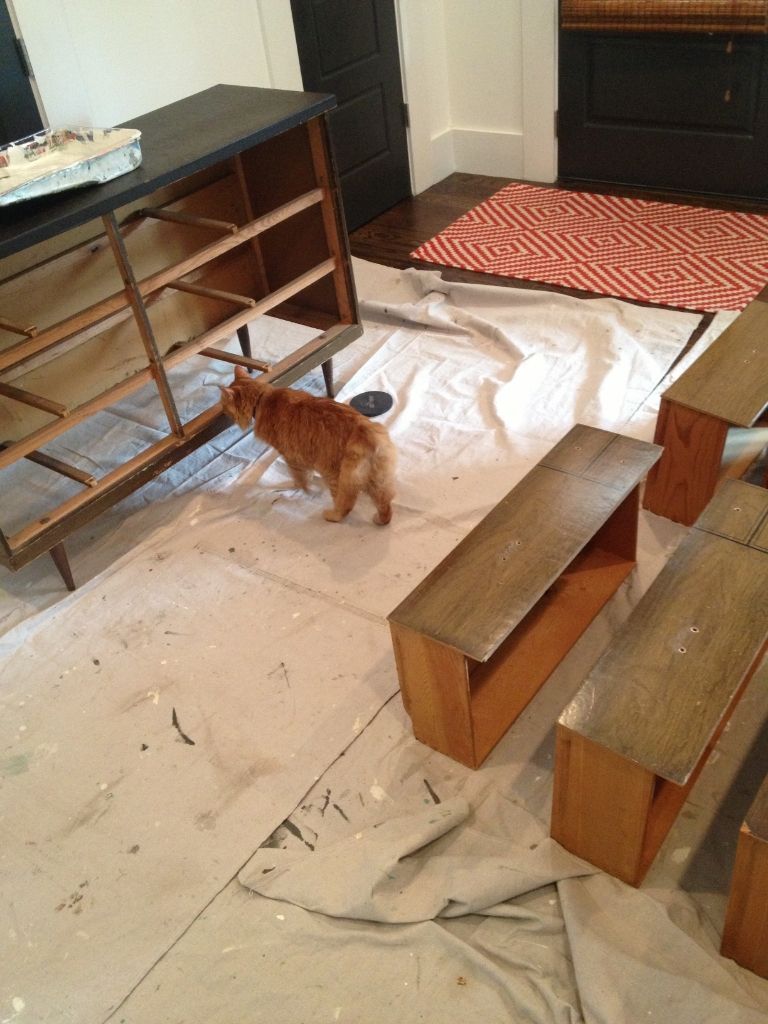 I primed it with oil based kilz like I always do with furniture/cabinetry, and then did the paint on top of that. It was so easy. I even timed it so that I had primed a piece at the studio, then brought my wet brush/roller/tray home and painted my piece. Makin' it happen conveniently.
here it is now: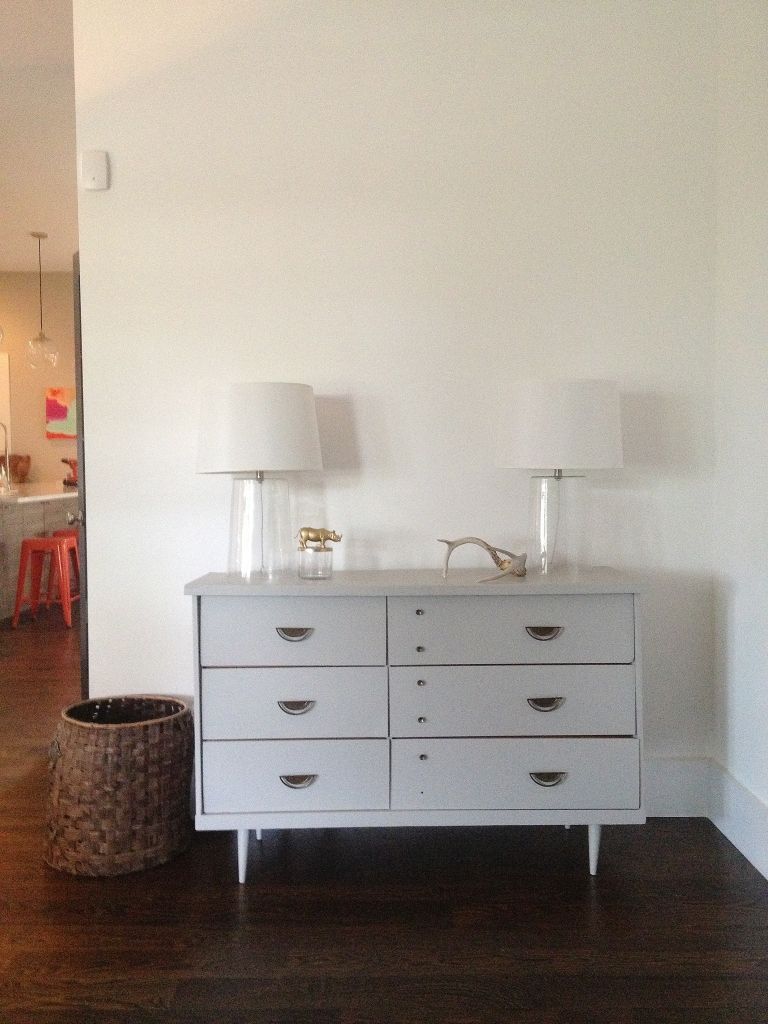 I didn't realize when I bought it that a knob was missing from the very bottom. I may replace these knobs, because I know that Home Depot has a knob that almost looks similar and could be cute. Also, the "middle drawer" was a faux looking drawer where there was a line painted on the longer drawers on the right to make it look like there was a row of skinny drawers down the middle. You can see it if you scroll up. I might paint in a line, too, so it doesn't look like the drawers on the right are super long. I don't know. We'll see.
For now, Im just loving the color and change up.
I got that little rhino glass container and the antlers at a store called
Birds of a Feather
in my hometown of Griffin GA this week (because I was working down there). It's a cute store with lots and lots of treasures. If you are looking for wood or metal vintage crates - GO! It's worth the drive, and you can tell that some creative folks are running the place. Plus, I always love to support fellow artists.