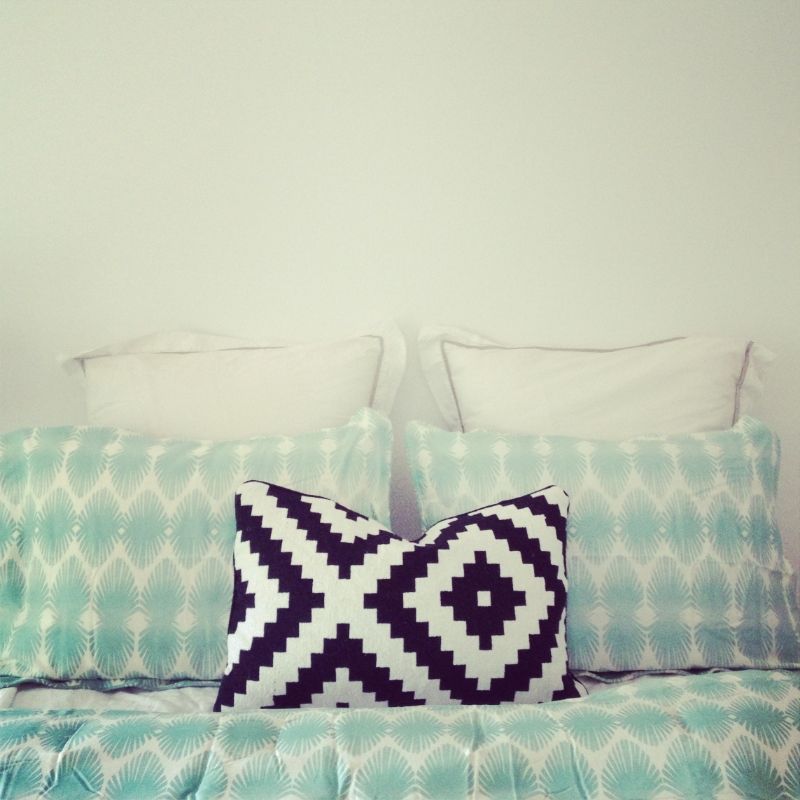 I got this bedding recently from the Nate Berkus line at Target. I tried to resist it, but the mint green and earthy print were calling me! I went back a few days later and tried to get it, and it was gone. So then, the hunt began. I had to go to a couple of different Targets to find it, but alas, it is finally mine. I think we will eventually get a king size bed for our bedroom, but for now, this is in there. When we get the king size, this will probably go in our guest bedroom (which now just has a futon in it. Mika thinks it's his room - he hangs out in there all day).
The black and white pillow was from IKEA. They still have them, and I still love them!
I took this next photo on a walk on the
Beltline
, which is really close to our house. The Beltline is super awesome, and if you don't know much about it and want to learn more, go here.
A short summery from their website says,
"

The Atlanta BeltLine is the most comprehensive revitalization effort ever undertaken in the City of Atlanta and among the largest, most wide-ranging urban redevelopment and mobility projects currently underway in the United States. This sustainable project is providing a network of public parks, multi-use trails and transit by re-using 22-miles of historic railroad corridors circling downtown and connecting 45 neighborhoods directly to each other."
This part is yet to be paved, but will eventually get there. At this part of the trail, it really feels like you are in the country, and not the city. There was even a rooster crowing right there where we were standing. Funny.
We got pizza at Village Pizza in Cabbagetown the other night, and I liked this lettering at the bottom... reminds me of my doodles.
I took this photo at a store over on the West side the other day. I can't remember what the store was called! Terrible. Many of the stores didn't allow photos, but this one was ok (I think), and I really liked these lamps I saw in there. The metal with the glass was cool. They had lots of pretty items -- I'll be back.
I saw this yesterday at CB2... funny. I'm a big Game of Thrones fan - what about you guys? The candleholders were actually really cute, too, I almost bought some.
This is an inspiration photo from a painting I'm working on for a designer in Florida that I do a lot of work for. We've never met, but I always love her commissions, and I'm excited to finish this one up. The mustard mixed into this painting is so pretty.
Lastly, my friend made me some pickled okra! Pretty sure I've talked about my pickle loving ways on here before, but I pretty much love any and all things pickled, and this is spicy and oh so good. mmm.
Alright, I'm off to work on a baby nursery before the holiday on Thursday. Wish me luck!