I've been sourcing and collecting images and info for when it's time to decorate the living room, and I thought I'd share some of them here today... Most are on my Pinterest boards, and some it won't let me grab. So I just grabbed the few that I could, and am going to source them as best I can! These days, it feels like it's so hard to source things correctly or give credit to the right person! I'm going to do my best.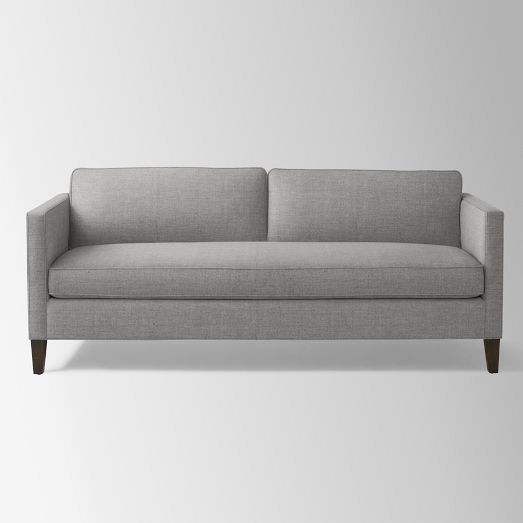 This is a sofa I'm loving from West Elm. I'm really contemplating my sofa choice. I know some of you asked why I am getting rid of my white sofa that I had reupholstered a couple of years back. I am not! I love that thing. It'll just move upstairs - don't worry! It's too small for our living room here. I always knew it would be too small when we moved .. it fit our tiny condo perfectly, but it's a petite sofa that wouldn't work in most living rooms. I think it'll be a perfect addition to either our bedroom or my office upstairs. Not sure which spot yet!
Anyway, Im wanting a light gray sofa for our new house. Clean lines, of course, and no skirt. I don't want chunky, but I do want comfy. Picky, picky. I have been stalking a few of them at west elm. I love this one that is pictured above. It's the
Everett sofa
.
I also love this sofa, above. Very midcentury modern.
Not sure which I'd go with. The issue I'm having now, though, is that the delivery for these sofas is 8-10 weeks. That's so long! I'm too impatient! I almost feel like I should hunt down another vintage one (I have found several since I have been on the furniture hunt) and have it reuphostered. The time and money it would save would be awesome. It's just the hassle that's annoying (transportation, buying fabric, etc, etc). Still weighing that out.
Anyway!
I'm also on the hunt for some great chairs.
I love
this from Urban Outfitters
. Very cute. I know that we are all mostly over chevron, but this sort of ethnic look doesn't scream chevron to me, just zig zaggy. What do you guys think? I love it. It's a top contender. Of course, again, I have seen several out and about that would be cute to recover, but recovering chairs doesn't necessarily save $ and it is a pain!
I love these that my friend
Dayka
had recovered, too. I'm wondering if I should do two chairs on one side and one larger chair on the other? This is another thing I'm heavily considering right now, too. Hmmm.... I have seen lots and lots of vintage chairs out thrifting and antiquing that would be perfect for this, but haven't bitten the bullet yet. I will keep yall updated!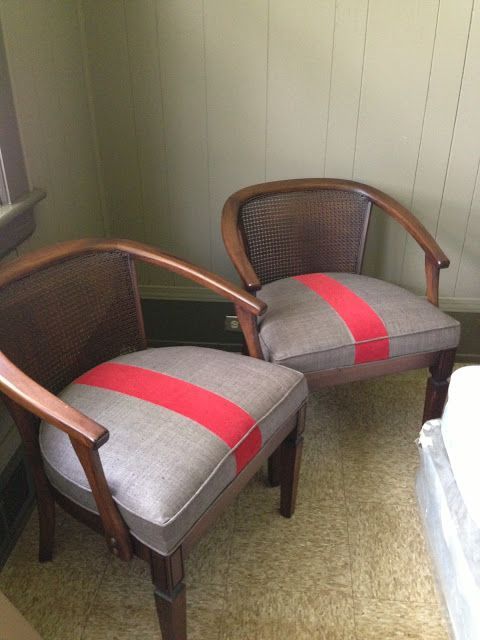 last but not least, a colorful kilim is a must. I'm excited to add some bright color in this room, because right now it's a big white box. boring!
This photo from
Amber Interiors
is just the ticket and inspiration I am looking for. And I do still love my acrylic table from CB2, but I'm wondering if a change up is needed there, too. I'm thinking yes. I love the hairpin leg/wooden table seen here. My brother's friend makes really similar tables, and I'm thinking of commissioning one from him. I'll definitely either have him build a coffee table or a sofa table to go behind the coffee table. So many options!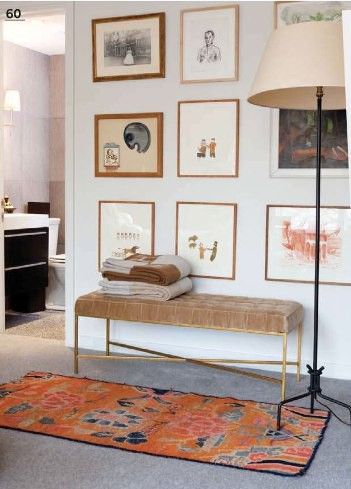 Last but not least, I'm loving this bench/gallery wall/rug idea for our entryway wall. So pretty!
(I'm finding it really hard to source this photo. If you know where it's from, please let me know and I will link it.)
OK, that's it for now! Happy Friday.