Gosh!
I started this post about two hours ago, and now I am finally just sitting down to write it. I snapped photos on my nice camera, but the whole uploading/editing/photobucket situation has gotten out of control. These posts are taking me forever, due to my slow computer and camera situation (ever since I downloaded Dropbox a while back, my settings for my camera got messed up on my computer, and it takes forever to get things to save properly. Very frustrating!)
Anyway, here we go. I hope you all had a nice weekend?
If you follow me on Instagram (@kristenfountaindavis) , you've seen that I did a little updating in our powder bathroom downstairs the other day. I just bought a few things here and there, and did some DIY's that I thought I'd share with you on here. It feels really good to be back to making things and decorating my home again, and adding my personal touch.
Our powder bathroom was pretty cool before we moved in. Our builder put in a handmade concrete sink, along with the wooden countertop that it rests on. The story goes, that before he built the house, he had to walk along the property and collect lots and lots of glass bottles from whoever owned the property before (apparently, the previous owner liked to come over and work on his cars over here and throw his bottles into the ground). The builder of our house always likes to keep a little of whatever was here before - sort of maintaining the integrity of the property. So, when he had the sink made, he gave the glass bottles to the concrete artist, and he put them into the cement he made the sink with, and voila, our sink has ground up bits of glass from the earth that our house was built on. Pretty cool, huh?
(Mika displays the sink for you. I swear he's never even been in this room until today, but of course he needed to be in there for the photos)
Anyway, I'm not sure who built the wooden floating countertop, but I love it, too. I had the West Elm
jar pendant
put in (they're having a 20% off lighting sale right now, FYI!), and that was that. So, this weekend, I decided to add a little to it, just for my own touch.
First, I went to Ikea and bought a wooden square mirror (of course I'm not seeing it on their website).
I spraypainted it neon yellow-green for a crazy little touch in there. I'm not sure why - for some reason the idea popped into my head, and I liked it.
It looked like this before I painted it: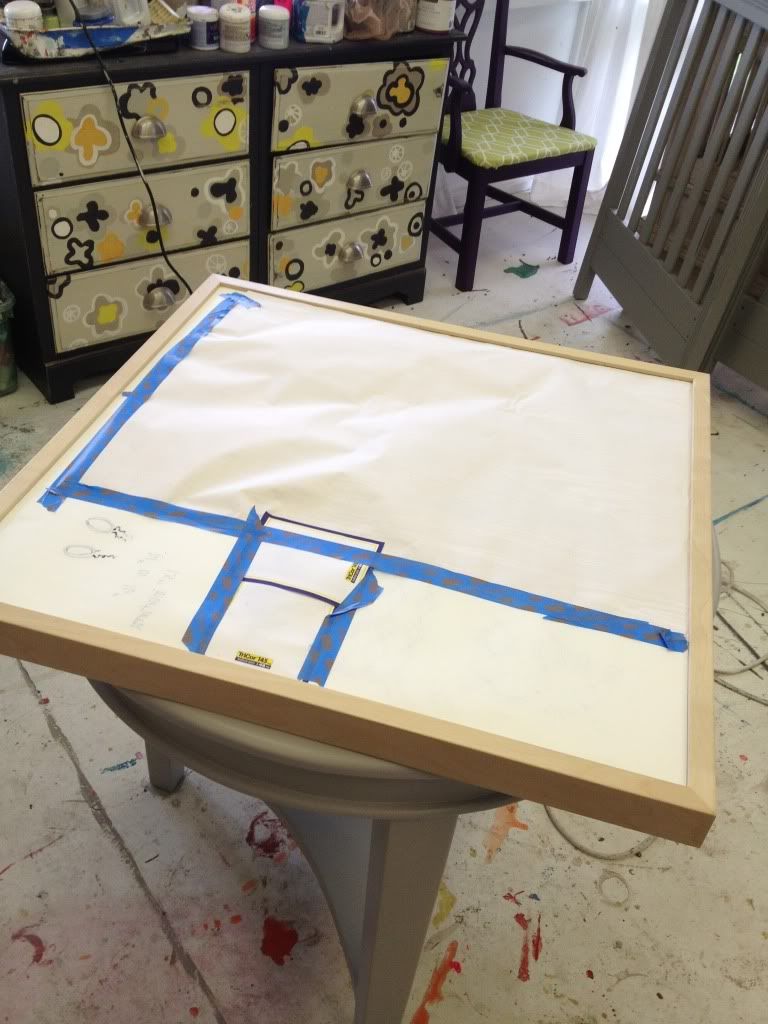 I was actually going to go with a circular mirror that I knew Ikea had, but when I got there, I liked this one better, and, I knew that it would be easier to tape off a square mirror for painting than a round one. :)
I clearly covered the mirrored part in paper, and primed it first, then used Rustoleum's neon spraypaint for my final coats.
and here she is: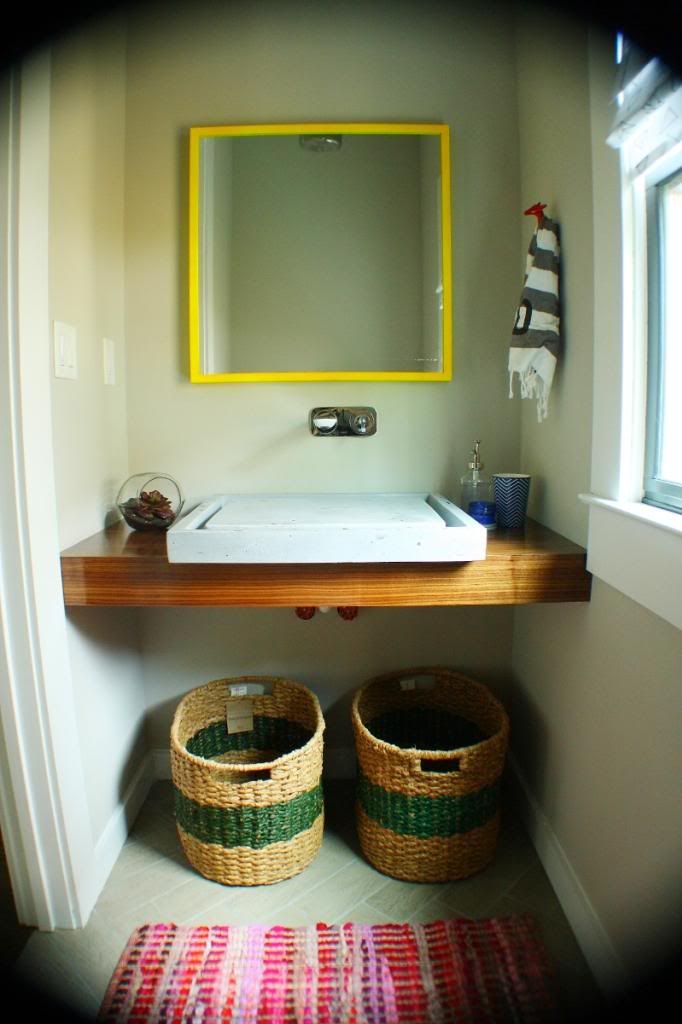 A pretty fun spot of color in there, huh? I really like it.
I bought the two big baskets at Homegoods, because there is no storage in there (just for fun things like toilet paper or whatever), and I liked filling in that empty space a bit. The rug was also about $7 from Homegoods. I thought I would use it until I found a cool Oriental or Kilim for in there, but I actually really like this one as-is.
It dried weirdly fast, and I hung it the next day.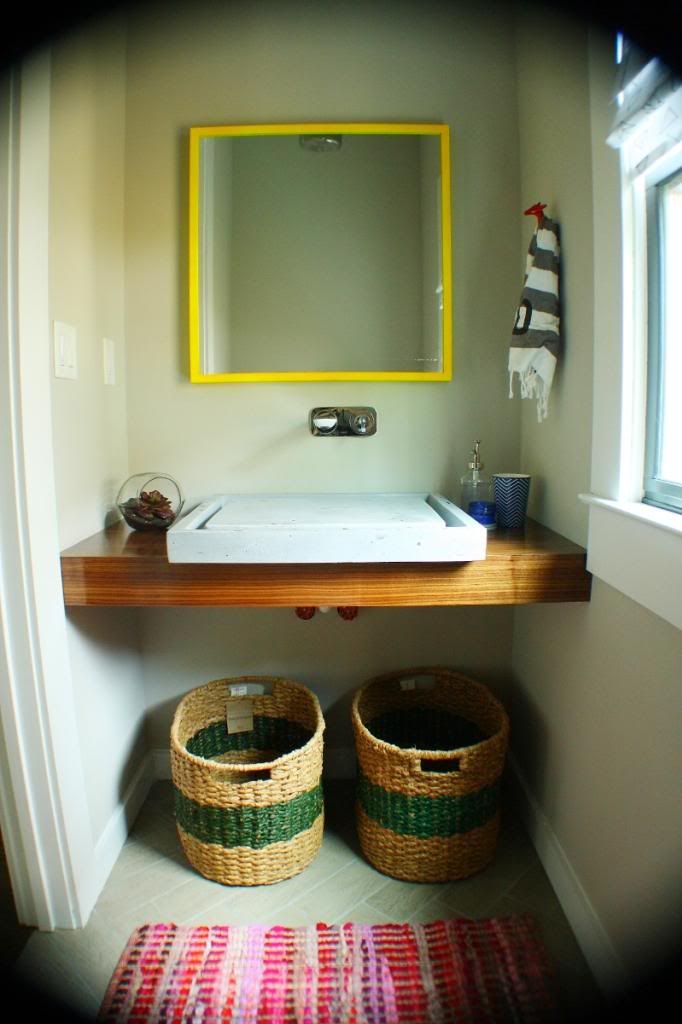 I also made this faux roman shade for in there: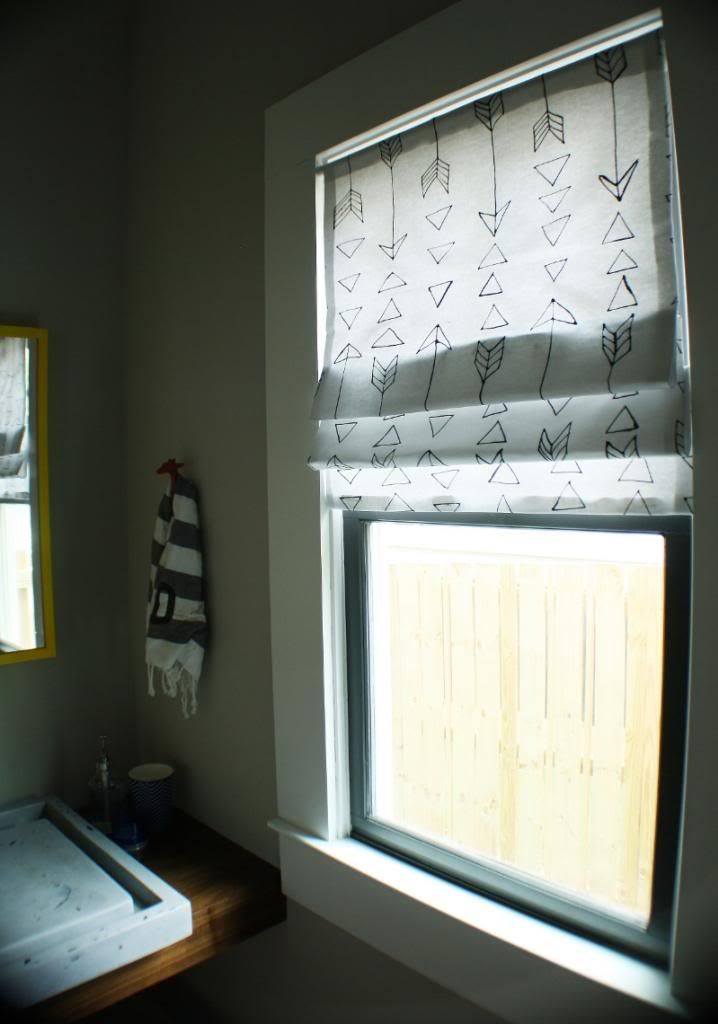 I'll post a DIY on that later, but I am really happy with how it came out. And it only cost me about $12.
I plan to cover the bottom part of the window in that film that creates privacy but still lets light through. I didn't want a shade that covered the whole window, because we want light to be let in there.
I made the fabric design/print and also created the shade. It was all super easy, just a little time consuming. I'm so happy with my little powder room updates, though, and i always just want to peek in there, now that I have those fun little additions!
I have another DIY on my to do list for in there, as far as artwork goes, so stand by for that.
Hope you all have a nice Monday!