Last week, I helped my mom out with finishing up some of the major components of her kitchen reno. They've been in the house for about five years, but the sagey green walls, light wood cabinets and heavier feel of decor were starting to not feel like "her" anymore, as she told me. It was time for a renovation. Yahooo, here I come.
I didn't take a picture before the walls were painted and the subway tile was installed, but I do have this one before I painted the cabinets:
You can get an idea of the darker feel it had. Anyway, we had the walls painted Benjamin Moore's "Light Pewter". It's the prettiest shade of pale gray that i've seen! Its kind of in between gray and cream, and all around, a really nice neutral. We'd used it in her guest bedroom, too, and I suggested it for the kitchen as well, because when she was telling me her thoughts on how she wanted to redecorate, it seemed like a good fit.
We also had
this beveled cream
subway tile installed. I knew in my head what I wanted, and just searched online until I found it. We both really love the tile, but beware, shipping was really expensive, and it would've been much better had we been able to source locally.
and here it is now:
Obviously, it's not staged or decorated in there yet. I'm saving the fancy photo session for when we get some accessories and stuff! But you get the idea.
We also had new hardware installed. I can't remember the name of the line, but it was special order from Home Depot.
I did the cabinets in "White Down" by Ben Moore, because it was a nice color with the "Light Pewter" walls. Mom wanted cream, and I pushed for a whiter cream, more than a yellow cream, and we both LOVED the color. I also did dark brown antique lines (the glaze in the bevels to make lines) to go with the oil rubbed bronze hardware. I have to say - I really loved being able to pick out everything for this reno.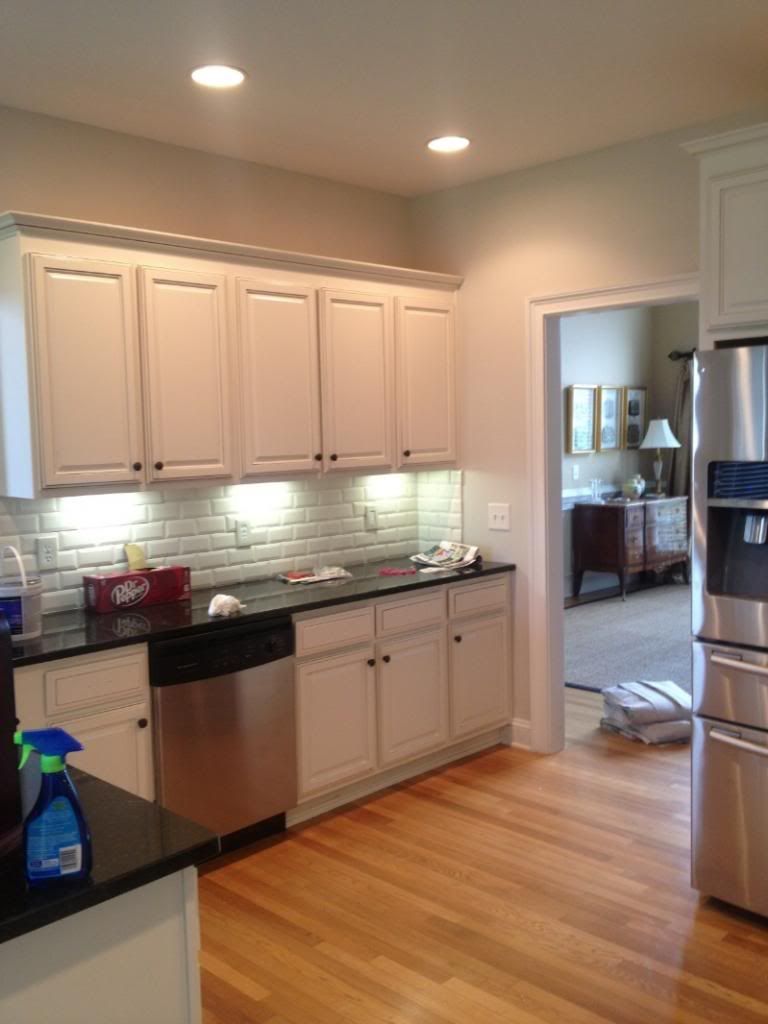 I was also having issues with the new holes for the hardware, so that didn't get finished until my stepdad was able to manhandle those things ;) But, all the drawers got new cup pulls, which are really cute now that they're installed!
What do you guys think?
Next, we need a mirror (mom found a great one from Ballard, but it was discontinued, boo!), a new light fixture, and some countertop accessories. I'm also pushing for new stools and a couple of softer chairs to flank the ends of her farm table (Which she already has). I'll post pics when we are all done! :)