I thought I'd show you guys some photos of our kitchen/dining area. We got blinds hung on all the windows in here (there are 7 windows plus a door, so that is quite a feat), and I think Jordan and I could be professional bamboo blinds hangers in the event of a job change need. We're getting good with these things. I hung four within an hour last night. Whereas, on our first go-round, it took us 2 hours to hang 4. bam.
Anyway... we really like the ones we selected, which were from Home Depot. They're a medium brown. They're privacy, but not black-out privacy, so I like that about them.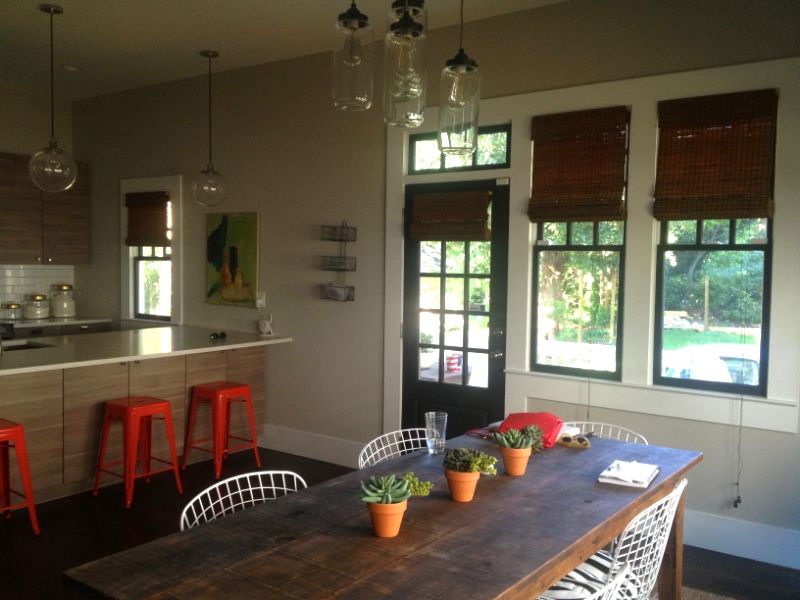 so this is what I'm thinking for actual curtains. long panels on either side of that big window, and that's it. with a black rod. what do you guys think? the door/window situation on the left is weird - as in, where the heck would you put curtains? I think they're a no-go for this side, and just do them on that big back wall with the four windows. I'm still searching for the perfect fabric - you know i'll be making them myself when I do find it :)
I think it'll nice to have something soft in here. The ceilings are so tall in this house (12 feet), that I think curtains will really soften things up, not to mention absorb some of the echoes we constantly hear :)
I also plan to maybe get some kind of skinny console or table maybe for the left side of the room. this may or may not happen. i had a bar cart there for a few days, but it started to bug me, so it may stay empty.
Also, I realize our light fixture hangs a little high. i guess the west elm fixtures are made for a certain ceiling height (probably standard), and since our ceilings are so high, it's a little up there. i still love it. any suggestions from my interior designer people as to how to make it lower?!
This is the other side of the old kitchen. My view right now, actually: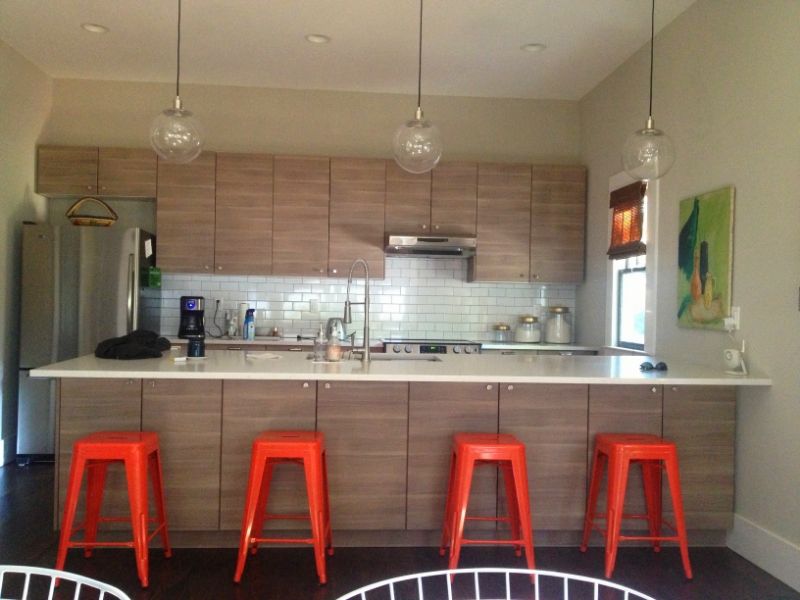 Clearly I didn't stage this photo, or completely clean off my counters. :) The picture hanging to the right on the wall is just an old thrift store gem I found years ago. I plan to switch it out. I'll probably paint something new...Anyway, I like the texture that the blinds bring to the situation
I also got these striped seat cushions last week. I was actually planning to get white ones, but when I found these, I thought they were way more fun. Plus, they'll work if I decide to paint the chairs back to black. (which I don't plan to - I like them white now) AND, my other thought was that white would eventually (probably quickly) get dirty fast. These I found at this place called american mills outlets. They're super thick so they're comfy on the wire chairs (Which I will admit are not the most comfortable chair).
I bought matching ones for the outdoor chairs, too, actually.
OK, that's all the kitchen progress for now! Off to do some painting.