I mentioned yesterday that Jordan and I were super-excited to have porches at our new house. For the past three years at the condo, we never had anywhere to sit outside that was private (actually, there wasn't a public space either - no outdoor hang out areas there), so if we wanted to sit out and have a drink or dinner on a porch, we went to Six Feet Under or The Republic in Grant Park, which was in walking distance of our condo. As fun as that was, we got to the point where we were really wanting somewhere all our own to sit outside. So, we're really happy that we finally have that! I told Jordan a few months ago, when we decided to make this house a reality, that I thought our number one priority should be getting outdoor furniture as soon as possible! One week in: done.
I got it done yesterday, by going to some of my favorite spots -- World Market and Ikea.
I bought the
Square Bali Table from World Market
for $150. They had the CUTEST little red vintage-looking wire-y chairs painted in a tomato orange that I was planning to pair them with, but by the time I had made my mind up that that was the combo I wanted, my World Market was out of the chairs. AND, apparently they were discontinued and nowhere to be found in Atlanta. I was kind of bummed at first, but immediately began searching for different chairs. I saw some metal cuties at Ikea, but when I went to the store, found them to be SO uncomfortable, and since we plan to be hanging out here a lot, I wanted them to be comfy for hours on end.
I walked around the outdoors section at Ikea and sat in about 20 different chairs. This is something you need a friend to do with you, because it's weird. Anyway, I settled on the
Hasselon chairs
(for some reason they are not sold separately on Ikea's website, but they were sold separately in store for $45.)
I placed everything together to make sure it all fit nicely in the space, and it did! I knew though, that I would have to stain the arm rests on the chairs to match the table. I bought some American Walnut Minwax stain in a tiny container and stained the arms dark. The arms are already really rough, so they took the stain well, and it was a pretty good match!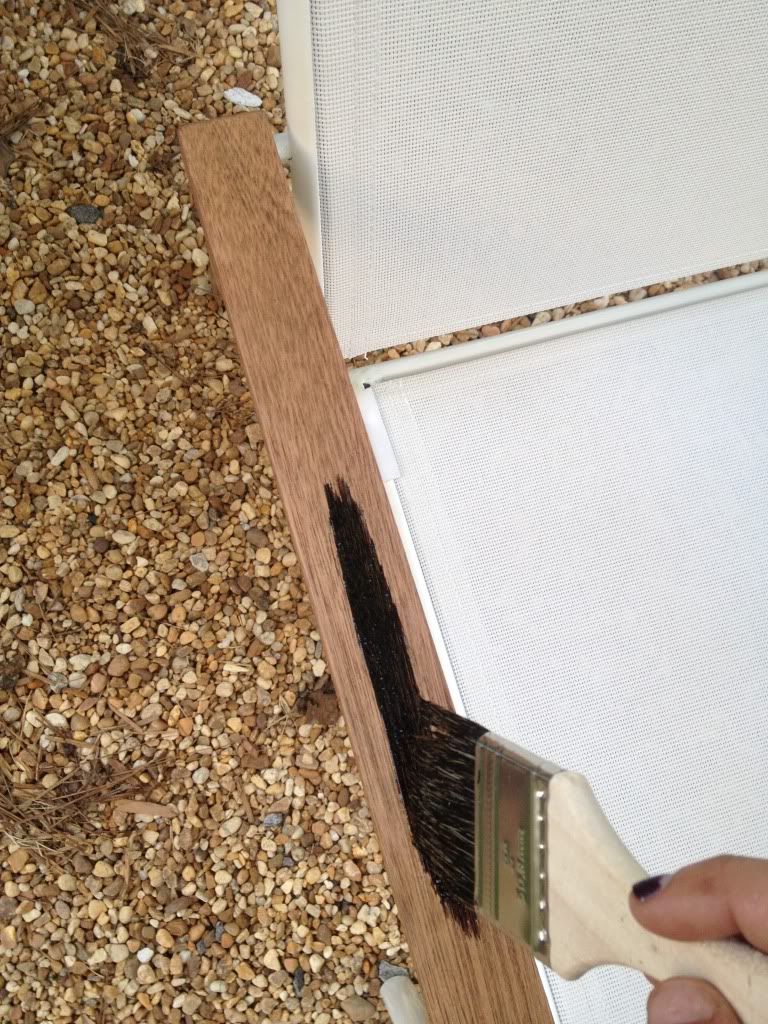 I brushed the stain on, and then rubbed a little back with a paper towel. I wiped up any dark stain spots I got on the white chair with mineral spirits and a paper towel. Easy!
I was happy to see that the stain I bought matched nicely.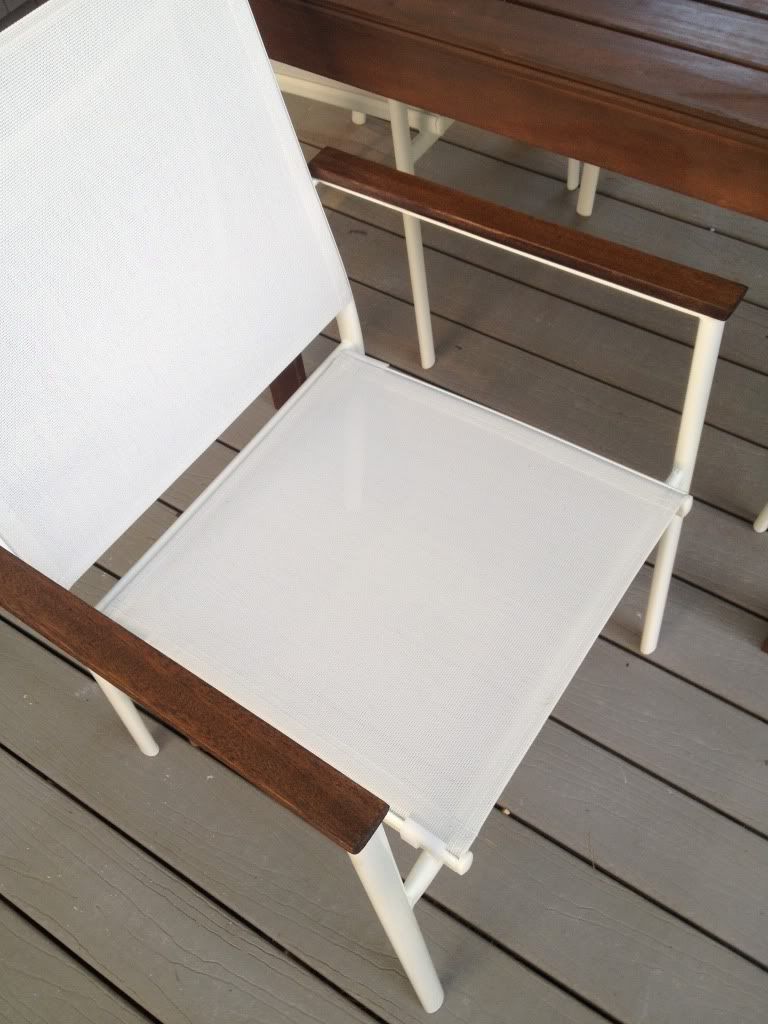 see the difference?! I think the new stain really gives a much more upgraded look.
And here they are! All done and looking pretty:
I did a little succulent potted container on the table, too:
I also bought two of the Roxo arm chairs to sit across from the table and chairs:
I love the orange with our gray house. I need to find a cute little circular table of some sort to sit in between those, and also some cement planters with plants out there. Yay for summer projects!