Soooo.... along with being able to make decisions about the interior house colors, I was also able to pick out the colors for our exterior. Exciting, but a super-daunting task. I'd never picked out exterior colors before, and it is NOT the same as interior. Usually (not always, but usually), I am able to select colors pretty easily for interior, based on the general feel that I get the first time I look at a color. I'll generally give clients around 3-5 choices, but usually there is one that I love, and that's it.
Well, let's just say with the exterior, I ended up doing about 6 different selections of samples before choosing one. One of the main issues was that our builder/architect wanted to do more of a brown, so I was trying to get something that was in-between a brown and a gray. Eventually we just settled on a gray, but I really wanted to compromise, because I totally respect his artistic vision and ideas about what he wanted the house to look like. His idea was to do a brown on the bottom base, a lighter color, like white, on the top block, and to do the window sashes in a burnt orange color. That was totally cool, and I did like it, but the condo we just moved out of was burnt orange on the trim with brown on the base. So similar, and I couldn't get excited about having the same look on my new house. So, we ended up going with gray.
Anyway, before I made the decision, I played around with Sherwin Williams' color selector app called "
Color Snap
", on my iPad. I wasn't sure how accurate it would be, but in reviewing my tester application with the app, and then seeing the colors in real life, it actually was super accurate.
here is our house before any paint was added (or the awning!)
I put this photo into my iPad, and used it to play around with. At first, I just played around with colors in the drawing app that comes with your iPad. Then I downloaded the actual app from Sherwin Williams. Anyway, I initially wanted to do a bright door, and still actually do, but I decided for now to just have it painted black, because all of the other colors were so daunting, that I didn't want to deal with having to select a bright paint color for right now. I still think a yellow door in the future would be awesome.
This was with a browny-gray and a white top, with a colorful door. The compromise colors, if you will. haha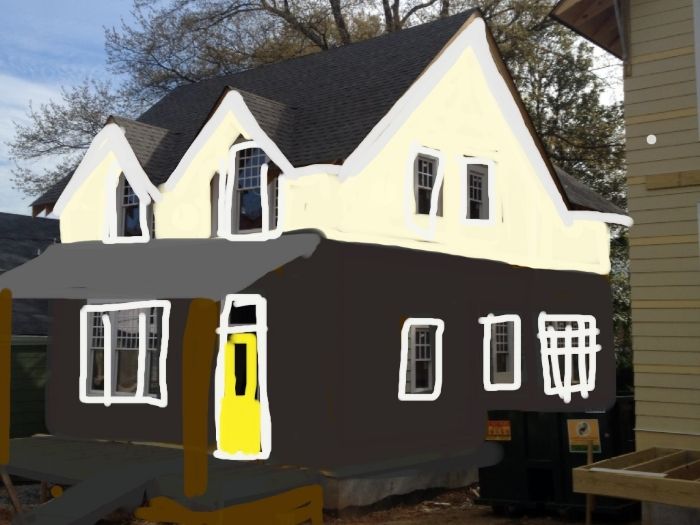 meh.
After that, I made one with the colors that I initially really wanted for the house -- all grays: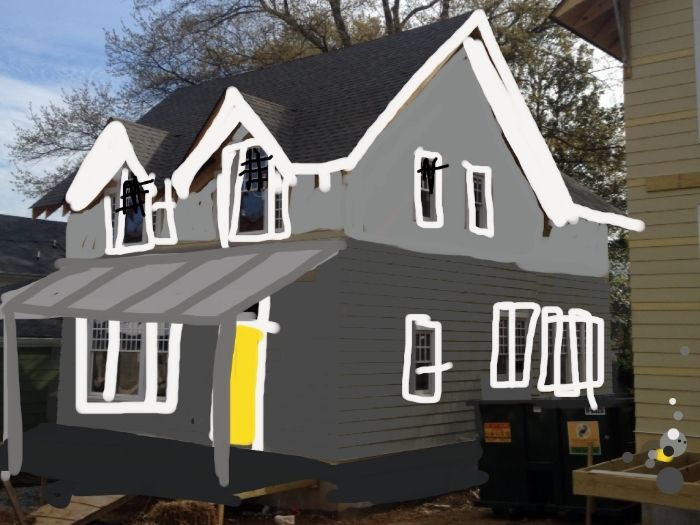 ahh, me likey. Again, this was still just drawing on my iPad iPhoto app.
Then, I brought in the Sherwin Williams app, and after playing around with it for bit, found some colors that I liked. We ended up going with:
Bottom block: SW Gauntlet Gray
Top Block: SW Collonade Gray (the same gray that we have on the walls inside - looks totally different inside than it does out)
Sashes and door: SW Black Magic
Very bottom cement block: SW Thunder Gray
Trim: SW (ah, it was a trim color that I don't know of now - will update when I find it)
here is my SW app mock up:
and here is the real deal (Jordan's dad took this photo while he was over - I am being lazy and using it rather than going out and snapping my own!)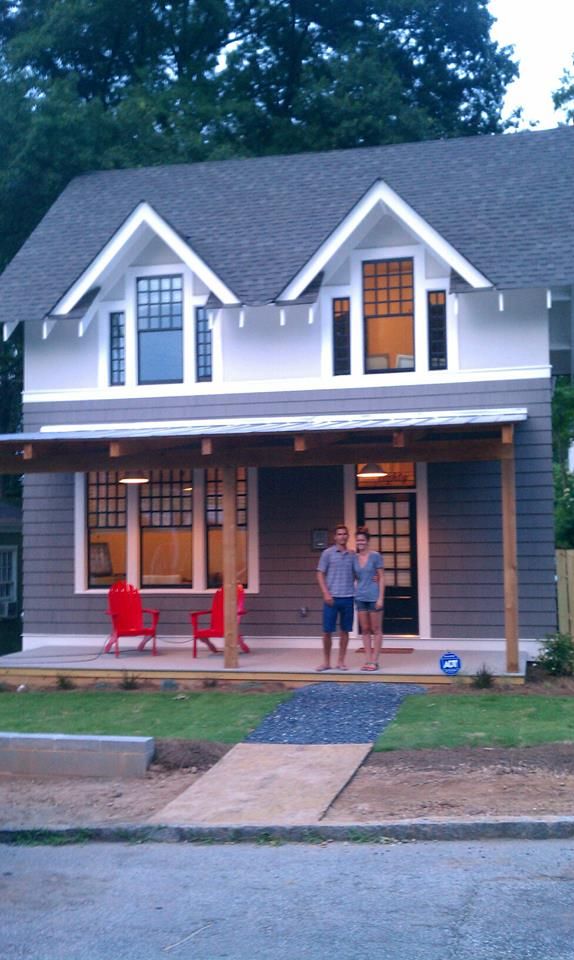 pretty accurate, huh? And by the way, we have a sidewalk now. :)
oh! and for those of you that inquired about my
adirondacks
- here they are!
I guess the main lesson I learned was that colors can get really washed out outside, versus inside. They'll look totally different if you select them indoors, at night, than when you go and buy a bunch of samples and put them on the exterior. A great rule of thumb for newbies is to use colors that are on the back of the SW deck. They're popular for a reason - they have worked in lots of places and on lots of surfaces, and they usually will look great. Also, SW has lots of exterior lines at their stores, to help you out. We actually didn't use any of those, but perusing them was nice.
OK, then end. It's the weekend, woo!