I hope you all had a great day, and are going to have a great holiday, today. I'm actually working, myself, but I am looking forward to it. The time has almost come for us to move into our new house (next week!), so I thought I'd finally share a few photos of it. I'll give a better "tour" once we're all moved in (it's still finishing up being built), but this is a little snippet of photos from my phone that I have taken during the process.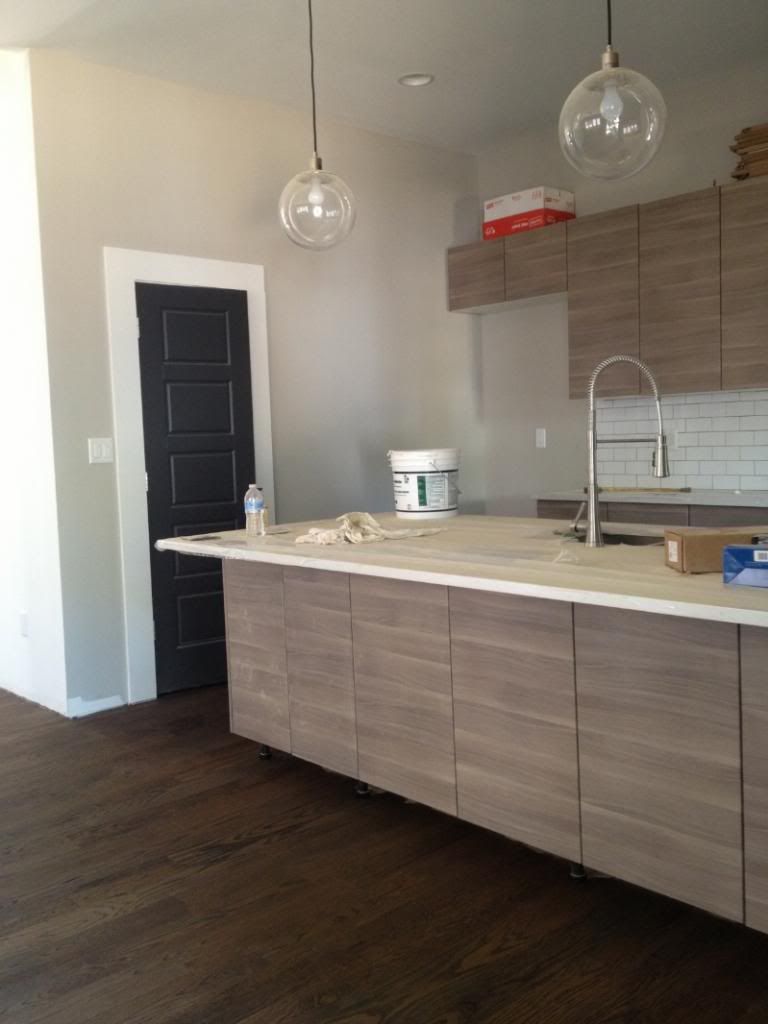 Here is the kitchen (obviously). We got into buying this house during the building process, so I was able to pick out quite a few of the finishes. The cabinet doors and drawers were already picked out, but basically everything else I could customize. That left me with the backsplash, countertops, light fixtures, faucet (thanks to
Pfister
on that one! More to come for you guys, there. Stay tuned - giveaway ahead!), floor stain, wall color, and door color. Fun stuff. You know I was having a blast with picking those items out.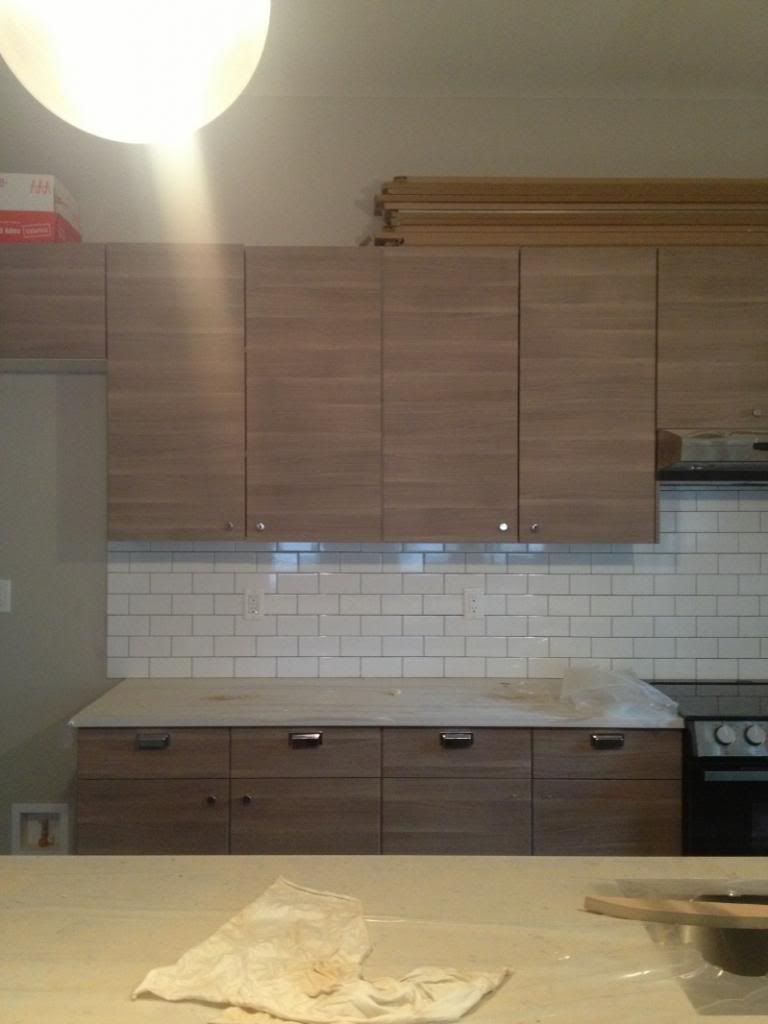 (I also selected the pulls and knobs, which I'm super excited about. They're from the Martha Stewart line at Home Depot)
The wall color is a gray that has a hint of brown in it. I wanted it to have some brown, because of the kitchen cabinets. It might have a little too much brown, but whatever. I like it!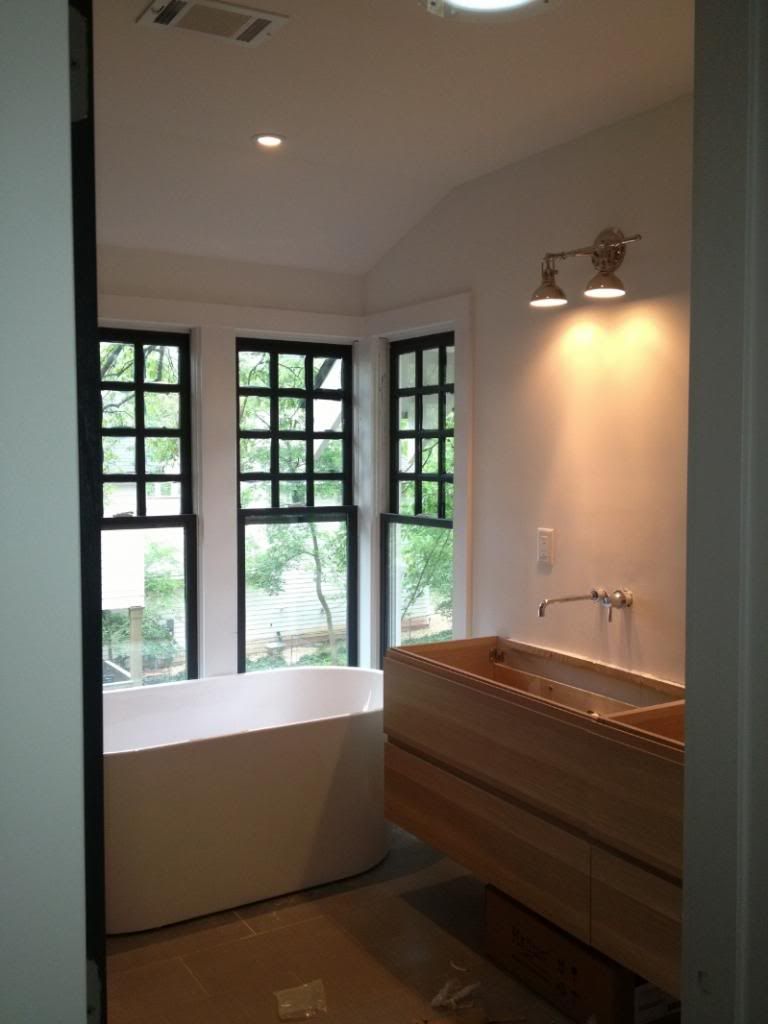 This is the master bathroom. All the finishes were basically already selected before we came in on this one, but I really like them. I did, however, select the light fixtures. I really like the modern feel to this house. It's something that I didnt know that I wanted, but I truly love. How cool is that tub?!?
I did have the window sashes painted dark - I really like that, too. You'll notice I had practically the whole house painted white as well. A blank canvas!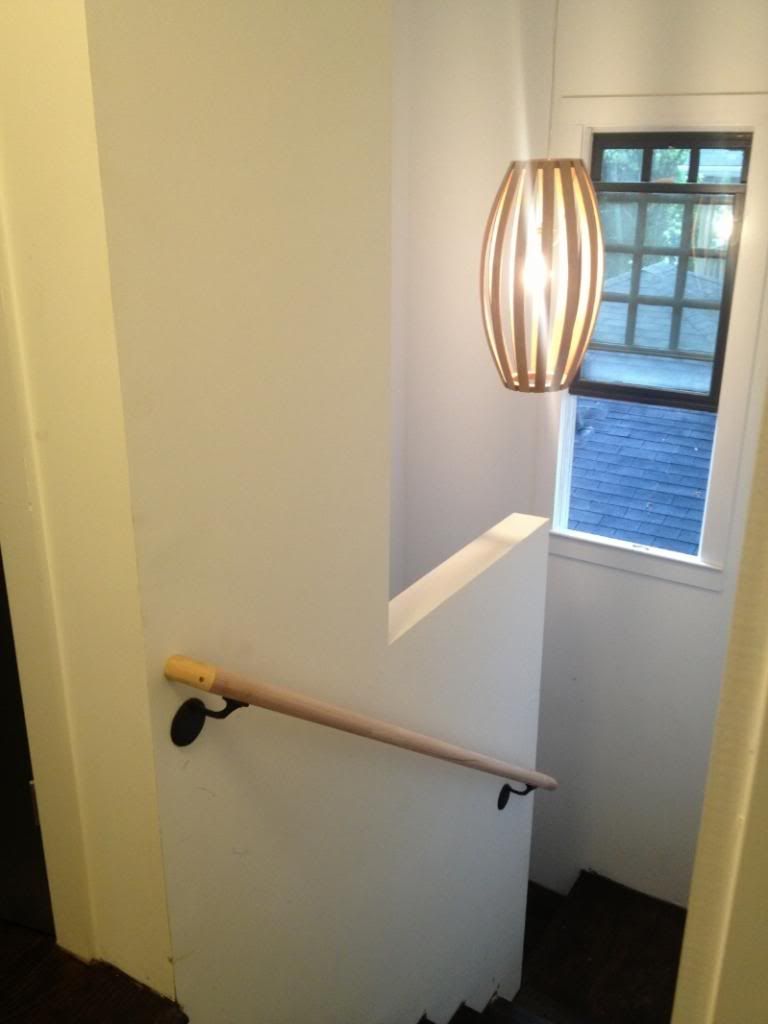 And this is the hallway, going downstairs. Obviously, the trim isn't installed, and the floors were just stained. Handrails were just put in, too. I love the light fixture in our hallway (i picked that one out too). It's from West Elm. A nod to my love of all things '60's/'70's! The window is nice here too, I think. Our new house has really great natural light - something I'm excited about.
OK, that's it for now! I'm super-super-super excited to move in, and start decorating and living here. It will be 5 weeks of homelessness, once we move in - can you believe it? It's actually been fun, living with my sweet friend who let us stay with her. We're out of her house now, and staying with parents for the remaining time.
Have a great Memorial Day.