I know you guys have seen some "sneak peeks" of the wine cork table top that I made, but I finally finished the whole thing, and it's off to its home. Though it was a little bit of a challenge to make, we were really happy with the results. I'm sure that it'll be a cool piece for my client to own, and I'm guessing he will keep it forever!
Here's the backstory, incase you don't know: my client is a bit of a wine connoisseur, and had saved lots and lots of corks up. The designer decided that she wanted to do something creative with them for his "bonus room" type of area, and spotted an old high-top table top that wasn't really being put to use. She'd seen my
penny tile table project
, and thought that maybe we could do something similar with the corks. And voila! The idea was hatched. I was a little reluctant to work on it, because of my past troubles with resin (It's a PAIN to work with. Have any of you guys used it?!), but I agreed to, and it was fine. I had no issues with the resin drying this time (not sure if it was temperature changes or the fact that I am getting used to working with resin), and only a few minor hang-ups in the process. The only real issue was that it took way more pours than I thought it would. I thought it would be 1 or 2; it ended up being 6! All in all, it helped with my learning experience, and I'm happy to have done it. These things are sometimes challenging, but I actually enjoying learning new materials and figuring out the challenges that arise. (though, I probably wouldn't say that during the process, haha)
Anyway, enough blabbering! Here are some pictures. Let me know if you have resin questions in the comments section!
So, I just had the top of the table -- it will be on a heavy metal base, so keep that in mind. It's just sitting on a dresser at my studio in these photos.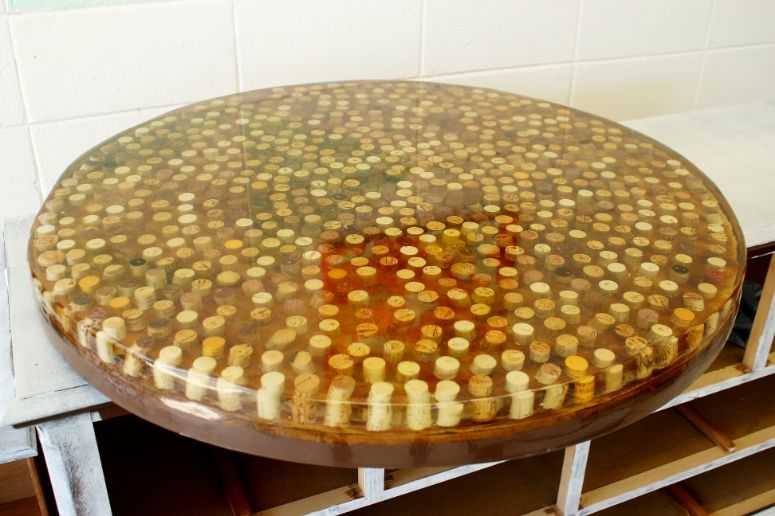 Some people have asked how I framed out the resin, and the answer is simple: with painter's tape. You can just wrap it around your table, and then do your pour. The tape will hold in the resin, and you remove it after the pour dries (after several hours. It doesn't have to be completely dry, but needs to obviously not drip when you pull the tape off). You will have to redo your tape for each pour, or your tape might get stuck in the resin. I learned this the hard way. Thankfully, it's pretty easy to remove with an electric sander, but it would've been nice had that issue never arisen.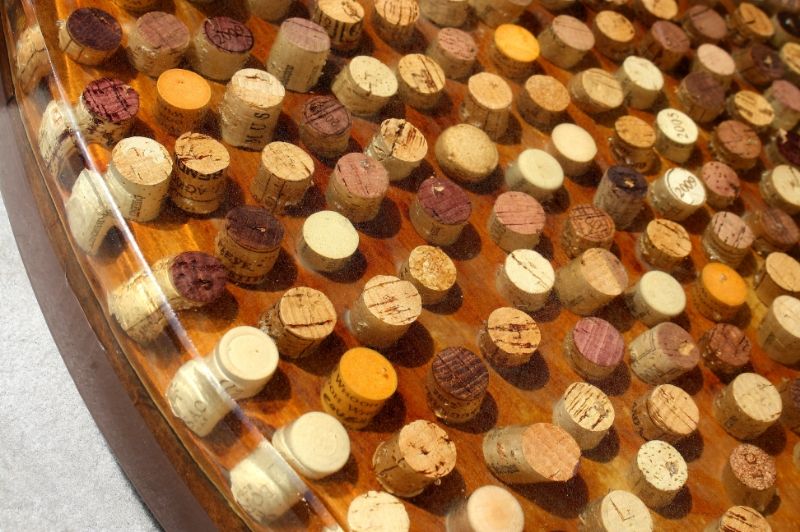 I made the pattern of corks by chopping each cork in half with a kitchen bread knife (not as hard as it sounds), then gluing them on with elmer's glue chopped-side-down). I chopped them in half, because I thought it would make less pours that way. I was halfway right. ;)
super detail shot: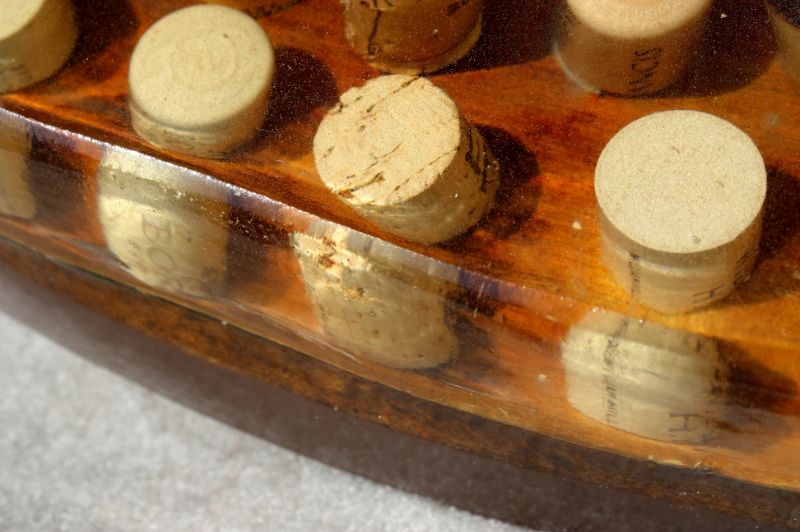 you can make the sides smooth by sanding them down by hand. it's easy.
as you can see, I did a coat of brown paint along the bottom edge before doing my last pour. The last pour, I let drip down and cover the sides, for smoothness and protection. Every pour was really calculated. See? I'm getting the hang of it!
I think this photo shows (a little bit - it's actually not really noticeable in person, unless you are 3 inches away, like I was when I took this photo) the pour layers a little, which is cool: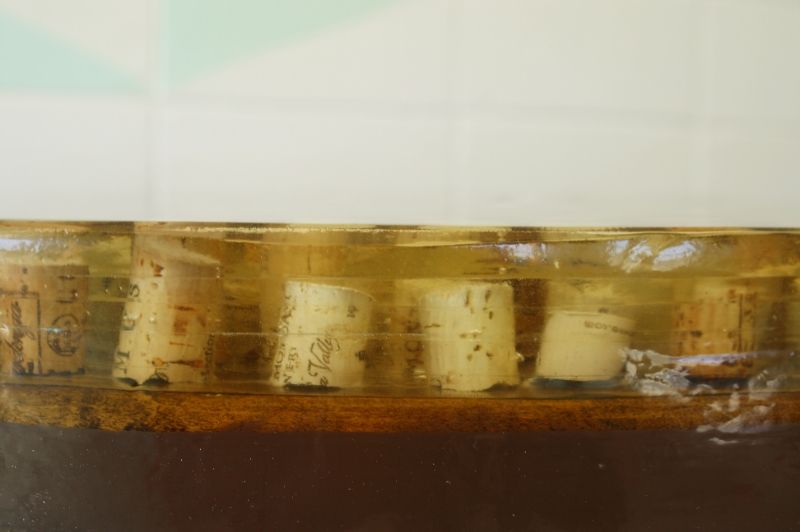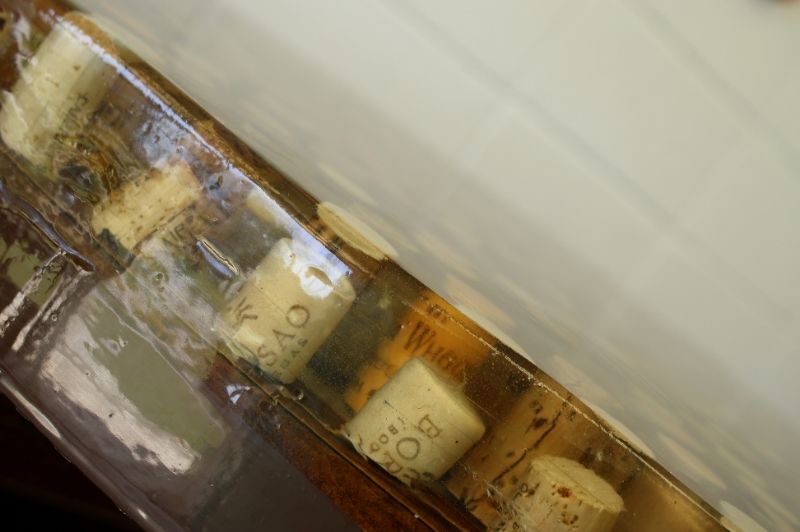 what do you think?
Here are a few photos from when I was doing the pours - before it was done!
After the first pour: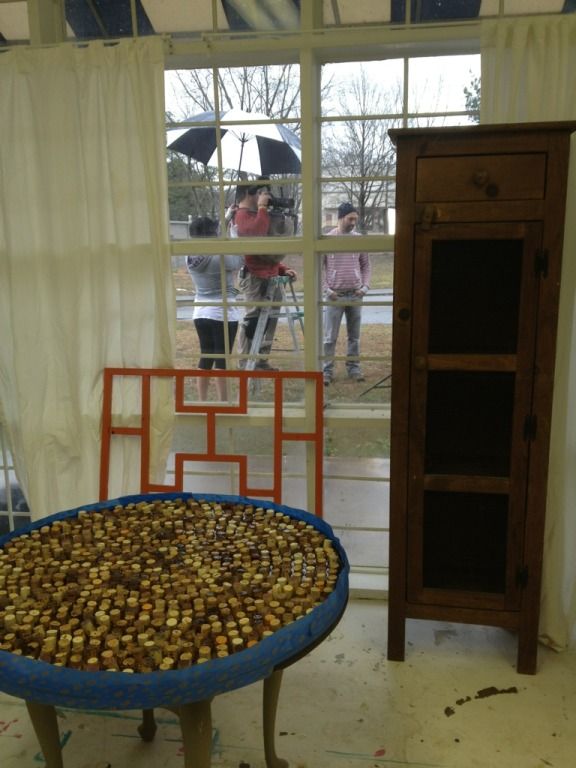 this was the day that HGTV was filming at the studio (I'm going to be painting a mural on an episode of "Elbow Room" this spring), but you can see the little cork tops sticking out of the top of the resin here. You can also see my tape corral.
and here was a photo I took before the last pour, I think. Almost done, but some of those corks are still making the top not smooth. This might have been before the last two pours, actually. The last few were like, "I'm allllmost there, but not quite", which was frustrating! It was completely smooth in the end.