OK, I listed my paintings for sale, in my Etsy shop. I am really happy with how they came out, and as usual, I want to keep them. I know it sounds silly, but when you spend such time contemplating something, and making brushstrokes, then erasing brush strokes, then completely starting over, then doing something you are happy with, you get attached! And, art is so personal... it's easy to feel like it's a part of you (sounds super-cheesy, but it's true). Anyway, I hope you guys like my new paintings, and I hope whoever they end up living with loves them.
First one is called "Painting One":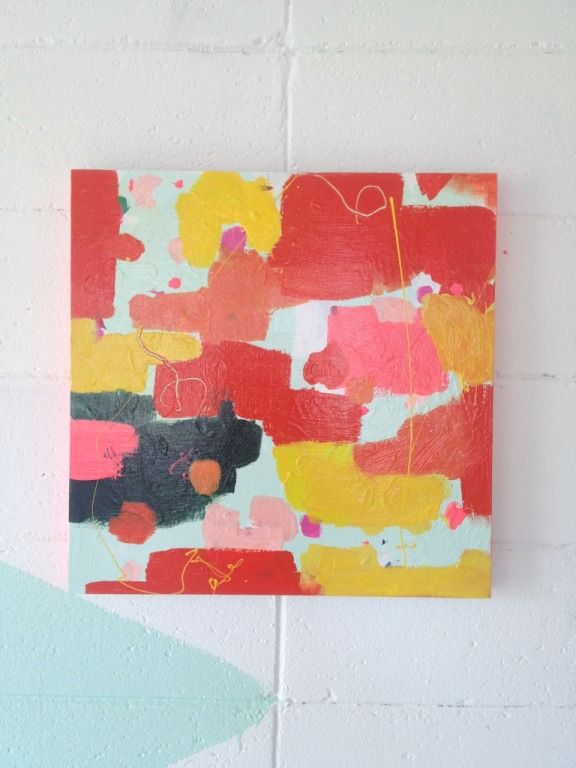 This is just a photo from my iPhone, but it was giving me better color representation than my nice camera. Weird, huh? I used corals, tangerines, mustards, mint green, hunter green, white, pinks, etc, to make this girl. She is inspired by some of my favorite springy colors this year, and I think she's super-happy. I could just picture it hanging in a baby's nursery or somewhere that just needs a dose of sunshine. It's 20" x 20"
Up next, is "Goodnight Moon". Simply because all of that orangey red reminds me of the book.
This one is mainly reddish-orange, mint, cobalt blue, gold leaf, coral and a little hunter green. Its 18x18.
Here they are hanging out together at my studio: