Hi!
It's Friday. Yay.
I wanted to let you know that
I blogged at Mycolor
-- please check it out, leave a comment, and let me know what you think! This project was all about a table/chair makeover I did.
It's been a good,
busy
week. Lots of condo-selling/buying news, so hopefully Ill have some good updates for you guys soon on that. I also finally was able to pick one of these up: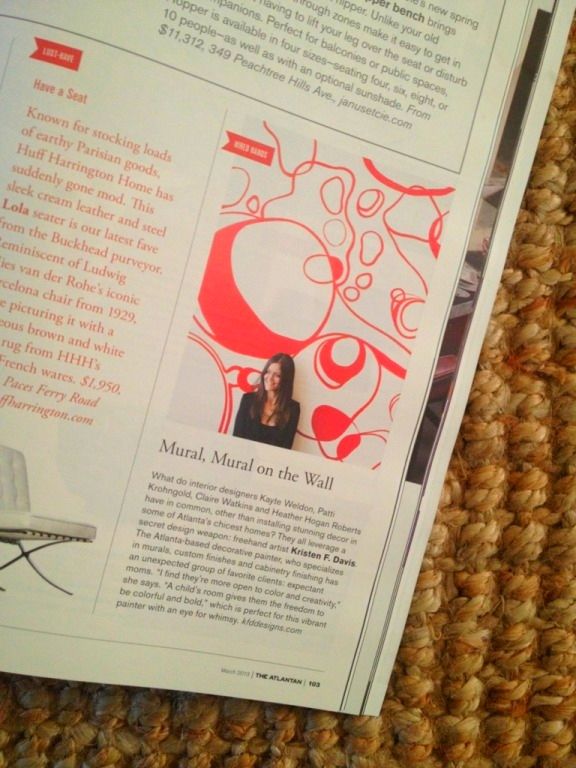 ...thats my mug (in front of a mural I painted), in the recent issue of "The Atlantan" magazine (March issue). For some reason, they take forever to hit newsstands. I was super-impatient, and went to my Barnes and Noble like three times looking for it! Hah! It can be very nerve wracking to have a photoshoot and not know what they're going to use, you know? Probably sounds vain. I was just curious about the whole thing, and was happy to get to see it "in real life". :) And I like it!
Jimmy Johnston
was the photographer, and we got along well. Thanks, Jimmy!
Also, I drew the winner for my
Printcopia
giveaway. It was
Jordan
, and she was excited to win. I wrote down all the names, and my husband drew the name out of a hat. Old school, dude. It was fun doing a giveaway, hopefully I can do more of them in the future.
Last but not least, my house is being featured today on 6th Street Design school! I love reading Kirsten's blog, so I was excited when she emailed me and asked about showing off my home on her's. Go
HERE
to check it out!
Have a great weekend, everyone! Hopefully, wherever you are, you are getting some spring-time hits of weather, like we are in Atlanta?!