Hi, guys. How was your weekend?!
Mine was pretty great. It was cold and rainy here in Atlanta, (Where are you, Spring?) but we still managed to have some fun, anyway.
Recently, I decided to pick up calligraphy as a hobby. You know how you see all these cute invitations with funky, scrolly, whirly twirly cursive? Well, I wanted to learn how to do it. I've always loved fonts/lettering/writing, and I feel like I have a grasp on non-cursive lettering, but cursive has just not been my game. I looked into calligraphy classes, but after realizing that I'd have to take three levels of calligraphy to grasp the type of calligraphy I wanted to learn (which is something like an informal Copperplate), I decided to just try it out first, to see how it went without formal training.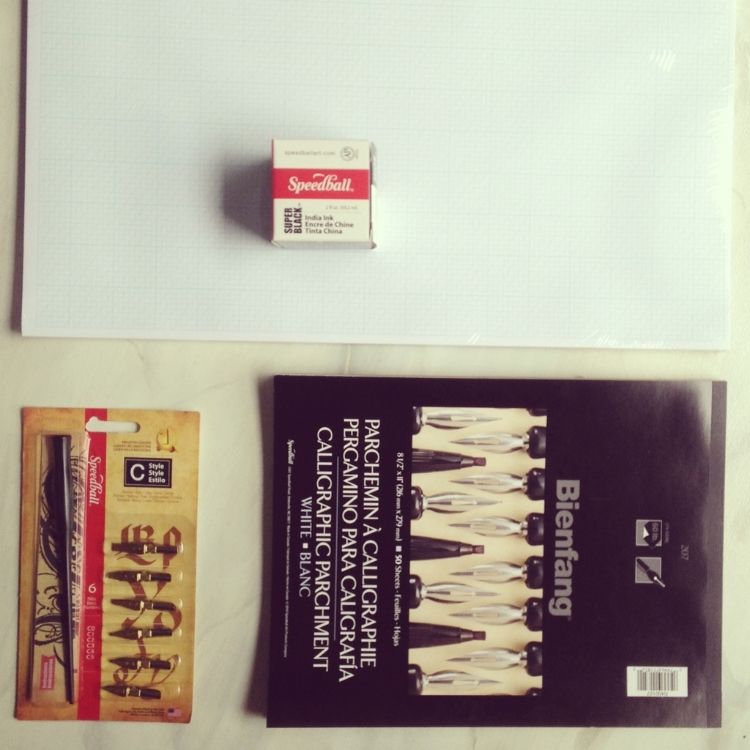 I bought a starter pen kit (C) at Sam Flax (a Speedball set, with 6 different nibs), two different kinds of sketchbook/notepad things (one was gridded, and one was blank), and some black india ink. I watched a few Youtube videos, just to see how the pen was held, and what the flow was like, and also pinned a bunch of inspirational photos on Pinterest to reference while I was practicing. The guy I watched on Youtube (Of course I can't find it now to show you guys him!) had a lot more give in his nib, which looks like way more fun, but I still was able to get pretty swirly and twirly with my lettering. I'm sure in a class setting, I would learn to able to control my pen better, and keep it from splattering (SO annoying -- if you have done calligraphy and have advice on how to avoid this, please tell!), but I figure I will learn in time.
In the mean time, it's a fun hobby to try out, and I'm sure I will learn more as I go. At first, my lettering was not pretty, but once I got rid of the gridded paper (let's face it, I don't do well with rules like that, haha) I was much happier.
Here's one of my first attempts at my own name/address:
not great. As time went on, I learned a little bit more about controlling my pen, and also letting go of the sense that I had to be on a straight line. This makes it easier. Also, I decided to start adding to the thickness of my line in some areas, which creates interest and a little visual weight to certain letters, like the first letter of each name, street, etc.
a little better..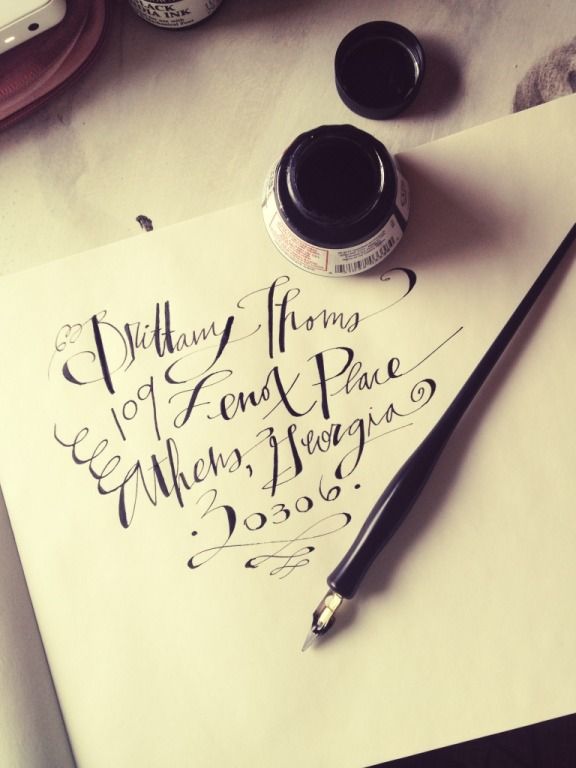 (this is a friend's name. i was just looking out for anything and everything to write, and posting some stuff on instagram. She asked me to write out her name/address, so I did. :) )
And clearly, when I was having a little more fun with it, I wrote out Mika's legal name (hah)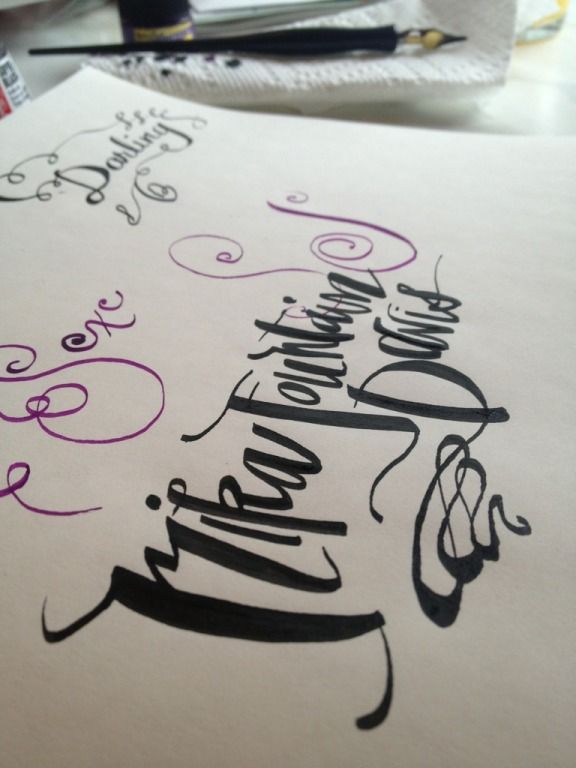 a little graffiti-esque, no? I just made a lot of the lines way thicker with my pen by going back after I was finished writing it out.
Anyway... I certainly haven't mastered it, but I feel way better about where I was, and teaching myself more and more about it. I have always loved doodling and drawing, and I need to incorporate that more into my daily life and even work. I'd love to get more into illustration.
I also would love to go to some open drawing nights, if any of you know anywhere to go. I want to do some figure drawing. Any suggestions from any of you fellow ATL folk?!