Last Friday, I painted for a reader of mine who was SO SWEET. She even made me a little bucket of treats for when I arrived, which I snacked on while I worked. I can't even begin to describe how nice that makes you feel, and how appreciated I felt. There have certainly been jobs where I felt like my work wasn't valued, or that I had to "prove" myself the whole time, but this client was just so sweet, and nice to talk to, and easy to be around. Thank you, Destiny, for having me!
Anyway, I said all that to say, she took some photos while I was on the job, and some great "after" shots that I wanted to share with you guys...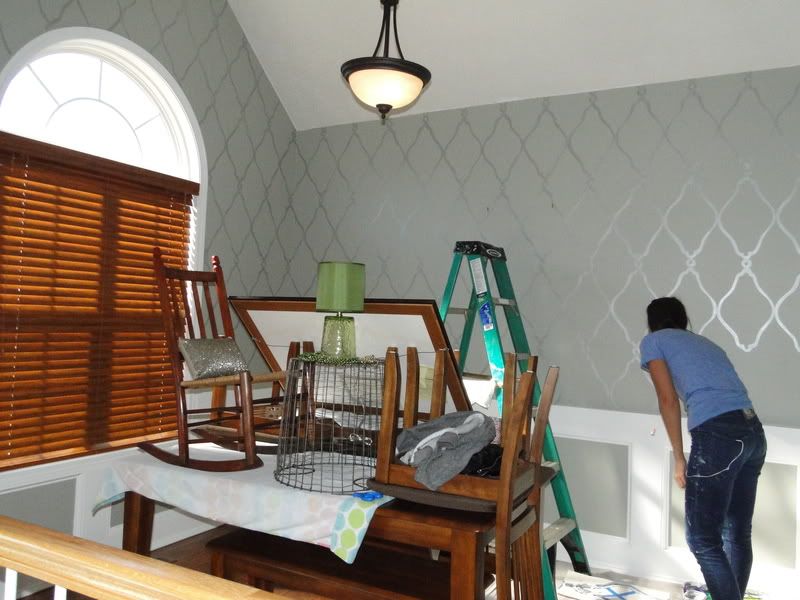 on the job, with my earphones hanging out of my pocket. I usually listen to "
How Stuff Work
s" podcasts when I am working. (I really like "Stuff You Should Know" and "Stuff Mom Never Told You").
And, here is my final result!
and a lot of people ask me this, or are confused about my process for stenciling. My "stencils" that I create and use when I am personally working (unlike the one that is
for sale in my Etsy shop
) are actually more like templates. I hand paint each repetition of the design with my brush, so it's hand painted, not rolled on.